Catching an athlete ringside at a WWE show is incredibly common. Having them get into the ring isn't nearly as frequent, unless, of course, they're Karl Malone.
While he's known for many things over the course of his NBA career — a pair of MVP awards, 11 first-team All-NBA selections, being one of the best power forwards to ever live — Malone is also famous for a brief stint in WCW during in 1998. Both he and Dennis Rodman got involved, and participated in a match with Diamond Dallas Page and Hulk Hogan that can best be described as "totally forgettable outside of the fact that two of the best rebounders to ever live were in it."
Anyway, Malone's love for wrestling has apparently never waned, as he was caught ringside at WWE Smackdown Live on Tuesday night. While there, Malone showed some love to his old tag team partner…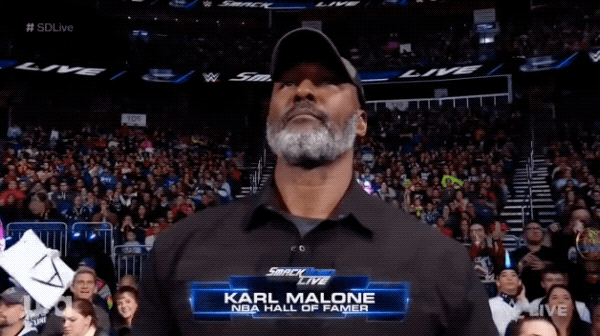 …and after the show went off the air, Malone played a role in sending the fans home. The cameras turned off, and apparently, Bobby Roode summoned the Mailman into the ring so the two could toast one another with bottles of water.
Sure, this isn't the match with Brock Lesnar that he apparently wants to happen, but I'm sure Malone was happy to get back into the ring.