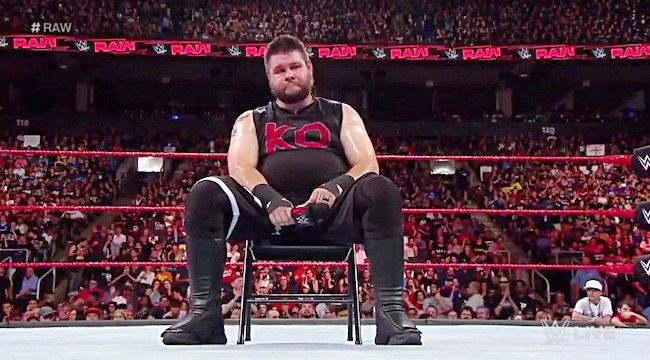 With Drew McIntyre and Dolph Ziggler having moved on to try and feud with Braun Strowman and Roman Reigns, Seth Rollins was finally free to move on to a new opponent for his Intercontinental title. As is so often the case now, Rollins issued an open challenge to the locker room to challenge him for the IC strap and Kevin Owens emerged to answer that call.
Owens issued a fiery promo about how nothing's gone right for him since he came over to Monday Night Raw and how he was going to leave the arena with a title. The match that ensued was one of the best Raw matches in recent memory, with both Owens and Rollins pulling out all the stops.
Ultimately, Rollins won after a stomp on Owens who missed with a ridiculous moonsault attempt, retaining his title, but also building Owens back up after a squash at SummerSlam.

Or, so we thought. Instead, Owens remained in the ring, seated on a chair when Raw returned from commercial, clearly upset, and delivered two words into the microphone: I quit.
It is, to say the least, a surprise and leaves plenty of questions. Owens has definitely not had things going the way he thought they would on Raw, culminating in a humiliating loss to Braun Strowman at SummerSlam that left even the likes of Stone Cold Steve Austin scratching his head. Given how it popped up immediately on WWE social in a video, one would think this is part of a longer story at play with Owens, but there is a section of the wrestling internet convinced Owens will now be popping up at Saturday's All In show, hosted by Cody and the Young Bucks. Spoiler alert: Owens signed a 5-year extension with the company back in May.
"I don't see why I will not finish my career with WWE. I just recently signed a new five-year contract with them. I do not intend to go anywhere (when) my contract ends. If the WWE wants to continue, if I want to continue and my family is ready for me to continue, I do not see why it would not happen."
Poor Renee Young had to offer a very awkward transition from that, saying it was "strange" and then going into an interview with Ziggler and McIntyre.
We'll have to wait and see if his earlier promo where he lamented the absence of Sami Zayn will be foreshadowing for an angle where Zayn convinces him to come back. For now, Owens has left the building and if in a shocking twist this was his final WWE match, it was a damn good one.