From the glorious world of lucha libre comes perhaps the greatest thing I've ever seen. Alianza Universal de Lucha Libre, or AULL (with a website fresh out of 2001) has a squad of Ninja Turtle wrestlers, Leonardo, Donatello, Raphael, and Miguel Angel, collectively known as Tortuguillos Karatekas (Karate Baby Turtles/Hatchlings), who took on the International Wrestling Revolution Group's own Tortugas Ninja (Ninja Turtles), Leo, Mike, Rafy, and Teelo.
As such, when there are two groups in similar costumes, the hostility runs high. The Ninja Turtles, in their stripey suits, looked to be doing well, until YET ANOTHER GROUP OF TURTLES RAN IN! Las Tortugas Mutantes (the Mutant Turtles), who are just dudes in black shirts and toothy masks, decided to interject, along with another group, Los Bastardos, but because they aren't turtle-themed, nobody cares.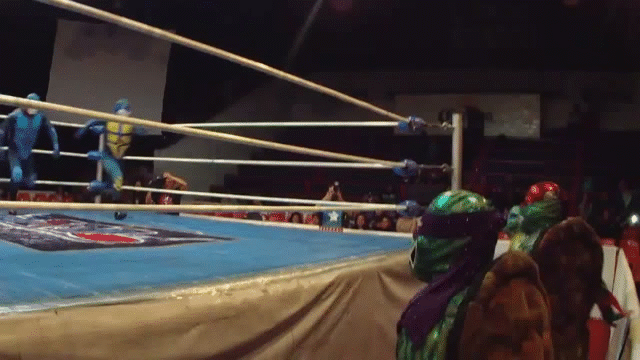 Due to the run-in, it was announced that the four groups of four will meet at a later date. I have to imagine this is like what would happen if, in Chikara, the Colony was wrestling the Colony X-Treme Force, when the Swarm and oh, let's say, the the Future is Now interjected themselves. I don't care about the non-ant or non-turtle squads here, so go away, you bastards.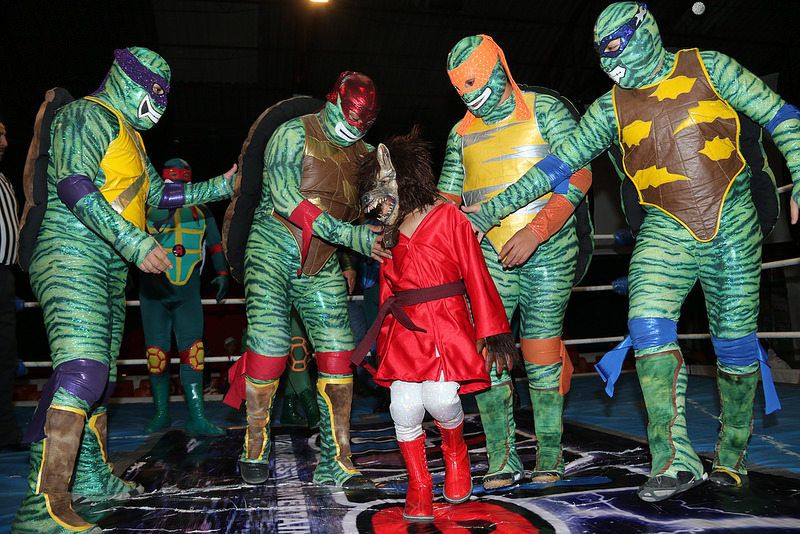 I'm personally taking Los Tortugas Ninjas because they have their own mini Splinter. Of course, I'd much rather all the turtle groups join forces to beat the sh*t out of Kevin Nash.
Check out more of the great pictures of this match, via Black Terry, Jr. on Flickr.