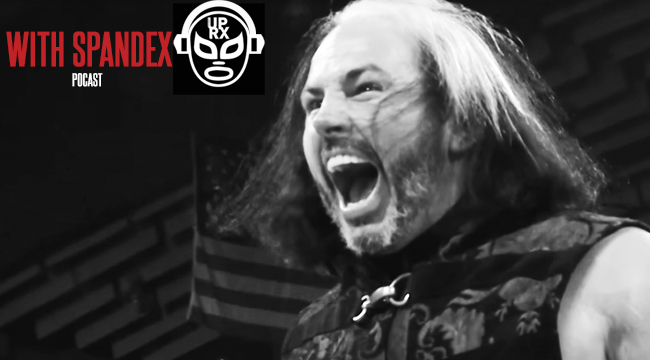 It's a big couple of weeks for WWE, and we're here with the With Spandex Podcast to talk all about it … and also to talk to Matt Hardy! We break down our dream teams for the Mixed Match Challenge, and try to pick out how close the reality of the situation will come to our ideal scenario. We also talk about Raw's upcoming 25th anniversary, and what we'd like to see from that wild show.
But most importantly, of course, we got to talk to Woken Matt Hardy, who will be included in this week's DLC pack of WWE 2K18's "Enduring Icons." We asked Matt when we might see the rest of the Woken Hardy brood, what would happen if he were to throw Bray Wyatt in the Lake of Reincarnation, his ideal WarGames match, and a whoooole lot more. It's a very fun conversation, as you might imagine, so hop in and give a listen.
Make sure you send your thoughts and questions to withspandexpodcast@uproxx.com, because we'll read the best emails on the show, and we have a lot of cool giveaways to give away.
You can follow McMahonsplaining on Twitter, along with With Spandex proper. Our theme song is by J.W. Friedman, who is great. You can subscribe to the podcast on iTunes, Google Play or you can stream the episode below or download it on Omny Studio.