As Ring of Honor continues to climb into the national spotlight, the leader of the Kingdom, Matt Taven may be quietly having one of the best years of any wrestler among America's top promotions.
At the midpoint of 2018, Taven holds a long list of accomplishments that includes winning the NWA World Historic Welterweight Title in Arena Mexico, beating Cody Rhodes in a first blood match and winning the ROH World Six Man Tag Team Titles.
While Taven is thrilled by his accomplishments thus far, with the ROH World Heavyweight championship still in his sights, he can't help focusing on what could have been had his title match against Dalton Castle in Lowell, Massachusetts, not been cancelled due to the champ's injury.
"To be the first American to ever hold the CMLL NWA Historic Welterweight championship is one of those things that you can be proud of. It's like, 'Look, here's what I can do when put in the proper position,'" Taven said in an interview with Uproxx.
"I feel that I'm the real Ring of Honor world champion at this point with Dalton Castle refusing to defend the title. I am the No. 1 contender. To me, it's the conspiracy. It's not even just me picking straws anymore — it's right in front of everyone's eyes. You see the next PPV coming up, Best in the World, that I'm not in that world title match after everything that's happened. I'm not in the match that I'm still owed. It's mind boggling to me. To me, it's just still kind of confusing. The biggest accomplishment should have already happened by now."

Instead of defending that title against Taven at Friday's Best in the World show in Baltimore, Castle will battle Rhodes and Marty Scurll. While Taven has his work cut out as he teams with Vinny Marseglia and TK O'Ryan against Los Ingobernables de Japon for the Six Man Tag Team titles, he remains determined to push his name into the singles title picture. Whether that's standing on merch tables or cutting promos outside venues, he's sending a message to anyone who will listen.
"That's all done by me. Ring of Honor doesn't know I'm going to do that. If they're not going to give me the spotlight, I'm going to take the spotlight. By any means. Just give me anything. I know I'm not a member of the Bullet Club even though there was a time and place where anyone could have been a member. It seems like whoever has that logo on their chest seems to get first dibs at what is rightfully mine," Taven continued.
For wrestlers like Taven, he understands the necessary grind to build a brand on his own. As Taven explained, the wrestling landscape is overflowing with talent and fans aren't pigeonholed into choosing one style of wrestling or promotion.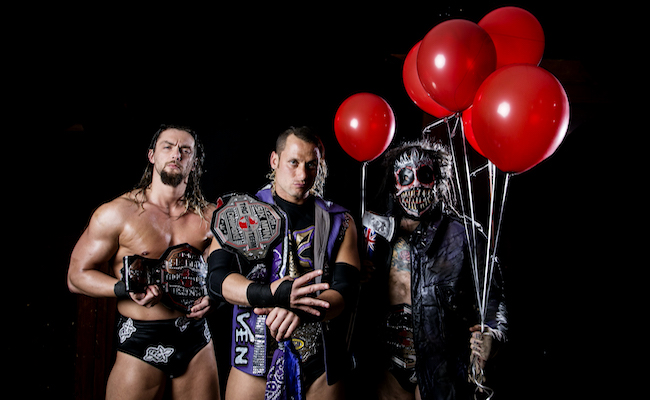 "I think we're living in the golden age of wrestling. Social media has really shrunk the world. I don't mean it's the most popular — but you can see anything in the world. If you're a wrestling fan, you find anything at your finger tips. You can see shows from Mexico, Australia, the U.K., Japan, the United States right at your finger tips. Guys can get out their own message. It's something I'm trying to take advantage of now," Taven said.
"That's been the biggest difference in wrestling. You had to have the machine behind you before. There was almost a thought that you want to come in as an empty vessel and let them mold you as they see fit. Now, even WWE is taking everyone who is a pre-established name. Now it's on you to make something happen. If you're not going to give me the opportunity, I'll take it."
While Taven has accomplished plenty over his 10-year wrestling career, performing in the world's most prestiguous venues and taking home the world title remain at the top of his bucket list.
"I'd definitely like to do the Tokyo Dome. With all this Madison Square Garden talk, it brings that up. It's one of those things where it's like, you're a fan. You're watching Bret Hart hold the title in MSG. The importance that was always put on MSG when it comes to wrestling. It would really say a lot about Ring of Honor as a company. It would really solidify us and be a good pat on the back. It wouldn't make or break me in any way. It would be another notch on the belt. I was a big ECW fan, so to do the Hammerstein across the street ain't too bad either," Taven said.
"But there's one big, shining gem in the middle and that's the Ring of Honor world title. To be one of the only guys to hold every Ring of Honor title is something I want to hold my hat on for the rest of my career. I really won't feel complete in Ring of Honor until that happens."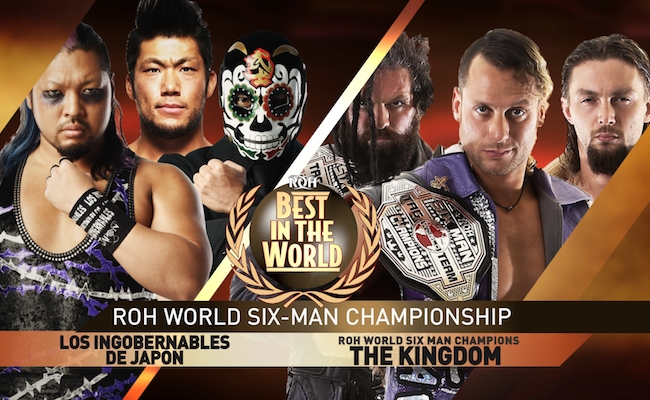 That opportunity will have to wait, as Taven focuses on keeping the Kingdom on top of the six-man division Friday night.
"Any match with six guys, especially of this caliber is going to be exciting. You have some international flavor with the former NEVER Openweight Champions from New Japan challenging the only two-time six man champions. It's going to be a shoutout to New Japan that the Kingdom ain't anything to mess with. We'll go against any six man team they have to offer," Taven said.
As for the main event, who does Taven have between Cody, Marty and Dalton?
"Matt Taven."
If he ever gets another chance, maybe Taven can finally take home that elusive gold. Otherwise, it'll just be another Kingdom Conspiracy.
You can stream Ring of Honor's Best in the World show live from Baltimore on their streaming service, HonorClub at 9 p.m. ET.