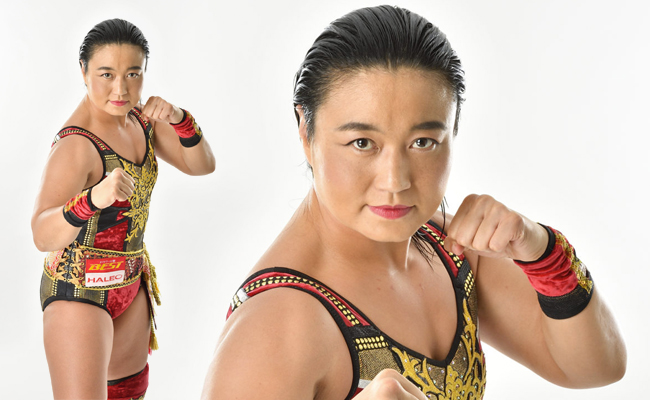 After weeks of rumors that she was going to be involved, WWE has officially announced that legendary Japanese wrestler Meiko Satomura is competing in the 2018 Mae Young Classic. A 23-year veteran of the squared circle, Satomura actually appeared on WCW Monday Nitro as a teenager, but that was before she grew into the legend she's become.
Satomura spent 10 years in the all-female promotion Gaea Japan. When Gaea went out of business in 2005, she went about putting together her own company. In 2006, she and veteran male wrestler Jinsei Shinzaki co-founded Sendai Girls' Pro Wrestling, which is Satomura's main focus to this day. In addition to wrestling, she serves as the trainer and booker of the company.
To American indie wrestling fans, Meiko Satomura and the Sendai Girls are best known for their participation in Philadelphia-based Chikara Pro. Meiko has led a Sendai Girls team in Chikara's annual King of Trios tournament three times, and in 2016, they were the big winners.

I got to watch that 2016 King of Trios victory live and in person, and Satomura impressed me like few wrestlers ever have. She brings a regal authority into any space from the moment she enters in her ornate robe. She's an accomplished submission wrestler, but she also has one of the best Death Valley Drivers in the business. She can portray an unstoppable superhuman force while still seeming like a trustworthy and lovable babyface. She's basically Wonder Woman, but with the visible muscles that the actual Wonder Woman all too often lacks.
Her very presence brings an added layer of legitimacy and class to the Mae Young Classic, and hopefully she'll make it to Evolution so she can do the same there. I'm fine with Satomura not winning the tournament, because she's almost certainly not going to sign with WWE and I know how these things work, but there's nobody better than her to put the winner over in the finals. And if that winner is Io Shirai, that means a rematch between two performers who are known for their in-ring chemistry and the great matches they've had.