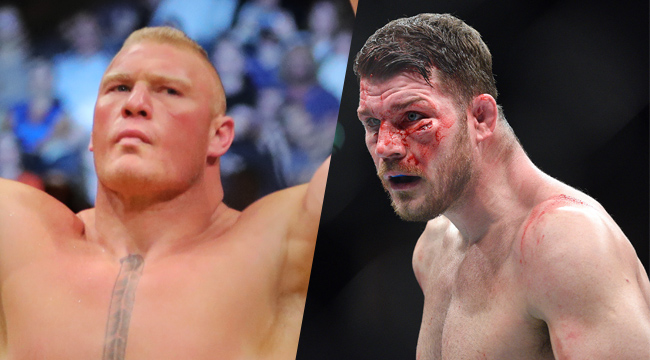 After rattling around in the middle of the UFC's 185 pound pack for a decade, Michael Bisping stepped in as a last minute replacement to fight champion Luke Rockhold and shocked the world when he took the belt with a first round knockout. No one will ever accuse Bisping of being anything other than cocky and outspoken, but he's turned the trash talk up to 11 since winning the belt, especially when it comes to steroid users in the UFC.
Here's what he said on The Ric Flair show when asked about Brock Lesnar's drug test failure at UFC 200 (via BJPenn.com):
"How tough do you think Brock Lesnar is? Listen I respect any man that steps into the octagon because it takes balls. But if you have to go in there and take steroids to do it? F*ck you, you cocky son of a b*tch. Kiss my ass. I will knock Brock Lesnar out with one f*cking punch. I will take him and throw him out of the octagon like the pu$%y that he is. Am I making myself clear? F*ck Brock Lesnar! F*ck steroids! F*ck all you f*cking f**gots that want to come in here and take steroids. Am I making myself clear? I apologize for using that word, I shouldn't have said that (f**gots). But, steroids have destroyed the sport and anyone that takes them, kiss my a&%."

"He's a big son of a b*tch but as I said. Real men don't cheat in a real fight. In your world you have to look good, you have to be big and it's expected for the audience. You guys good for you, good for you. In a real fight we shouldn't be cheating and taking steroids."
That's the second time in the past couple of months that UFC champion Michael Bisping has dropped that other, more unfortunate F-word. Maybe the UFC needs to start a swear jar for him? As for everything else, you can kind of excuse Michael for being so salty about steroid users. He's been in line for a title shot several times in the past, only to be defeated by fighters that later turned out to be on steroids.
Dan Henderson, Chael Sonnen, and Vitor Belfort were all members of the Testosterone Replacement Therapy racket that allowed fighters to juice between 2010 and 2014. And they all defeated Michael Bisping in eliminator fights en route to a title shot. There may be something to Bisping's complaints. He certainly doesn't think it's a coincidence that he's become champion since USADA drug testing arrived in the UFC. But if he wants to keep the belt, he'll have to start fighting as ferociously in the cage as he's been s**t-talking outside of it.