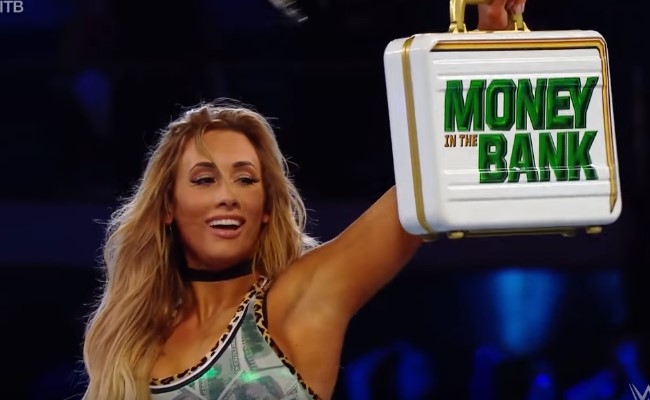 While not much happened on Smackdown Live this week, a new record was set as the show went off the air. Carmella, after (again) unsuccessfully handing a briefcase to a ref to officially start a match and thus making her cash-in official, now owns more than the coveted contract. She is the proud owner of the longest time with the Money In The Bank briefcase.
The previous record was set by Edge who still owns (IMHO) the best cash-in of all time with The Miz, Seth Rollins, and Dolph Ziggler following close behind.
Carmella is at 282 days and counting. Sunday would make 286 days, and next Tuesday's Smackdown Live would be 288. (Eat it, Baron Corbin.) While we're handing out numbers here, I've got another one — 100. As in 100 percent chance Carmella is not carrying around that briefcase after she skips to the ring sometime in New Orleans this week.
On the flip side, we've seen Money In The Bank play out in a handful of ways before. A same night cash-in, cash-ins on injured champions, a WrestleMania main event cash-in (to name a few of the more exciting instances). But we've never seen the Money In The Bank contract expire. If creative is looking for more ways the briefcase can factor into storytelling, we may be seeing the Staten Island Princess with her most dazzling accessory for a little bit longer.