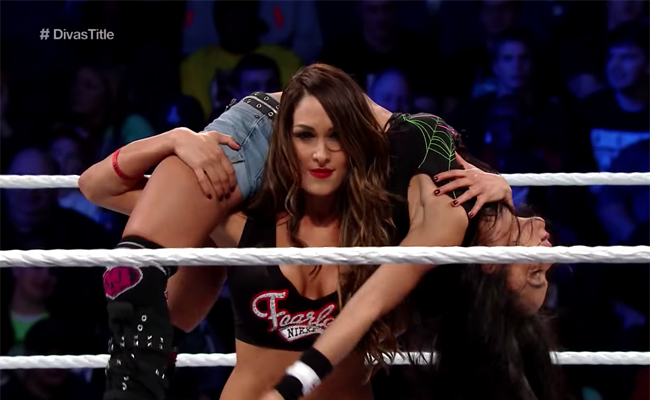 WWE Evolution is coming this Sunday. The card might be a little underwhelming, but it does feature Nikki Bella in her first title match in years, as well as the return of female legends like Trish Stratus and Lita. In a recent Q&A session at ACE Comic Con, as reported on WrestlingInc, Nikki Bella told fans that there is one performer she'd have liked to see, and perhaps even fight, at the first WWE all-women PPV: A.J. Lee. In contrast to the usual WWE party line, Nikki had plenty of good things to say about the former WWE Divas Champion, with whom she had perhaps her most noteworthy rivalry:
I was actually hoping she was going to be at Evolution. She was a huge part of the women's division. And if she came back, I would totally love to [wrestle her again]. We had great chemistry and I really loved that Paige and AJ and Brie and I had a really good story going for a really long time. I really felt like that helped with the evolution to where it's at today, so it would be so fun [to work with AJ again].
Meanwhile, she had different things to say about her actual Evolution opponent, Raw Women's Champion Ronda Rousey. While this feud has been reinventing kayfabe as non-wrestling media takes Nikki and Ronda's public mutual hatred seriously, Nikki seemed pretty genuine in her comments to the New York Post about how she wished Ronda wouldn't have said the thing about her breaking down John Cena's bedroom door.
"I think we are taking some old ways and bringing it into [Evolution]," she said. "I definitely hope it changes, and I think it will because I think the women are better than that. I think we can tell empowering stories that have nothing to do with men or how men define us because that's the point of Evolution.

We define ourselves as women. We want the equality. We don't want to be defined by our men or our relationships because almost every woman is in a relationship with another wrestler in our industry. It's crazy. I've never seen it like this, but it's beautiful. We are such a big family.
For many WWE fans, Nikki Bella embodies the Divas era (she certainly defined the last couple of years of it), so it's particularly interesting and cool to see her speak positively about how much has changed in the division.