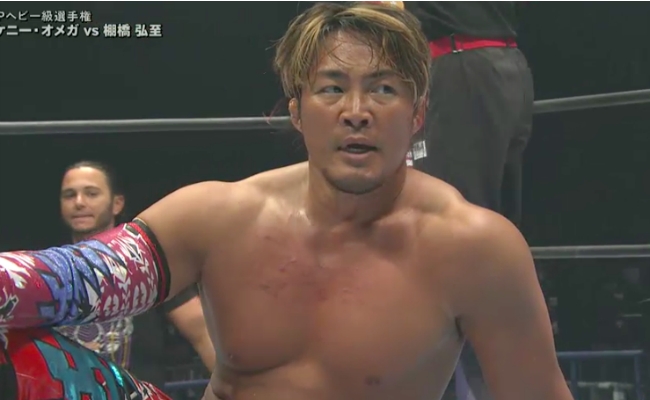 Professional wrestlers connect with their fans in a variety of ways, from chatting with them at indie show merch tables to paid meet-and-greats to WWE's work with the Make A Wish foundation. Recently, IWGP Heavyweight Champion Hiroshi Tanahashi made a special connection with a very devoted female fan when he pinned her on a TV special called "Would You Like Your Dream To Come True?"
If you think frequent NJPW color commenter Chris Carlton is being inappropriate towards the fan in his above tweet, I dare you to watch the below gif summary of the segment to the end and come to a conclusion other than that this woman is risking it all on national television for a few moments of extended contact with the Ace's muscular arms and torso.
In the full clip uploaded by an actual saint to YouTube, which will hopefully never be taken down, you can see this fan's journey to fulfill her dream of specifically being pinned to a three count by Hiroshi Tanahashi in a wrestling ring.
We start with a glimpse of basically all the Tanahashi merch that exists when we see her room, which is then transformed into a New Japan dojo dorm, because if you're going to get in the ring with Tanahahashi even in a fantasy way you first have to PAY YOUR DUES. She looks like she might not be having a great time as she does dojo pushups with Young Lions Shota Umino and Ren Narita.
Because OF COURSE her NJPW debut isn't going to be a singles match, the actual fulfillment of the fantasy occurs in a tag match between Tanahashi and Satoshi Kojima and the team of fan and Yuji Nagata. She makes all her pushups pay off with an elaborate entrance that includes badass makeup and an entourage of masked hula boys for some reason. Although she's a Tanahashi stan, this entrance and look are more reminiscent of Evil, and Togi Makabe on commentary seems to appreciate their similar taste in chains.
The true thirst level of this dream come true is exposed just before the match begins with the closeup on the woman's face as Tanahashi removes his entrance coat. It starts surprisingly normally with Nagata vs. Tanahashi, but soon moves into the fantasy realm when the fan getting pushed into the ropes turns into a hug and she has to take a moment to recover. After an exchange between Nagata and Kojima, the fan manages to get Tanahashi in a headlock, but quickly gives up in his arms when he reverses it. The segment also includes an extremely consensual-looking Texas Cloverleaf and this woman basically ascending into another plane of reality as she gets pinned.
In conclusion, congratulations to this fan for getting to live her dream and go Ace for being such a good sport. Hopefully the filming of this special occurred with minimal awkwardness for everyone involved because I'm going to watch the match part of it at least three more times today.