SmackDown kicked off its move to a live broadcast on Tuesday nights by holding WWE's much-anticipated brand-split draft. Stephanie McMahon, Mick Foley, Shane McMahon, and Daniel Bryan took turns building their brands from a current crop of WWE Superstars, and revealing which NXT Superstars would soon make their main roster debut.
As a follow up, WWE.com released videos of the live reactions of five of those call-ups — Alexa Bliss, Carmella, American Alpha, and Mojo Rawley — and they are downright f*cking adorable.
Carmella hugging the ponytail off of established BFF Bayley? So good.
Alex Bliss breaking down into tears and then worrying that she smudged her make-up? Let me love you forever, you tiny angry pixie.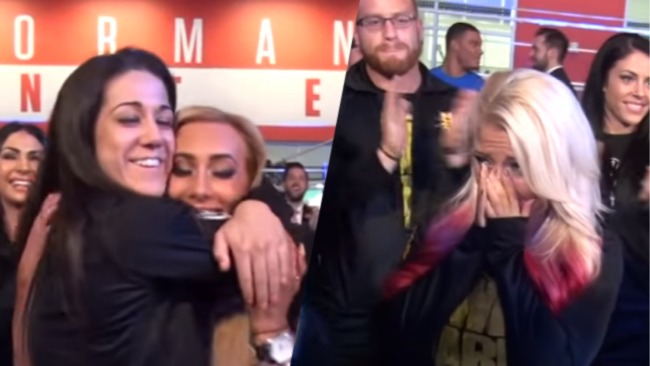 American Alpha may have played it cool, but I'm gonna go ahead and assume they rode off into the sunset on a tandem bicycle while Harry Nilsson played behind them as they went.
Mojo, in possibly the most sedate state of hype we've ever been, found himself almost completely lost for words when asked for his reaction to moving to SmackDown. He does explain, however, that this sedation is actually PEAK HYPE:
This is me when I'm at my most hyped. It's not the running around, it's not the screaming, it's this right here. This is a very special moment for me.
Hopefully WWE is busy getting to work on a scale that measures hypeness (hype-osity?) now that they've seen the maximum level of hype he can achieve. Like the Richter Scale, but illustrated in cans of Surge.