NXT TakeOver: New York airs this Friday, April 5, live on WWE Network. The latest live special from NXT features a 2-out-of-3 falls match for the vacant NXT Championship, a fatal four-way for the NXT Women's Championship, the finals of the Dusty Rhodes Tag Team Classic, and more. We'll be here all weekend with live results, an open discussion thread, news breakouts, and everything you need to know. Here's the card as we know it.
NXT TakeOver: New York
1. 2-out-of-3 Falls Match for the NXT Championship: Johnny Gargano vs. Adam Cole

2. Fatal Four-way for the NXT Women's Championship: Shayna Baszler (c) vs. Bianca Belair vs. Kairi Sane vs. Io Shirai

3. North American Championship Match: Velveteen Dream (c) vs. Matt Riddle

4. NXT Tag Team Championship Match: War Raiders (c) vs. Aleister Black and Ricochet

5. United Kingdom Championship Match: Pete Dunne (c) vs. WALTER
As always, we've got your complete rundown of the card and analysis below, featuring predictions for all five matches. Make sure to drop a comment and let us know who you think's winning, and be here on Friday night to see if you're correct.
Here's what we think will go down at NXT TakeOver Brooklyn But Not Brooklyn.
United Kingdom Championship Match: Pete Dunne (c) vs. WALTER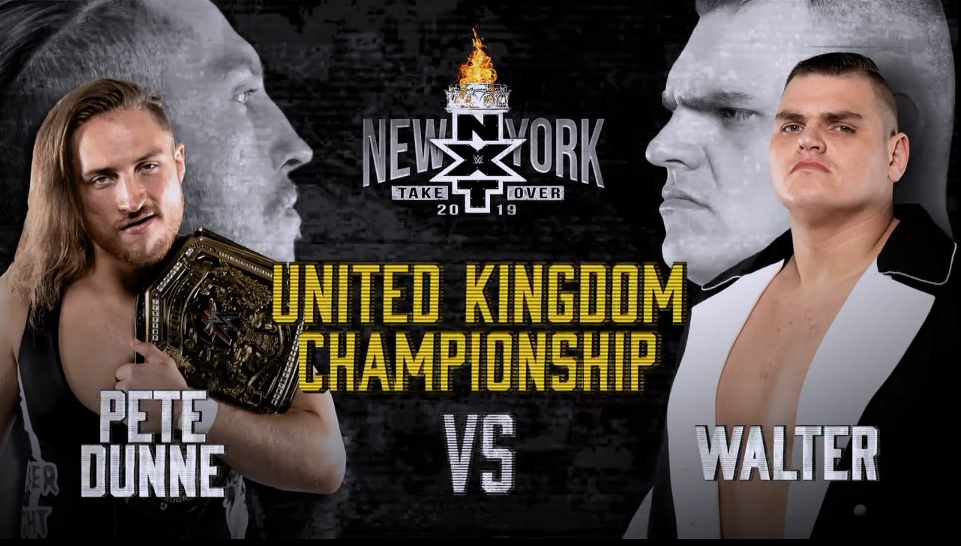 What You Need To Know: Pete Dunne is a little guy from England (whose real last name is England) and he's held the United Kingdom Championship for over 680 days due to a combination of breaking everybody's fingers, and nobody else in his division/on his show being even KIND OF as good as him. Enter: WALTER, an enormous Austrian ring general with no last name who types his one name in ALL CAPS. He looks like a big Officer Farva from Super Troopers but he will fucking kill you with his bare hands for real.
What Will Happen: Pete doesn't stand a chance. Pete is SO obviously going to lose here that I'm wondering if NXT won't want to subvert expectations and have him win or retain by disqualification or something. Almost 700 days is a long time to be champion, though, and if they're ever gonna say somebody else on the show is as good as Pete Dunne, it should probably be Goddamn WALTER.
Staff Picks
Raj Prashad – Going with WALTER to snag the belt and Pete Dunne to finally get that main roster call-up.
Emily Pratt – I feel like they might as well give this one to WALTER and let him start doing what he does best, being a nigh-unstoppable heel monster that everyone has to step up to face.
Elle Collins – Pete Dunne has had this belt for a very long time, in part because until recently he didn't have a division in which to defend it. With the way this story has been told so far, and how dominant they've built him up to be, I'm pretty sure WALTER takes it, becoming only the third WWE UK Champion, and the first who's not part of British Strong Style. Sorry Pete, but everybody's got to move on to new things eventually.
Bill Hanstock – As much as it sucks to realize, the legendary Pete Dunne title reign will finally come to an end. WALTER is clearly the only guy who can conceivably defeat the Bruiserweight, and I'm looking forward to this being the third WALTER match I've ever enjoyed.
NXT Tag Team Championship Match: War Raiders (c) vs. Aleister Black and Ricochet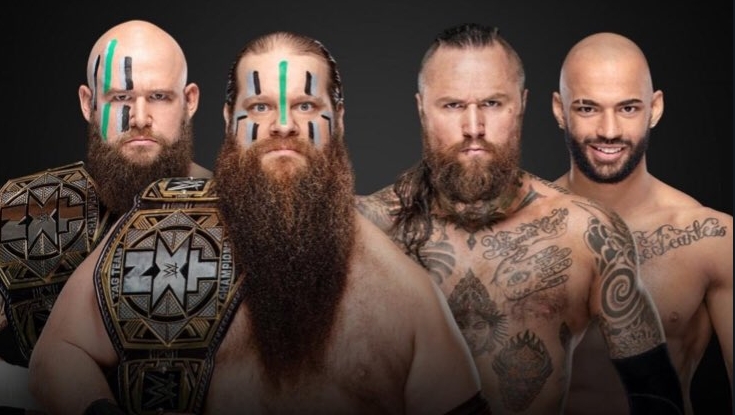 What You Need To Know: Moody occultist teleporter Aleister Black is suddenly best friends with flippy Kentuckian Ricochet, so much so that they're challenging for the Tag Team Championship on every show in the world. In one week they'll have wrestled for the Raw, Smackdown, and NXT Tag Team Championship, and they JUST won a big tag team tournament. Unfortunately for them, their opponents at TakeOver are the WAR RAIDERS, a pair of Renaissance Faire Road Warriors who will pick them up and throw them at the ground until they stop moving.
What Will Happen: Unless Ricochet and Aleister Black are going to unify three sets of tag titles somehow at WrestleMania — don't count out The Revival randomly being added to a Smackdown tag team match and losing, somehow — this should be the War Raiders' match. Plus, Black and Ricochet apparently already said their goodbyes to Full Sail, so unless some major changes have happened in the past month, Rowe and Hanson are walking out with a big victory over two of NXT's best ever.
Staff Picks
Raj Prashad – With Aleister Black and Richochet making waves on the main roster, it's hard to see War Raiders dropping the belts here.
Emily Pratt – I feel like I read the rumored plans for this, but forgot them, so here we go! I'm hoping War Raiders retain because otherwise, it seems like Black and Ricochet are just going to drop the titles and move up to the main roster. However, my main hope for this match is that the Raiders throw these guys around a bunch.
Elle Collins – Let's see, it's a dedicated tag team versus two thrown-together singles wrestlers who've already basically been called up. I'm pretty sure the War Raiders retain.
Bill Hanstock – Aleister Black and Ricochet don't even work here anymore, man. In the first match of the weekend (of who knows how many) for Black and Tan, they'll wow us, but War Raiders will be victorious in their first TakeOver title defense and (I believe) second match since actually winning the titles.
North American Championship Match: Velveteen Dream (c) vs. Matt Riddle
What You Need To Know: Two characters who are caught somewhere between idiot savants and wrestling geniuses are pitted against one another in the battle to see which interpretation of modern masculinity will reign supreme. Will it be the sexually confident exotico who can make things turn purple by snapping his fingers and raising his arms, or the former MMA fighter who wears flip-flops to the ring because we aren't sure he's smart enough to tie his own shoes?
What Will Happen: Happy clapping. I seriously don't care what happens here, as long as the match is 18 minutes long and Velveteen Dream shows up in some shorts with a Jimmy John's logo on them. I think Riddle takes it, and we spend the next week terrified that the Velveteen Dream's going to get called up to Raw or Smackdown and immediately lost in an NXT graveyard of battle royal participants.
Staff Picks
Raj Prashad – Good lord, this seems like a match of the weekend candidate. Predicting Riddle here, who seems destined to get his first NXT title.
Emily Pratt – It seems fast for Dream to lose this title, so I'm guessing he retains. However, we are the true winners of this glorious matchup.
Elle Collins – Either of these guys could win and I'd be totally fine. I'd like Dream to have a longer run, but Riddle's so good it would be hard to object if he took it. That said, I'm predicting Dream retains, I just don't have that much conviction about it.
Bill Hanstock – This is a very tough one to call! It may very well be that the loser of this match gets a Superstar Shake-Up call-up, but who knows how anything ever works these days? I'll pick Dream to retain by less-than-overhanded tactics, and hand Riddle his first NXT loss.
Fatal Four-way for the NXT Women's Championship: Shayna Baszler (c) vs. Bianca Belair vs. Kairi Sane vs. Io Shirai
What You Need To Know: The meanest and worst woman in the world is currently the NXT Champion, because she's an MMA bad-ass who is followed around by two less impressive MMA better-than-average-asses. She ran her mouth about not being respected until management put her into a match with everyone she hates: her Pirate Princess blood rival, a freak athlete who attacks you with her hair, and an unassuming Japanese lady who is secretly like 15 times more dangerous than everyone else put together.
What Will Happen: It all depends on whether or not the main roster needs a better Ronda Rousey to replace actual Ronda Rousey after WrestleMania. In a perfect world, Shayna Baszler retains, because "Shayna Baszler retains" should be the result of everything. In this uncertain world … I say Kairi Sane wins it back, and we build to a blood feud between rivals over who is the better two-time NXT Women's Champion.
Staff Picks
Raj Prashad – Going with Baszler here to keep her title run going through WrestleMania weekend.
Emily Pratt – This feels like the most thrown-together match on the card, but it should be good. I'm guessing Baszler retains and Shirai beats her for this one-on-one down the road.
Elle Collins – Shayna must be getting called up soon, whether it's because she deserves to be or just so she can back up Ronda. Either way, she's had a hell of a run, and it feels like now's the time to crown somebody new. Io and Kairi seem destined to be a tag team competing for those belts in the near future. That leaves Bianca Belair, and it also makes sense for her to win here, since she's challenging on a TakeOver for the second time. Of course I'm biased because Bianca's from Knoxville, like me, but I think it's her time.
Bill Hanstock – If there's any justice in this world, Shayna Baszler will be the new main roster Ronda Rousey after WrestleMania is behind us. You can have any of the other women take the title by pinning a non-Baszler, so … oh … let's say Belair wins the title by pinning Sane, setting up a future Shirai title win.
2-out-of-3 Falls Match for the NXT Championship: Johnny Gargano vs. Adam Cole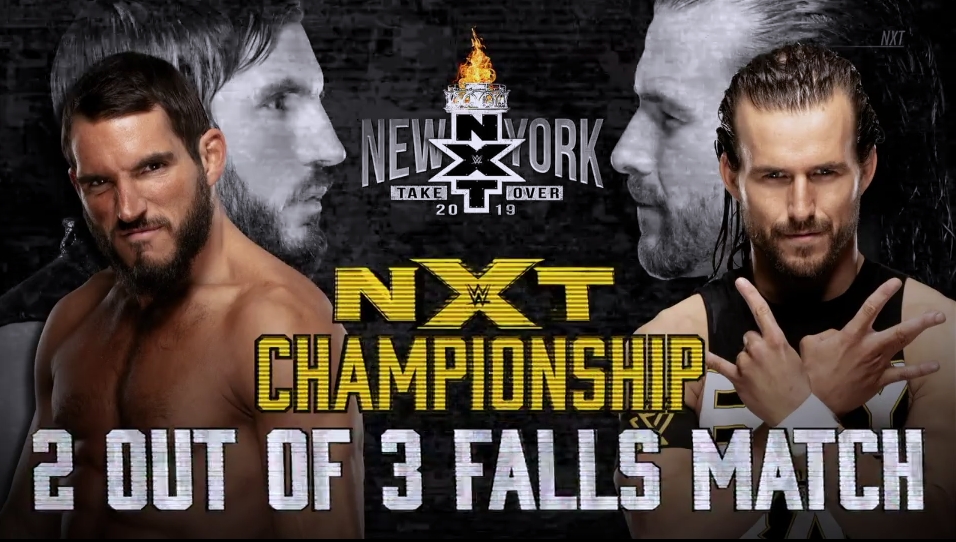 What You Need To Know: A 2-year long story about strangers meeting in a tag team tournament, becoming best friends, falling apart, and destroying each others' brains and hearts and souls got interrupted right before its logical conclusion by neck surgery. So NXT called an audible: two of its best wrestlers are going to have its best match type in the main event of its best show of the year for its top championship. LET'S GET IT THE HELL ON.
What Will Happen: Adam Cole, baby. It's the only thing that makes sense. Undisputed Era promised that 2019 would be the year they hold all the gold, and as great as Johnny Gargano is, it won't feel right for him to win the NXT Championship unless he's taking it from Tommaso Ciampa.
Staff Picks
Raj Prashad – It's hard to imagine Cole making it to the main roster without an NXT title run. Predicting Cole, as it seems like the perfect opportunity to give him the belt.
Emily Pratt – I hope NXT makes a clean-ish break from the Gargano vs. Ciampa angle now that the latter is out injured and puts the title on Adam Cole. I think that's what they'll do and Gargano will become Johnny 205 rather than Johnny 2-out-of-3 Falls.
Elle Collins – Obviously if Tommaso Ciampa hadn't had to take time off, this would be the moment for Johnny to win the belt from him. Now it's a lot more up in the air what might happen, but I'm still picking Johnny to win. I think he needs a run with the NXT belt before he gets called up for good, and if not now, when?
Bill Hanstock – This will almost certainly end up being the best match of the week, and there's no way that Gargano should win this. Cole winning makes him both the first NXT Triple Crown AND Grand Slam Champion (if we're counting the Dusty, which we should), and there should be no universe where Gargano captures the NXT Championship without Ciampa being involved. Plus, it's just time for the Undisputed Era to be top dicks in the company, definitively. What better way than by Cole capturing the title in the arena where they made their NXT debut?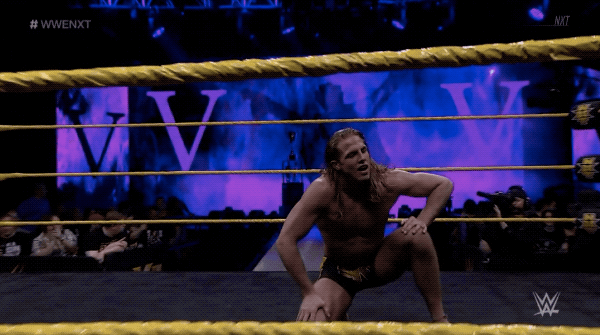 Other things we'd like from this show:
Billie Eilish performing live, only to get powerbombed off the stage by Poppy
"Albert Hardie Jr." in the front row, waving at the crowd
an announcement that NXT is just the third main roster brand now with nothing changing, except they're expanding the roster and sending back The Revival, Tyler Breeze, Sami Zayn, Kevin Owens, and like half the guys they just called up
Sasha Banks and Bayley defending the Women's Tag Team Championship on the hour-one taping because they said they were gonna
Those are our thoughts on TakeOver: New York. Who do you think's winning what, and why? Let us know down in the comments section, and make sure you're here all weekend for our WrestleMania weekend coverage!