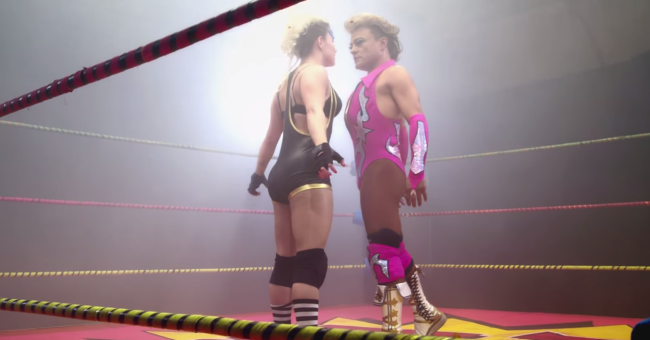 Canadian electronic musician and hella NSFW performance artist Peaches isn't exactly the first person you think of when you think of a mainstream music-pro wrestling crossover. British wangst-rock singer Frank Turner threw hands at CM Punk, John Darnielle wrote an entire album about it (with a subsequent music video featuring Rob Corddry), but pro wrestling and Peaches? How could that even work?
Ah, yes, California's Lucha VaVoom.
Lucha VaVoom describes itself as "Where authentic Mexican Masked Wrestling, Striptease & Comedy collide [sic]." If there's a more perfect wrestling company to team up with Peaches, I honestly can't think of one. In the video, Peaches pays a constantly vaping Kim Gordon (a member of legendary New York noise rock band Sonic Youth for you youngin's looking to simultaneously google and break my old lady heart) to train her to wrestle. One by one, Peaches takes on the stars of Lucha VaVoom, including the amazing exótico Cassandro, the epically gross Dirty Sanchez, and With Spandex favorite/champion of intergender wrestling Joey Ryan. You may also recognize Ryan from the Mountain goats video linked to above, the divisive Max Landis video Wrestling Isn't Wrestling, and, of course, the greatest Shop TNA commercial of all-time.
We're putting the video at the bottom of this post to give you a heads up that, like most Peaches… anything… it might not be suitable for work computer screens and those with delicate constitutions. For everyone else not at work and willing to dive into the weirder side of pro wrestling, check out the video for "Close Up" below: