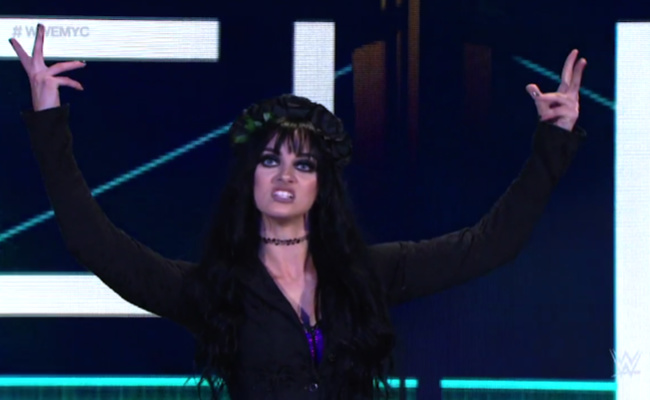 Indie wrestling is at it again. Back on December 30th, at a show for Suburban Fight Pro Wrestling, an L.A.-based promotion that runs adults-only shows in bars, up-and-coming goth girl wrestler and Mae Young Classic competitor Priscilla Kelly did a spot where she pulled a supposed used tampon out of her shorts and dangled it menacingly before stuffing it in the mouth of her opponent, a woman named Tuna.
On Saturday night, a video of the incident suddenly caught fire on Twitter. You can watch it here, but if you're just going to say it's disgusting and you regret having seen it, remember that the option to not watch it exists.
As the video spread across Twitter, a lot of people objected, including Impact Hall-of-Famer Gail Kim:
And WWE Hall-of-Famer Jim Ross, who kept his reaction to one word:
And WWE Producer Road Dogg:
When Kelly offered a lighthearted dismissal of the criticism…
…that's when Jim Cornette really got mad:
Of course there were also defenders of Priscilla Kelly and the spot, including members of the live audience:

And quite a few wrestlers, including (unsurprisingly) Joey Ryan:
Even Road Dogg, who'd heard from plenty of fans after his initial statement that Priscilla was why people despise wrestling, decided to apologize:

And Reby Hardy offered a particularly cogent explanation of the reactions to the spot:
In an industry where it's almost standard practice for guys in hardcore matches to rub their opponents' blood into their own faces, and where Sami Callihan hocks loogies onto his hand before chopping people, and yes, an industry where Joey Ryan does all that stuff with his penis, for Priscilla to get called out as particularly disgusting does seem to reflect a double standard when it comes to which body parts and bodily fluids are regarded as the most disgusting.