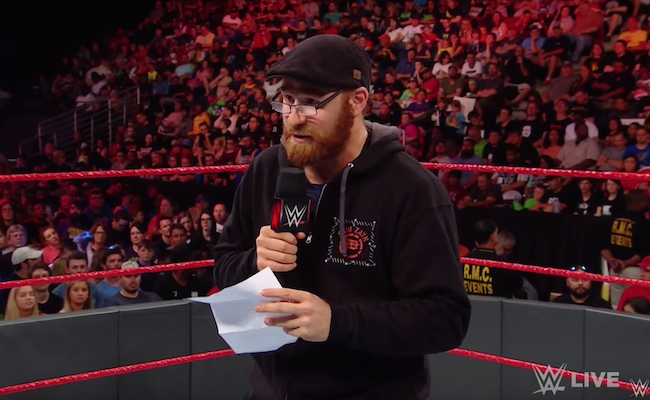 Days after getting pinned with one hand by Bobby Lashley at Money in the Bank, Sami Zayn revealed he'll be on the shelf for the foreseeable future.
Zayn missed the Monday Night Raw following his pay-per-view loss, and rumors started to trickle out that he was exploring opinions on possible nagging injuries. Apparently, Zayn wasn't just getting information — he was actually undergoing the first of two shoulder surgeries.
Here's what Zayn said in an interview with WWE.com:
"…Basically, long story short, it turns out I have two torn rotator cuffs. The left one and the right one are both torn. I just underwent surgery on the right one, and then in about six or seven weeks, I'll be undergoing surgery on the left one, and hopefully I can come back healthy and happy."
Zayn said his left shoulder, the one he famously injured in his WWE main roster debut against John Cena, hasn't been right since surgery. He believes his right shoulder was injured at a Montreal Live Event. The last house show in Montreal was in August 2017, when Zayn wrestled Jinder Mahal.
Zayn said he hopes to be ready to go for WrestleMania 35, putting him out of action for the rest of 2018 and possibly until 2019. Here's to hoping for a speedy recovery for Zayn.