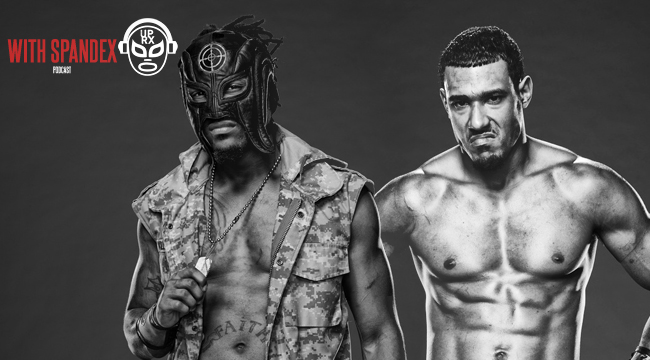 After months and months of speculation, Lucha Underground season 4 is finally about to begin taping. And to celebrate (and hot on the heels of our cool exclusive on the new Temple), we were lucky enough to get Killshot (AKA Shane Strickland) and Dante Fox (AKA AR Fox) on the podcast to talk all about their Match of the Year candidate death match at Ultima Lucha Tres, which is STILL blowing our minds.
Please make sure that you're following both Strickland and Fox on Twitter, because they're awesome dudes who you should support! And make sure you're following Lucha Underground now, because they have these marathon taping sessions coming up soon, and if you're in the Los Angeles area you sort of owe it to yourself to try to make it out to one soon.
Make sure you send your thoughts and questions to withspandexpodcast@uproxx.com, because we'll read the best emails on the show, and we'll send you fun prizes in the mail.
You can follow McMahonsplaining on Twitter, along with With Spandex proper. Our theme song is by J.W. Friedman, who is great. You can subscribe to the podcast on iTunes, Google Play or you can stream the episode below or download it on Omny Studio.