There are a lot of appropriate ways Raw's 25th anniversary special could've started, but they picked the right one: WWE Chairman of the Board and Raw creator Vince McMahon receiving a plaque from his children, complaining about the plaque for several minutes and generally running his mouth until Stone Cold Steve Austin appeared, put the fear of God in him and put him — and his son — down with Stone Cold Stunners.
McMahon claimed that a lot of things had changed since they'd been in the ring together; that he was now a senior citizen, living in an old folks home, and that if Austin was going to attack anyone, it should be his son, Shane. Austin took Vince's advice, stunning Shane — who really does deserve it — and, of course, tricking Vince into thinking they were pals just long enough to drink a beer and hit him with his own Stunner. Austin then hit a third Stunner on Shane, because every Raw opening should end with the people in the ring deciding to team up and attack Shane McMahon.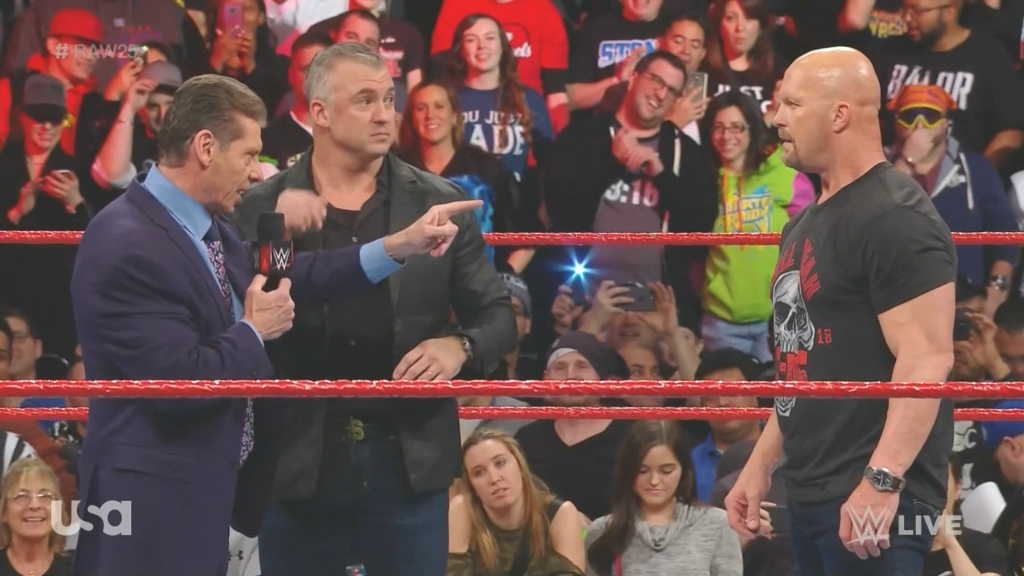 This was Austin's first official appearance on WWE television since showing up alongside Shawn Michaels and Mick Foley to beat up the League of Nations (and Xavier Woods) at WrestleMania in 2016. He told us last year that the Stunner on Woods might've been the last one, so it's good to know he had (at least) three left in the tank.