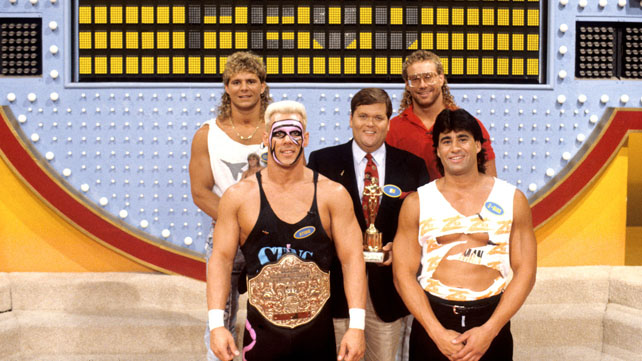 Family Feud is a time-honored American tradition. The show has been around for decades, has had great hosts (and Louie Anderson) and has become sort of a viral sensation as it's maneuvered the age of social media. But if you're a wrestling fan, you can probably remember the crossover episodes that would happen ever so often. I distinctly recall the 1992 Family Feud (and Ray Combs subsequently bombing a stand-up routing at Survivors Series a year or so later), and I'll still stop and watch any time wrestlers are on the show. With that said, I scrounged up all the times I could find of wrestlers on the greatest show on Earth, and it's pure throwback fun.
WCW (Sting, Brian Pillman, Z-Man, Brad Armstrong and Jim Ross) vs. GLOW (Mt. Fiji, Godiva, Justice and Jackie Stallone). This is a Wrestle Bro extravaganza… and Jim Ross. So much is going on:
1. Who the f*ck is the Z-Man?
2. Jesus Christ, Brad Armstrong's glasses.
3. Brian Pillman being a regular guy next door is crazy, considering the loose cannon deal he was doing at the end of his career. He's lucid, regular and sort of bland.
4. Sting is a bro's bro.
5. Jim Ross wants no part of this. I bet Shockmaster or someone was supposed to be there, and Ross had to fill in. He doesn't look remotely like he belongs.
6. One thing you'll notice about these Family Feud episodes is that the games are like five rounds. Usually, there are usually three rounds before one family wins. But on these specials, nobody gets anything right, so they have tons of rounds. It's like "Celebrity Jeopardy" on SNL.
TNA Week (Mick Foley, Rob Van Dam, Mr. Anderson, Matt Morgan and Jay Lethal vs. Christy Hemme, Velvet Sky, Angelina Love, Lacey Von Erich and Tara). Leave it to TNA to have an overbooked five-day series of games. I'm pretty sure RVD was high as a giraffe the whole time, but that's just speculation.