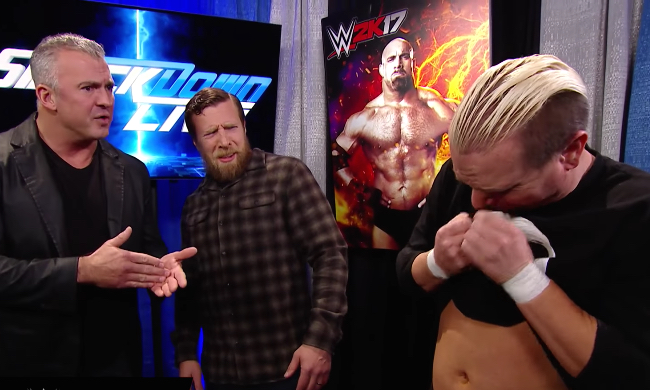 Hey, Blue Team!
Happy WWE Week! Boy does time fly. It seemed like WWE Week on USA just happened. But whaddya know, it's here again! I celebrated by watching Smackdown Live. And it turns out, it was a pretty good show. A little bit more wrestling, a little less James Ellsworth … and a lot more Luke Harper than we normally get. Oh! How could I almost forget? The Ascension actually came close to winning a match! It's a WWE Week miracle!
How are YOU spending WWE Week? Share it in the comments below.
It's the holiday season. The time of year where everyone loves giving. So why not give the gift of snarky internet wrestling commentary, and take a moment to give The Best and Worst of Smackdown Live a share on your favorite social media platform. While you're at it, follow With Spandex on Twitter and like us on Facebook.
Are you in Southern California? Want to see Dolph Ziggler and me do comedy? Or just want to see Dolph Ziggler and I'll also be there? Come to the UCB Theatre in Hollywood this Saturday night for The Tournament of Nerds.
And now without further ado, here is The Best and Worst of Smackdown Live for December 13th, 2016.

Best: A Much Needed Day Off
This week's Smackdown Live kicks off with Shaniel Bryan backstage watching this week's episode of Smackdown Live. I don't know how that's possible, but I'm not going to spend too much time thinking about it as I'm apt to fall into a rabbit hole of thoughts like "what is the TV show that we're watching these two watch if we're watching the show." This sort of thing reminds me of that scene from Spaceballs where Rick Moranis and that other guy are watching the VHS of Spaceballs.
Turns out, James Ellsworth is watching it too, and he's not doing well. He seems to have come down with a bad case of the fake sneezes and sniffles. Because of this, his match against AJ Styles for the WWE Championship tonight is once again being postponed. This guy has some weird condition. He can be thrown off a stage by Braun Strowman and Super-Duper-Styles Clashed off the steps by AJ and not miss a day of work … but he comes down with the common cold and he's got to take a sick day?
Which is all for the best. No offense to Ellsworth, but I think Smackdown could use a break from him as much as he can use a break from Smackdown. What's extra surprising is that this is actually that last we see of Ellsworth tonight. I fully expected him to show back up during the main event and cost Dean Ambrose the match. I was downright shocked that he didn't.
Feel better James. Enjoy your night off.
Worst: Broken Promises
AJ Styles is the guest on this week's Miz TV, and with the exception of Styles forgetting Dean Ambrose's name, the whole thing turned out great. The Miz is doing his usual schtick of being the only character on the show who applies actual thought and reason. The two men are having a laugh together, until The Miz starts talking about having an eye on Styles' WWE Championship. We saw AJ Styles and The Miz wrestle each other a couple of times on Smackdown earlier this year. That was before AJ had settled in to being the best wrestler in WWE and The Miz started being relevant again.
Before I can get too excited for a modern Styles/Miz match, out comes Ambrose who is then followed by Dolph Ziggler, here to continue his feud with The Miz that ended a week ago.
Hey, here's where your "worst" comes in. After billing their ladder match for the Intercontinental Championship at TLC as the end of their feud, The Miz and Dolph Ziggler are wrestling each other again. That has to be some kind of new record. It comes as no surprise after Kevin Owens and Sami Zayn recently nonchalantly faced each other on Raw. They were bound to wrestle each other again. After all, there are only ten singles mens wrestlers actively on the Smackdown roster. And one of them is James Ellsworth.
I'm totally fine watching Miz and Ziggler fight forever. They work great together. So there's a simple solution to this. Stop billing matches as being the end of anything. The TLC match would have been just as good without billing it as their last. It wasn't necessary and just seems goofy now that these guys are right back wrestling each other again. Plus if there's actually a final match between two people, how are we ever going to believe the hype if they can never stick to it?
So Miz hits Ziggler with the Skull Crushing Finale and Ambrose hits Miz with Dirty Deeds. Then before Daniel Bryan can come out and tag these guys up, The Wyatt Family interferes with my TV set and Luke Harper appears out of nowhere to take out Dean Ambrose. I was beginning to think the Royal Rumble build was starting a little early, but nope! This is all leading to a Fatal 4-Way between The Miz, Dean Ambrose, Dolph Ziggler, and Luke Harper as this week's Smackdown Live main event. The winner will get a WWE Title shot against AJ Styles in two weeks on Smackdown.
So it looks like AJ Styles is calling in sick tonight, too.

Best: Scream It If You Mean It
The first match of the night is Natalya vs. Carmella, with Nikki Bella sitting in on commentary. Nattie/Bella reality drama aside, the match itself was good. They really go after each other. They spend a good portion of the match on the mat, grounding and pounding or in submission holds. Then they spend the rest of the match yelling at each other as they trade moves. I haven't heard so many shrill screams coming from the ring since they future endeavored Melina. I kind of like it. It's fun that they're yelling at each other.
I didn't even mind the tried and true cliche of the guest commentator getting involved since the storyline has so much to do with Nattie trying to talk to Nikki. I don't care who attacked Nikki Bella from behind at Survivor Series, but that doesn't stop me from caring about the match.
Best: Battle Almost Royale
I was fully prepared to not enjoy the Tag Team Battle Royale to determine new number one contenders to the Wyatt Family's Smackdown Tag Team Championship. I like my Battles Royale big; twenty-man plus. That's part of the fun of a Battle Royale. Seeing all those guys crammed into a ring at once. In my mind, twelve men does not a Battle Royale make. They couldn't have dropped a couple of bucks and flew in The Headbangers? Kenny got fired from his day job, so we know The Spirit Squad is available. They could have thrown Kalisto and Jack Swagger together and called them The New Mexamericans. Something to fill that ring up.
But I was pleasantly surprised by how enjoyable I found this mini Battle Royale to be. Especially when Jason Jordan started throwing people. The match comes down to Zack Ryder and Konnor from The Ascension. That is not a typo. Not only was Konnor the second to last man left standing, they actually let him look pretty good doing it! Maybe if the rules of every match consisted of throwing your opponent over the top rope, The Ascension would be doing better. It's those pesky pinfalls and submissions that are getting in their way.
I've said it before and I'll say it again. It's not too late for The Ascension. Konnor's showing tonight proves it. With The Vaudevillains in the dog house, The Usos on the shelf with an injury, and now an apparent injury to Zack Ryder, all it's going to take is Chad Gable blowing out a knee and Fandango breaking an arm to put The Ascension right back on top.
I can't wait to see them against The New Mexamericans!

Best: A Little Fluff
We take a break from all that wrestling for a little backstage skit involving Gabriel Iglesias, Apollo Crews, Maryse, and The Miz. I'm giving it a best because The Miz and Maryse are of course great, Apollo Crews is back on television, and this celebrity cameo was mercifully short. If you were a WWE fan during the extremely dark days of the Raw celebrity guest hosts, you'll know exactly what I'm talking about. If the WWE can get a celebrity appearance on and off screen as fast as this, this will always be a best.
There was a time where at the very least, this bit would have led to Fluffy being in Apollo Crews' corner for a match against The Miz. Or worst case scenario, Apollo Crews in Fluffy's corner in a match against The Miz.
Worst: Don't Just Stand There
Alexa Bliss was scheduled to take on Deonna Purrazzo in a non-title match, but once she gets to the ring she refuses to do so, taking out Purrazzo. This brings out Becky Lynch who demands that she get her Smackdown Women's Title rematch, right here right now. Shane McMahon comes out and makes the match. And it's a great one, right up until the horrible ending. Boy was it bad.
Alexa Bliss rolls out of the ring and starts feigning some sort of injury. She's favoring her knee and limping around the ring as the ref starts the count. It's immediately obvious to everyone that's she's trying to get herself counted out to retain the belt. That would have been a perfectly fine way to end the match if it weren't for Becky Lynch doing practically nothing to get her back in the ring.
I understand what they were going for. They were trying to make it look like the referee was stopping Becky from getting out of the ring and going after Bliss, but me using the word "trying" is a real stretch. Becky just kind of stood behind the ghost of WWE's Charles Robinson without making any real attempt to leave the ring. Nor did little Naitch do much to stop her. It was very bad. Not "Baron Corbin trips off the ring apron" bad, but pretty bad. I don't know whose fault this is, so I'm not going to lay blame. I'm just going to try to forget it and move on.

Best: A Heaping Helping Of Harper
Well this was just a barrel of fun. The Fatal 4-Way main event between Dolph Ziggler, The Miz, Dean Ambrose, and Luke Harper really delivered. It's just about all you can ask for in a Smackdown Live main event. A good, fun, long, entertaining match that we haven;t seen a million times before. Everybody looked good, but especially Luke Harper. And man is that long overdue.
If you're a regular reader of The Best and Worst of Smackdown Live, you know that I love LOVE Luke Harper. He has been criminally underused. I can't tell you the last time Harper looked this good. A lot of that has to do with who he's in the ring with. WWE has a tendency to want to put Harper in the ring with other big men like Kane. But Harper doesn't wrestle like your typically big man. He always works better with guys like Ambrose and Ziggler. Remember that crazy match him and Ziggler had at TLC two years ago? Stole the show.
But I feel like it's been almost that long since we've gotten to see Luke Harper shine. Please WWE, don't have this be a one time thing. I'm terrified this is a situation where they only threw Luke Harper into this match because the rest of the roster was off filming Tribute to the Troops. Do something with Harper! I know he's technically one third of the Smackdown Live Tag Team Champions, but I'm pretty sure that's only so Randall doesn't have to wrestle house shows when he's got a new baby at home.
As much as I'd love to see Luke Harper take on AJ Styles, the right man won. It was a much needed victory for Dolph Ziggler, and there's still a lot of mileage left in Ziggler vs. Styles. Very good end to a solid show. Looks like the final Smackdown Live of 2016 is going to be a big one between AJ's title on the line against Ziggler and the return of famous sketch comedian, John Cena. With that being two weeks away, I can already hear them phoning in next week's show.
Until next WWE Week, I'm Justin Donaldson and I'll probably phone in next week's Smackdown Live too.