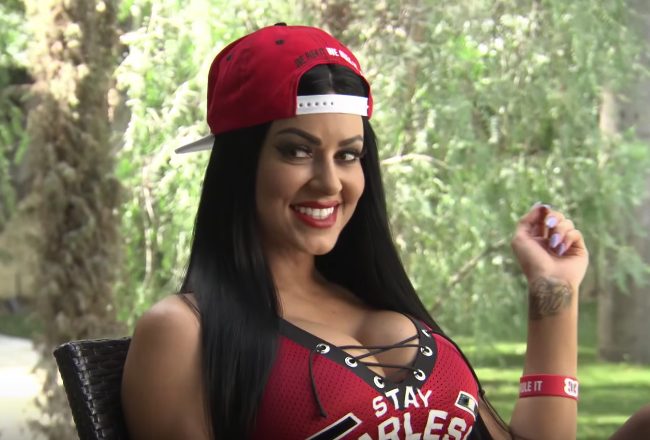 Hey, Blue Team!
Good Smackdown this week, if not a slightly inconsistent one. There are a couple of great matches and a lot of fun segments, but at the same time, a lot of stuff that feels rehashed and extremely unoriginal. But overall, I really enjoyed it. The tag team division hangs on for another week with a fantastic Usos/American Alpha match, The Miz and Maryse produce some solid sketch comedy, and the Wyatt/Orton feud takes another step in some direction. Wyatt appears to have some sort of black tennis racket with a red X on it that he places over Orton's crotch. I don't know what's going on; you tell me.
The Road to WrestleMania is a long one. To help us down the highway, why not take a moment to give The Best and Worst of Smackdown Live a share on your favorite social media platform. While you're at it, follow With Spandex on Twitter and like us on Facebook.
And now without further ado, here is The Best and Worst of Smackdown Live for March 21st, 2017.

Worst: Deja Vu
This week's Smackdown Live opens up the same way last week's Smackdown Live opens up. We get a video package that brings everybody up to speed on what's going on with AJ Styles and Shane McMahon, followed by a little piece of backstage business between Daniel Bryan and Styles. And then another solid in-ring promo from AJ. Somewhere along the way, they even stop to lie about why Mauro Ranallo isn't there. Just like last week! It's all so similar that they even have Styles call out that it feels like deja vu.
As always, the video package is superbly done, throwing some visual effects on the footage of AJ attacking Shane while the audio from AJ's fantastic promo from last week plays over it. I don't know why WWE rarely uploads those recap packages to YouTube. They usually do a better job of telling the stories than the actual show does.
As good as it is, there is one logic-defying shot that we didn't see last week. They now somehow have footage of Shane's head going through the car window, shot from inside the car. I guess whoever's car that was keeps a GoPro running in it at all times.
AJ's shortstop backstage to interact with Bryan was a welcome one. I'm glad they took the time to address why Styles is back after he was fired last week, and we even got to hear Daniel Bryan's feelings on it. WWE has been getting a lot better with stuff like that lately. I feel like if this was four or five years ago, they would have acted like last week never happened and Bryan would have never mentioned it again.
The weakest part of the opening was unfortunately the main chunk. AJ's in-ring promo. It's not bad, and Styles does a good job with it, but it pales in comparison to his opening promo from last week. AJ accepts Shane's challenge for a match at WrestleMania and warns the WWE Universe that he's going to do more damage to Shane on this week's show. He just has to wait for Shane to show up at the arena first.
Why is Shane always getting to Smackdown halfway through the show? Doesn't that seem extremely irresponsible? Is punctuality one of the reasons Stephanie's getting the company instead of Shane when Vince dies in 3000 years? Styles' deja vu stops here as the rest of the show doesn't turn out for Styles as he had hoped. But we'll get to that later.
Best: Tag Team Wrestling, Two Weeks In A Row!
The first match this week is the best match this week. In another bit of deja vu, American Alpha once again take on The Usos in a rematch from last week. Except this week, the tag titles are on the line and The Usos win them. This was a very well-put together tag team match. It had a beautiful build to it that really grabbed the crowd's attention. By the time they got to the false finishes, the match was really cooking. I had a feeling going in that The Usos were leaving Smackdown as champs, but the match made me believe it could have gone either way.
This was definitely one of the best main roster showings so far for American Alpha, who've struggled to reach the same heights on Smackdown that they did in NXT. I'm not entirely sure why Jordan and Gable aren't as over with the main roster fans as they were with the kings of smarks at Full Sail. But matches like these are a good start in getting them there. Now from here, you just have to be consistent. You know, like having tag team wrestling on every episode of Smackdown.
In retrospect, maybe it was a bad idea putting the tag titles on American Alpha so soon. As much as I enjoyed their matches against The Wyatt Family, it seems like that was more about causing dissension among The Wyatts and getting the belt off of them more than it was about American Alpha winning them. There didn't seem to be a plan for Jordan and Gable once they won the titles. There didn't didn't even seem to be a plan for the tag team division at all. But now at least for this week, things seem to be headed back in a good direction.
Putting the belts on The Usos right now is the right move. Even though they're the heels, they're way more over on Smackdown than American Alpha. Did you see that pop for them when they won? The crowd is behind them, and they should be. The Usos have finally found themselves. Or the WWE has finally allowed The Usos to be themselves. either way, The Usos are on fire. even after being missing from television for weeks at a time. I hope The Usos retain at Mania. I hope The Usos have a match at Mania.
By the way, if you want to see The Vaudevillains or Ascension during WrestleMania weekend, they'll be wrestling at 1pm Saturday at Axxess. That is not a joke.

Best: The Total Bella Porn Parody
Oh man. This I loved. Not just once, but twice on this week's episode we are graced with a parody of Total Bellas entitled "Total Bella Bullsh*t," starring Maryse playing the roles of both Nikki and Brie Bella, with The Miz as John Cena. These segments look and feel like a cross between a porn parody and a MadTV sketch, but for what this is intended to do, the vibe totally works. I've never seen Total Bellas, but this is pretty much what I assumed the show is like without watching. Actually, I'm pretty sure this is what Nikki Bella and John Cena are like in real life too.
The sketches touch upon some classic John Cena robot behavior and revolve around whether Cena is going to propose to Nikki Bella or not. Some of it is legitimately funny, and if you've watched more than one episode of WWE programming in your lifetime, you know funny WWE comes around about as often as Halley's Comet. Whoever was in charge of putting these together needs to officially be put in charge of all WWE segments that are supposed to have some sort of humor in them.
As well-written and produced as these are, the highlight is definitely the performances from The Miz and Maryse. Especially Maryse. Possibly the best thing to come out of this mixed tag match is how on fire Maryse is going to be. She'll be prime to enter back into the Women's Division, and the Women's Division is starting to look like they could use her. I have a feeling that we haven't seen the last of these "Total Bella Bullsh*t" segments. And that's fine with me.
Unfortunately, this is not where the Bella parody stopped.

Worst: Multiplicity
So, this is weird. And quite frankly, poorly produced television. The match is John Cena vs. Fandango. That sounds great on paper. It's nice to see Fandango get a little television time, and it's always fun to see Cena in matches with people who aren't the typical John Cena opponent (like Randy Orton or AJ Styles). Yes, the match probably should have been Cena and Nikki Bella vs. Breezango, but not every wrestling organization can be as gender fluid as Lucha Underground.
Anyway, Fandango is announced and as soon as he hits the stage we see that something is immediately off. Out with him is his tag team partner, Tyler Breeze. But for some reason, Tyler Breeze is dressed as Nikki Bella. That's right. Sandwiched between two Nikki Bella parodies is another Nikki Bella parody. A different Nikki Bella parody, with a different person dressed up as Nikki Bella.
This segment wasn't bad; it was fun, and on any other episode would have made perfect sense. But on the same show as the Miz and Maryse sketches, it just comes off as very bizarre. Imagine you were watching SNL, and in between two Donald Trump Alec Baldwin sketches, there's another Donald Trump, but this time he's played by Bobby Moynihan. And that's not even that good of an analogy, because this is a scripted narrative show, so it makes even less sense. Were these written independently of each other? Isn't someone making sure that two of the same things aren't ending up in the same episode? I mean, I guess the answer is no.
I just simply don't understand the logic behind this.
Best: Before The Forklift Shows Up
Randy Orton vs. Baron Corbin isn't just the planned main event of WrestleMania 38, it's also a really good match in the middle of this week's Smackdown. I wasn't expecting this match to be so good. In fact, I wasn't expecting much of a match at all. I thought maybe we'd get a minute in and the lights would go out then Orton would disappear, or before the bell even rang, Dean Ambrose would come down to the ring driving a forklift. Sure, Dean Ambrose would eventually show up with a forklift and the lights would go out on Orton in a later segment, but I didn't think we'd get such a good long match before those things happened.
These two seem to have really good chemistry together and they felt very evenly matched. Randy did a great job selling for Corbin like he was a monster, but then outsmarting him to gain the upper hand. But then just as quickly, Baron would outsmart Orton. I'm really interested to see more of these guys together in the future. I am not looking forward to whatever the forklift-related stipulation match is that Baron Corbin and Dean Ambrose are going to have at Backlash.
I've spent a lot of my time and yours complaining about the Bray Wyatt/Randy Orton feud. This week, I think I'll just let the video speak for itself.

Best: Whatever They Come Up With Will Probably Be Pretty Good
We're less than two weeks out from WrestleMania and we still don't know exactly what this Smackdown Live Women's Championship match is. Other than that it involves every available woman on the Smackdown Live roster and is brought to you by Snickers. I'm starting to get the impression the WWE may not know what this match is yet either.
This week's women's segment is a "match" between Becky Lynch and Carmella that plays out pretty much how I thought Randy Orton and Baron Corbin was going to. Just as it's getting started, the match is interrupted by all the available women on the Smackdown Live roster. This is one of those segments that kind of just is what it is. It gets all the women out there in front of the crowd, and reminds everyone watching that there's going to be some kind of Smackdown Women's match at WrestleMania.
Best: Shane Is Going To Do Something Stupid At WrestleMania
Your main event this week is Shane McMahon playing hide and seek with AJ Styles. AJ had planned on jumping Shane just like he did last week, but earlier in the show Daniel Bryan called Shane and tipped him off to Styles' plan. I guess wherever Shane was, he wasn't watching Smackdown. Styles hides backstage waiting for Shane to arrive, but when Shane's car pulls up, Heath Slater and Rhyno get out of the car instead of Shane. In case you don't remember Heath Slater and Rhyno, they were a tag team on the Smackdown Live roster who won the Tag Team Championship, got super over, then were never heard from again. Good to have them back.
Surprise! Shane is in the arena. He heads down to the ring, hops on the mic, and lets AJ know he is waiting for him. They cut to a commercial break and when they come back, Shane is still in the ring waiting for AJ … and still waiting … and still waiting … turns out, it's a long walk from the parking lot of Mohegan Sun to the arena. So Shane ends up spending more time waiting for Styles than Heath Slater and Rhyno have spent on TV all month. Once Styles does get out there, he tries to backpedal and apologize to Shane for everything he's done.
Styles comes off as scared of Shane, and I think that's the right reaction. It makes perfect sense to me. AJ knows what Shane is capable of. He knows there's a good chance that come WrestleMania, he's going to have a human being fall on him from fifty feet, or German suplex him through a car window… something like that. But Shane isn't waiting until Mania to try to kill himself. He attacks Styles as soon as AJ hits the ring, hitting him with weird little punches until they both end up outside where AJ hits Shane with a great looking suplex into the barricade.
Eventually they clear off the announce table. AJ lays across it and Shane comes flying off the top rope to the outside, putting Styles through the announce table with an elbow drop. It looked devastating and did a fantastic job of selling WrestleMania. If Shane will do this on Smackdown, what will he do at the Show of Shows?
I like the announce table a lot, but I do have one complaint. It looked like it did just as much damage to Shane as it did to AJ, but instead of Smackdown going off the air with both men on the ground selling the devastation, Shane gets back to his feet pretty quickly so he can point at the WrestleMania sign. Yes, he eventually grabs his ribs as he walks away, but for me that was too little too late. I guess logically if the guy can almost beat The Undertaker in a Hell in the Cell match at WrestleMania, then a relatively small bump like that one isn't going to keep him down for long, but still. I guess what I'm trying to get at it is … Shane, at WrestleMania, after you jump one hundred feet off the fake roller coaster set, stay down.
Until next time, I'm Justin Donaldson.