Pre-show notes:
– In case you always skip the pre-show notes and still haven't picked up on this, there are now legal ways to watch Lucha Underground online. You can check out the UniMas website for episodes streaming in Spanish or find El Rey Network on Sling TV for the English language version. Watch this show!
– If you'd like to read about previous episodes or catch up on the latest Temple news and gossip, head over to the Lucha Underground tag page.
– With Spandex is on Twitter, so follow it. Follow us on Twitter and like us on Facebook. You can also follow me on Twitter.
– Shares, likes, comments and other social media things are appreciated. Tell @LuchaElRey that you read and love this column.
And now, the Over/Under on Lucha Underground episode 25 from April 29, 2015.

Over: Cage Monster Plot Twists
Last week, Dario Cueto tried to hand the Trios Tag Team Championship Tournament over to The Crew on a collection of silver platters, but they screwed around, got hit with a high crossbody from Literal Heaven and lost. This week, Cueto ushers them into his super secret cage room and parades them out in front his monster, who he announces as HIS BROTHER. ARE YOU KIDDING ME.
The opening segments of Lucha Underground have been Emmy-worthy stuff lately, but holy crap, Dario Cueto is going to feed this vato street gang to his deformed, murderous cage twin if they don't start winning matches. I don't even know what to say. They should've sent a poet to write these recaps.
(I really hope it's just Rey Mysterio dressed like a werewolf.)
Over/Under: Fenix vs. Kill Shot
This week's opening match is the kind of match you need from time to time to remind people that this is supposed to be a loosely organized sports promotion: two guys without a beef wrestling, and one of them winning without a bunch of wacky shit happening.
Fenix wrestles Kill Shot, and … I don't know how to put it. One of the problems with Lucha Underground bringing in AAA's top stars is that those guys are TOP STARS, you know? So sometimes when you put Fenix in the ring with a guy like Kill Shot, as good as he is, the talent differential is staggering. It's like when WWE puts Cesaro in the ring with Kofi Kingston, and you can just kinda see him calling the entire thing and getting into position and bugging out his eyes so Kofi can know what's going on. There are multiple times in this match where Fenix has to just kinda stand there while Kill Shot finishes doing whatever he's doing, and while it's not bad, it's a step down from watching him wrestle Mil or Puma or whoever.
Again though, that's a light complaint. Your top stars need strong wins against guys who can at least give them a little bit of a fight. Not sure if a "utility match" is a thing, but this might've been it.
Under: Hernandez At All Times
Over: Dario Cueto At All Times
Man, you can't just put Dario Cueto into these backstage segments with Hernandez. It's like putting Sidney Poitier in a scene with Tommy Wiseau.
That said, I appreciate Lucha Underground's ability to concisely explain why matches are happening and give them a feeling of consequence. Usually these guys would have to wrestle 6 or 7 times before they got a moment of exposition. LU shows their work. You have no idea how much that matters. I also appreciate that when Dario's done solving his problems and having his clandestine conversations he not only claps for himself, but wanders off into the women's locker room.
Over: The Pentagon Jr. Classic
Another example of LU showing their work: the next match is Argenis vs. Famous B vs. Vinny Massaro vs. Ricky Mandel, a fourway match featuring all the guys who've had their arms wrecked by Pentagon Jr. And like, honestly they shouldn't be cleared to compete. If you break your arm, you aren't gonna be back wrestling in a few weeks. But Striker points out that they're all clearly still injured, and that Cueto's money is motivation for "fast healing." It's one of those things where it might not totally sparkle, but it works because they took a second to say "here's what's going on."
Sadly Vinny Massaro doesn't get to win the match with a phoenix splash or whatever because Texano shows up, beats them all up and tells Daivari to come to the Temple and fight him instead of attacking him from the crowd. I super wish they'd done a backstage followup where Famous B's all, "whew, thank goodness Texano showed up, there's no way I could've finished the match with my damn noodle arm."
Over: The Moth
Cueto wanders outside and runs into MARTY THE MOTH MARTINEZ, a guy with a spirit animal and an AZTEC PRIDE t-shirt who wants to compete in The Temple. He's basically Bayley if Bayley was a dude, which is the scariest thing ever.
Jefe tells Marty that he'd just get squashed (like a moth) if he let him wrestle, then runs back in and closest the gate behind him to keep Marty out. I love how Lucha Underground has basically the entire spectrum of the Hispanic experience represented: from lucha royalty like Alberto El Patron all the way down to Marty, the dorky white guy in a tee shirt named "Martinez."
Additionally, dragons.
Under: Hernadez Again
Garbage. Total garbage.
Part of that comes from a fan perspective, because a guy I don't like won an important match. About 8% of it. The remaining 92% is me infuriated that Lucha Underground, the show built on a foundation of effort and attention to breaking the conventions of bad TV wrestling, would have HERNANDEZ, a guy who visibly doesn't give a shit in or out of character and can't stop superfluously pimp-walking, easily pin King Cuerno like he's nothing after a distraction. It's the most WWE thing they've ever done. If I hadn't seen the live version of Ivelisse vs. Angelico, this would be the worst match in Lucha Underground history.
I suppose it's a means to an end, but there is nothing quite as depressing as watching one of your favorite, Lucha Underground-exclusive characters get obliterated in passing by a guy who's only here because he used to be on somebody else's TV show.
Over: These Jerks
I love the dynamic of a Trios championship team that hates each other personally, but comes together in the ring because they're exceptionally compatible. If the crummy love triangle stuff was a means to an end, at least it got us to a fun end.
Vampiro wearing all the costumes from Boyz N The Hood all at once and facepalming his way through this interview was wonderful, as was the team's argument about "THE crossbody," which is either the most basic move in wrestling or "pretty cool" depending on who you ask. I kinda want a quarter-hour of the show devoted to listening to Angelico and Son of Havoc have normal conversations in their weird-ass voices.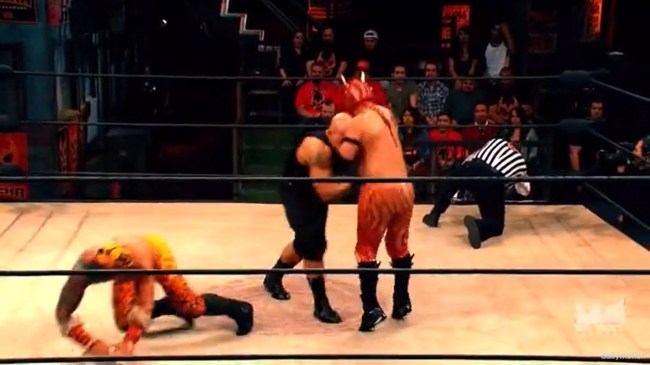 Over/Under: The Best Normal Singles Match In LU History Until Mexican Hulk Hogan Shows Up
So yeah, Drago challenges Prince Puma for the Lucha Underground Championship with the stipulation that if he loses, he's banned from The Temple … FOREVER. The stakes are high and the stage is set and the match is awesome, and pretty much our first opportunity to see Prince Puma as a confident champion and not an underdog. Usually he's facing conniving heels or these giant mean guys, but here he's facing a smaller opponent who wants to wrestle him fairly. That allows Puma to open up his offense a little more and pull off some cool power stuff we don't see a lot, and gives us the idea that Puma has so much left in the tank. That guy's got a decade of moves and physical surprises even HE doesn't know about yet.
It's on its way to being one of (if not the) best non-gimmicked singles match in the show's history when whooooops, a referee gets bumped in that hacky "your foot brushed my shoulder and now I'm dead" big leagues sort of way and Hernandez struts out as slowly as possible. He tries to run into Puma but runs into Drago instead, stands around for a few seconds showing no emotion whatosever, then pimp-struts away. He's like a f*cking bending robot.
Konnan instructs Puma to show no mercy and he does, and retains the championship. I rewind a couple of times and rewatch the finish to make sure it actually happened like that, and I didn't accidentally forget to wash my hands after I wiped my ass and give myself a hallucinatory fever.
Anyway, this is all forgiven by the very last shot of the show:
Drago is now banned from the Temple forever and has one last interaction with Cueto before he leaves. He then walks off-screen and TRANSFORMERS INTO AN ACTUAL F*CKING DRAGON YOU GUYS. I MEAN, I KNOW HE IS A REINCARNATED DRAGON AND ALL, BUT THIS SUGGESTS THAT HE'S ABLE TO TRANSFORM IN AND OUT OF DRAGON FORM AND OH GOD LOOK HOW BIG HE MUST BE AND LOOK HOW CUETO'S STANDING, HE KNOWS ABOUT THIS SHIT AND IS FINE WITH IT
When Lucha Underground finally finishes its run, I want a feature film episode that has Drago turning into a dragon in the middle of a match and like, biting Hernandez in half.