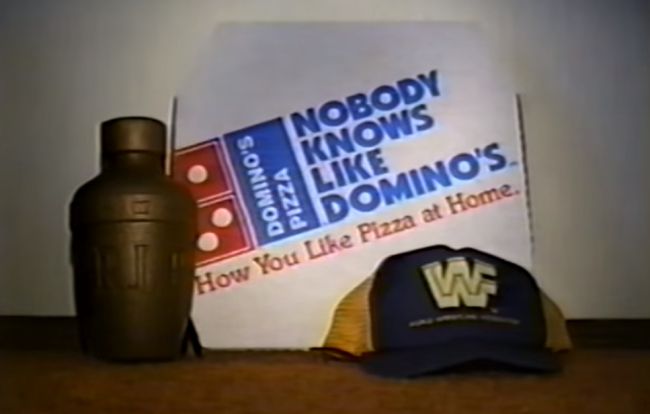 In case you missed any mention of it during Survivor Series this past Sunday, WWE is going all out to celebrate 25 years of The Undertaker in WWE. I dont know about you, but I definitely haven't accomplished nearly as much in the past 25 years, though I feel we've gone through roughly the same amount of eyeliner. Twenty-five years is a pretty big deal, so we're going to join WWE in its respectful retrospective efforts… naw, just kidding.
Let's look at all of these wonderful, hilariously dated, and at times mega-embarrassing commercials!
You'd normally be hard-pressed to name one thing The Undertaker and Zack Morris have in common, but five simple words bring this odd couple together: "They were both on television." Okay, so maybe it's the other five words: "There's no hope with dope." While it's not selling anything other than a drug-free future or whatever, this WWF PSA (and accompanying print ad) perfectly illustrate the fact that if you do drugs, you literally die. Or get really good at yard work. Either or.
SummerSlam '94 gives us Undie shilling for Domino's, and this might be my favorite of the bunch. A Domino's delivery boy drives to a dark cemetery, gets all sketched out, and then only gets bold when his tip is on the line. I wish we addressed The Undertaker's canonical living situation a little more these days, though. Give me Michelle McCool sprucing up a mausoleum with La-Z-Boy furniture in a way that would make Brooke Shields swoon, or baby-proofing the workshop where he makes coffins. Does he still do that? Did he give up his hobbies? Why is he fighting Bray Wyatt when these are very real questions I need addressed?
I think my favorite thing about this is how much it looks like a low-quality Forensic Files dramatic reenactment. It would have some great episode title like SLICED!, 30 MINUTES OR YOU'RE DEAD, REST IN PIZZA, or GET THE DOOR, IT'S DEATH! That and the revelation that Taker is the worst tipper ever:
Oh my god, it's not even signed. Nobody's thinking about value appreciation for wrestling memorabilia when it comes time to pay the rent, dude.
As we're all now well aware, ESPN is now presenting weekly recaps of WWE programming. WWE has been close with ESPN for a while, but as you can see here, not even the Dead Man could get them to cover pro wrestling in a serious capacity sooner than 2015.
Do you need a WrestleMania promo with The Undertaker lookin' like that one English professor who smells like mothballs and cigar smoke reenacting a scene from Dirty Harry where he almost straight murders a dude? Yes. Yes, you do.
The grand return of Biker Taker featured significantly less pomp and circumstance, and thankfully waaaaaaay less Fred Durst. Actually, it could be said this is the only acceptable amount of Fred Durst for anything. Biker Taker loves cool guy things like leather vests over sleeveless shirts, and hiding your receding hairline with a cool guy bandana. The other guy likes fondue, and… come on, you think Undie is immune to wanting to put melted cheese on everything? Come on now, 2-year-old charity commercial. He's canonically dead, but he's still human. Come on.
Here's Mark Calaway dressed like Duke Silver joined a ska band making Undertaker puns. As the kids would say, I am here for this. If you ever want to know what it would sound like if I wrote a script for a charity promotion, this is it. I'm not actually 100 percent sure I didn't write this.
Quick, someone convince Christie's to hire him as a spokesperson so I can write my Mr. Holland's Opus of commercials: Christie's Auctions & Private Sales presents The Undertaker in Going, Going, Gong!