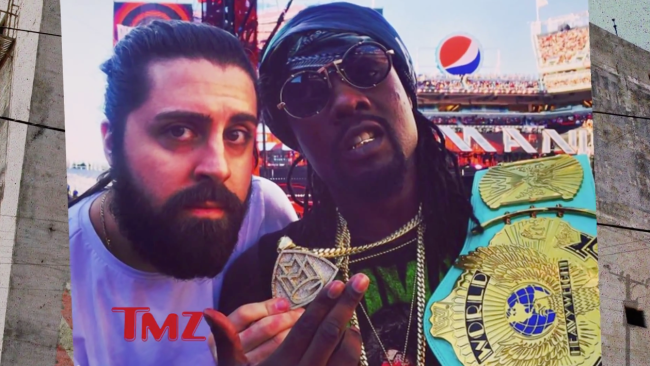 Rapper Wale is a huge pro wrestling fan and has always had a tangential relationship with WWE, whether it's claiming they blackballed him by only giving him free 5th row tickets to WrestleMania or talking comedian rap names with Paul Heyman.
Wale hit up WrestleMania week this year with a wrestling-themed concert, "Wale-Mania," and is looking to do it again for WrestleMania 32. On top of that, he may also be trying to start his own promotion. OPEN THE WALE GATE!
Via this week's edition of the Wrestling Observer Newsletter:
I saw rap star Wale this past week, who is a huge pro wrestling fan (and a long-time reader of this publication), and he is considering starting a wrestling company. There had been rumors months ago over WrestleMania week about that, and Jim Ross even referenced them in a speech he did in Santa Clara over Mania week. Wale did a concert over Mania week, Wale-Mania, that was a big success, including tons of top talent, past and present, being there. There may have been a WWE directive because nobody from that promotion was there. His people indicated they were looking at doing another concert over Mania week this coming year. Court Bauer, who worked with Wale in promoting the event and is close with him, said they were looking at Thursday or Friday before Mania.
If Billy Corgan of The Smashing Pumpkins can write for Impact Wrestling, why not?