WWE Elimination Chamber airs from Las Vegas this Sunday, February 25, live on WWE Network. The show features two Elimination Chamber matches with WrestleMania implications, including the first-ever women's Elimination Chamber match. Here's the complete card as we know it.
WWE Elimination Chamber 2018 Card:
1. Elimination Chamber Match: John Cena vs. Roman Reigns vs. The Miz vs. Seth Rollins vs. Braun Strowman vs. Elias vs. Finn Bálor

2. Elimination Chamber Match for the Raw Women's Championship: Alexa Bliss (c) vs. Bayley vs. Sasha Banks vs. Mandy Rose vs. Sonya Deville vs. Mickie James

3. Bray Wyatt vs. Matt Hardy

4. Asuka vs. Nia Jax

– Ronda Rousey signs her Raw contract
We'll be here on Sunday with an open discussion thread, results and more. Until then, scroll down and check out our full rundown of the event card, featuring analysis and predictions for all six matches. Be sure to drop a comment in our comments section to let us know who you think will win, as well.
Here's what we think's going down.
Ronda Rousey Points At A Piece Of Paper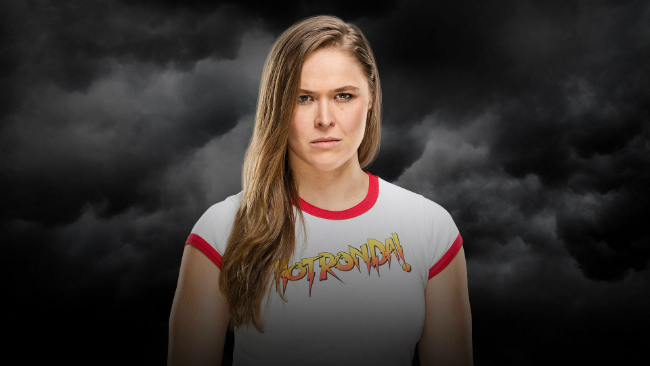 What Should Happen: Given WWE's penchant for equating popularity or non-wrestling success to "being in the right," I could see them having Ronda get attacked by the entire Raw women's roster or something to play off the vibe she's been giving out since the Royal Rumble. That she's somehow "above" or "too good" for WWE. She doesn't seem to think that, but for the sake of the story, she does. That could clue Ronda in to realizing she needs help if she's gonna make it, enlisting the other Three Horsewomen of MMA, and choke-suplexing folks until we've chilled out and buy her as an Actual WWE Superstar™ and not a special guest.
I would also accept Asuka just kicking her really hard.
What Will Happen: Ronda will show up to sign the contract and cut a short promo about how much she's always loved WWE. She'll be interrupted by … let's say Alexa Bliss, and they exchange some scripted insults. Bliss (or whomever) tries a cheap shot, gets judo thrown and put in an arm bar. Maybe they do the dislocated elbow gag. The segment ends with Bliss angrily walking backwards up the ramp holding her arm while Rousey stands at the ropes yelling at her. Then, more pointing!
Asuka vs. Nia Jax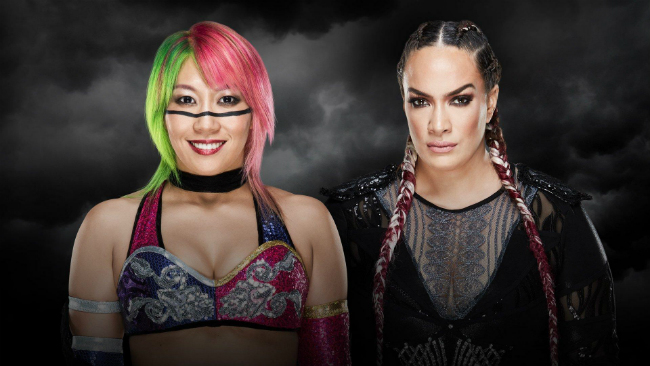 What Should Happen: Asuka wins. I like Nia Jax and think she should be more of a serious threat, and in another scenario might even pick her to win, but the stipulation saying she gets added to the Women's Championship match at WrestleMania if she wins is too far. The last thing we need is more multi-person matches on that show. Enough with the pile of people in every match, shit.
I could see a scenario in which Nia won and was added to the Raw Women's Championship match, only for Asuka to declare that she'd rather face Charlotte Flair. That'd leave Jax as a default competitor for the Raw title at Mania, which could set up Bliss vs. Jax nicely. You sacrifice Asuka's win streak a month before WrestleMania if you do that, though.
Come to think of it, they gave Bayley the women's championship right before WrestleMania instead of on it AND ended Charlotte's pay-per-view winning streak before they got there. So … maybe Jax wins?
What Will Happen: Nah, Asuka wins. Nobody is ready for Asuka, at least not until the celebrity's done wrestling Stephanie McMahon on a WrestleMania.
Staff Picks
Bill Hanstock – Yeah, Asuka isn't losing this match. I could see some strangeness in the finish, like Asuka winning by DQ, or Nia passing out to a submission without submitting, or Nia running through the barricade and being incapacitated, or something. There may be a way to do "yeah, but Nia didn't get BEATEN" in a loss, which would allow her to swoop in and have a claim to the Mania match should Asuka decide to challenge Charlotte Flair or something. Just spitballing here, but Asuka probably isn't losing to anyone not named "Ronda Rousey."
LaToya Ferguson – Asuka wins … But Asuka never actually said she's going for Alexa's title. So the way I see it, she wins here (and Charlotte Flair retains at Fastlane) and then she finally proclaims she's challenging Charlotte at WrestleMania. (Here comes fold two.) Alexa Bliss is then without a challenger at WrestleMania, until runner-up (and they can do a Gauntlet or Fatal-Whatever-Way if they must) steps in for the Alexa Bliss/Nia Jax title match they've been building to for so long.
Scott Heisel – The money is in Nia Jax vs. Alexa Bliss at WrestleMania, but how the hell do we get there without costing Asuka her winning streak? Maybe there's some sort of double countout situation, or a big spot in which neither competitor can answer the 10 count, leading to a no-contest — and, on Monday, Asuka saying she'd rather go after Charlotte than have to deal with a triple threat stipulation. (Though that doesn't feel 100 percent in line with her character, either.) Sometimes I wonder why WWE creative books themselves into corners like this, but then I remember that usually, that's when they do their best work. So, fingers crossed.
Elle Collins – I can imagine a scenario where Nia Jax is the one to break Asuka's streak, but not at Elimination Chamber. Also, probably not before Asuka has a run as Raw (or SmackDown) Women's Champion. So Asuka has to win. Fortunately, she's good at that.
Emily Pratt – Asuka remains undefeated until WrestleMania, then gets beaten in New Orleans by someone who I hope is not Ronda Rousey. That's what I would do with her, but given that there's already a Smackdown women's singles match on the WM card, I think they'll have Jax win here to have more variety.
Brian James O'Connell – IF NIA WINS WE RIOT. In all honesty, I can't believe they made this match. You need both of these women strong and you should have been putting them on a collision course for WrestleMania the day Asuka debuted on Raw. Just months of them destroying jobbers, working their way through the midcard and just nods of respect/one-upsmanship until the Big One in April. If Nia threw her ass into Mickie James' face while Asuka was ringside with the WOW emoticon on her grill, that GIF would become part of popular culture by Monday morning.
Bray Wyatt vs. Matt Hardy
What Should Happen: Here's a quick and easy save for this match: have the fight spill to the outside and make them fight to the back. When they pass through the curtain, switch to a pre-taped, 100% Matt Hardy-produced continuation of the fight where they run into wacky characters and fight with magic or whatever's lying around in a North Carolinian's yard. Just go full-on, balls-out crazy with it so we can move back into the loving Broken Matt Hardy portion of our lives, and away from the "Bray Wyatt again??" part.
What Will Happen: They laugh at each other a bunch until Bray Wyatt wins. Best case scenario, this is where Brother Nero returns to save Hardy from a post-match attack by Wyatt and his … well, nobody. Just Bray. Maybe we could bring up Heavy Machinery and put them in sheep masks or something? Maybe we'll get a Wyatt Family Jeff Hardy.
Staff Picks
Bill Hanstock – My prediction is that this finally introduces some real aspects of the Broken Universe (or whatever), even if it's just Brother Nero costing Matt the match. Otherwise … why are we doing this? Again.
LaToya Ferguson – IF IT DOESN'T TAKE PLACE AT THE HARDY COMPOUND, I DON'T CARE. (But, like, Matt Hardy, right?)
Scott Heisel – ¯\_(ツ)_/¯
Elle Collins – I don't care who wins, I just want some of that fun Broken Universe stuff that they keep not doing. Drones, gardeners, babies, Reby playing piano. Give us literally anything. And then Matt wins, because otherwise, what's the point?
Emily Pratt – Hardy wins via Senor Benjamin knocking Wyatt out with a shovel to the head! He's modeling Matt's shirt on the WWE Shop! It could happen! JK, I think Matt will win via relatively normal wrestling moves and this feud will continue to stagnate, but I would love so much to be wrong.
Brian James O'Connell – Why are we doing this now? WHY? Why can't Vince McMahon not see anything except the most surface-level part of any gimmick? If this doesn't lead to them both joining forces to take over WWE like a Chikara wet dream, I don't know what we're doing here. We didn't even get Husky Harris rising out of the Lake of Rejuvenation, shaking his head and saying, "Wait … where am I? What's going on? Why are the Rock 'n' Roll Express here?"
Elimination Chamber Match for the Raw Women's Championship: Alexa Bliss (c) vs. Bayley vs. Sasha Banks vs. Mandy Rose vs. Sonya Deville vs. Mickie James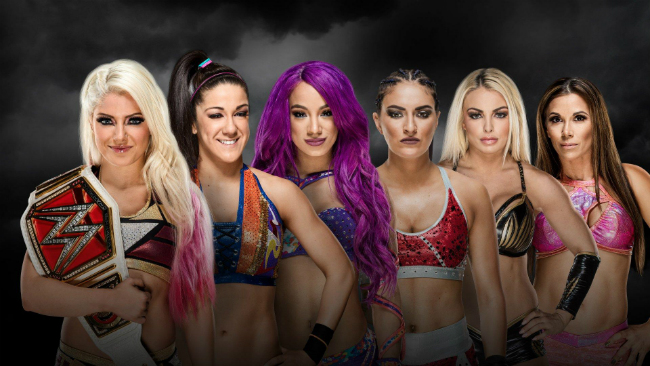 What Should Happen: Either Bayley wins to set up Sasha Banks turning on her and a Banks vs. Bayley WrestleMania title match, or Banks wins by going full heel and Bayley has a problem with it, setting up the turn on Monday. I think we've been asking for Banks to finally turn on Bayley (or vice versa) for months and months and months now, so why not pull the trigger? Bliss vs. Jax could be a good match on its own without the championship, or you just have her ride Jax to the ring like Prince Devitt riding Bad Luck Fale and stick the winner.
What Will Happen: Part of me really wants to see Mickie win this, especially since the only real story of the match has been Mickie's relationship with Bliss. That said, yeah, I'm picking Sasha. She killed it in the ring on Raw against Asuka and Bayley — almost literally killed herself in that Asuka match, even — and Arrogant Champion Boss would be a great refresher for her. Those aborted title runs she had with Charlotte were weird. Let's let Sasha be Sasha, do what Sasha does, and wear the championship while she does it. Having her be sketchy about Asuka and then happy when Asuka picks Charlotte instead would be pretty choice.
Staff Picks
Bill Hanstock – Here's another foregone conclusion: Alexa is going to retain at the Chamber, because the only stories Raw has told regarding the Women's Championship for several months are "Alexa vs. Nia" and "Alexa vs. Asuka." I guess there's a chance that Mickie James or similar could get a surprise title win at the Chamber and Alexa could recapture it before Mania, but that just muddles things up. Alexa will retain.
LaToya Ferguson – This answer is twofold. It's going to be Alexa Bliss. (That's fold one.) I would love for it to be Sasha Banks or, better yet, Bayley … to lead to a Sasha Banks heel turn for real going into a one-on-one match between the two of them at WrestleMania. Or even Mickie James, because I feel like I'm taking crazy pills (you know, the ones Mickie was on during the Trish Stratus feud) when it comes to WWE just barely using her as a good hand veteran. Mickie James is very talented and can do things, people! But yeah, Alexa Bliss is winning this one. "Devastating" DDTs for all! (Of course, you'll soon see I'm saying this based on actual logic, so know actually knows what WWE will do.) Oh, I feel bad for not including Sonya Deville and Mandy Rose in any possibilities, so … Sonya says "THAT'S RIGHT, BABY" no less than 15 times in the match, and Mandy malfunctions during her walk to the ring, revealing that she actually was a robot programmed by Corey Graves the whole time. (Poorly programmed, since he couldn't figure out how to get her to walk like a human.)
Scott Heisel – This, just sub in "bookers" for "scientists."
Elle Collins – I won't be surprised if Alexa retains here, but I'm starting to think Sasha might take it. It would feed her story with Bayley, and change the WrestleMania narrative in an interesting way. So yeah, let's say Sasha wins (but Alexa definitely might).
Emily Pratt – I feel like Alexa will probably retain. I would love for this match to make Sasha a five time champ though, especially since she's been acting heelier, or at least Legit Bossier lately. Mickie James or Bayley also feel like contenders to me. Basically, I'm really enjoying the Raw women's division right now, but I find myself totally unable to predict where it's going. I guess that's what happens when the main heel's neck is suddenly not compatible with wrestling anymore and also Ronda Rousey looms over everything.
Brian James O'Connell – I want this to come down to Bayley vs. Sasha SO BADLY and I think it will for no other reason than so Cole can spittle-scream "There will be a new champion crowned tonight! There are no friends in the Elimination Chamber." I'm very interested in what Mandy Rose does here. I think this could be a breakout moment for her because expectations are so low here. Putting her with Goldust in the MMC was a brilliant choice because he's a worker and a half, and has a wealth of insight of how to pull off a gimmick in any era. Mickie is going to get a "you still got it" chant somewhere in the middle and it will be completely earned. I don't mind keeping the strap on Bliss here, but there better be a really interesting way of going about it. I really don't want to see chickenshit-heel-fighting-from-underneath Alexa Bliss, because ride the horse the right way, guys.
Elimination Chamber Match: John Cena vs. Roman Reigns vs. The Miz vs. Seth Rollins vs. Braun Strowman vs. Elias vs. Finn Bálor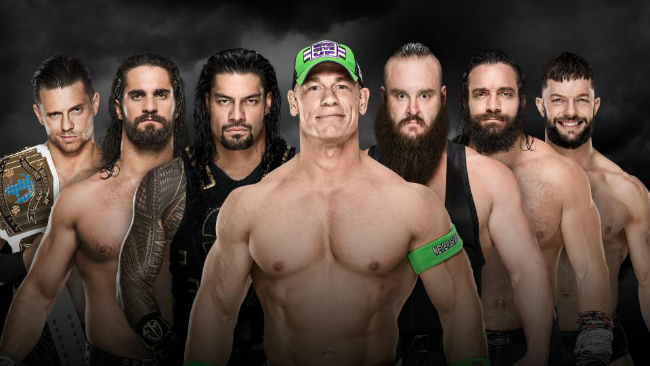 What Should Happen: The Miz should win, pinning everyone.
I'm kidding. You know, before Monday, my pick for this would've been Braun Strowman tipping over the entire structure and pinning people in the bowl, but now I really want Seth Rollins to win. Rollins helped get one of the best Brock Lesnar matches ever out of Brock, and valiant-ass scrappy babyface Rollins vs. Lesnar would be at least a vague approximation of Lesnar vs. Guerrero. Better yet, you have Roman act like a total entitled shithead about it, and maybe even figure out a way to join the match anyway, tying back into when Rollins cashed in Money in the Bank during Reigns/Lesnar at Mania 31. Layers!
What Will Happen: There are no layers. Roman reigns. I just hope we get a bit where Elias plays his guitar in the pod until Strowman gets sick of it and bursts through to kill him.
Staff Picks
Bill Hanstock – Roman Reigns, the guy with the biggest pecs! We all know it's going to happen, it's been supposed to happen for months and months, and if WWE is ever going to pull out a legitimately enormous shock on the Road to WrestleMania, it would be by having Roman NOT win the Elimination Chamber on Sunday. But he's going to. But it's fine! Monday's Raw showed that there are a minimum of six fantastic challengers lined up to have hot-shit feuds with Reigns after he wins the Universal Championship, and this EC match should be tremendous. I just hope everyone has a good time and doesn't get hurt.
LaToya Ferguson – The obvious choice is Roman Reigns. The smart choice — based on WWE storytelling, not what smart little me wants — is Roman Reigns. After this week's RAW. I want it so badly to be Seth Rollins. Mostly because he deserves to main event WrestleMania — and it would be the real main event, let's be honest — but also because it can lead to a better match. (Technically, he's already main evented WrestleMania with that Money In The Bank cash-in, but Roman Reigns and even John Cena have done a lot more than "technically" main event WrestleMania when they're in the last match on the card.) The "better match" I'm alluding to, however is a real Triple Threat between Seth, Brock, AND Roman. Seth wins the Chamber, Roman has weeks (or even just one week) of "I need this, uce," and Seth — who, based on Corey Graves' commentary, I'm led to believe is "feeling some kind of way" — is on such a competitive high, he accepts a Triple Threat. Because he knows how to beat Roman on a regular basis and Brock in such a match. Plus, then we don't have to struggle through a Brock Lesnar singles match, because Roman and Seth will do all the heavy lifting. I actually still want Roman to win at WrestleMania in this case though, that way he doesn't keep going with the very empty "I'm the only one who can beat Brock Lesnar" riff he's on. Like, saying "well I almost had him that one time" is such a weeny move we all need to get past. Because for being "the new Cena," he's sure going with an excuse lots of Cena victims always used.
Scott Heisel – I've never been one to actively boo Roman Reigns — I've mostly responded to his never-ending push with a prolonged indifference broken up with sighs here and there. But goddamnit, if Roman wins this stupid f*cking match over BRAUN BY-GOD STROWMAN, the most natural, crowd-beloved tweener WWE's accidentally stumbled across since Steve Austin, I may actually throw a bowling ball through my TV. (I guess I better start looking for a new TV, then … )
Elle Collins – I mean, it's Roman, right? After Monday we all want it to be Seth, but it's Roman. And that's okay.
Emily Pratt – [Michael Cole voice] THE BIG DOG [/end Michael Cole voice] after an epic match in which everybody looks great, does quality wrestling, and gets engaging character moments. Raw has been really good lately and has made me very hyped for all these dudes to be locked in a cage together. I'm even interested in where the Existential Crisis John Cena storyline is going, and I haven't cared about John Cena in years! And hopefully Braun destroys a pod or three. And even more hopefully they put Seth and Finn in the same pod because if not what has this whole professional wrestling thing even been about?
Brian James O'Connell – I'm actually extremely excited for this match, as it is one of the few times in recent memory where I can honestly say I have absolutely no idea who comes out on top here. They'll keep Braun strong for sure, but he doesn't need this and if Elias screws him in some way that is a perfect feud to complete his face turn and make Elias a star (which they seem very interested in doing.) This is a match where I wouldn't mind seeing Big Match John pull out all the stops and get that one last shot at Flair's record against a guy like Brock who he has had great matches with in the past. I can 100% see Cena going into business for himself and turning it into a bloodbath. This could also be "best for business as usual" and Roman gets his WrestleMania coronation as the The Guy for the next decade. He always steps up his game to match the level of worker he's in the ring with and this match has a bunch of them. Roman does a really good job in violence based gimmick matches so this is right in his comfort zone as well. Any combination of feuds involving Rollins/Finn/Miz is something I'm interested in with Balor Club/Miztourage having enough interesting match ups to fill Raw for a year. My heart says it's Braun and that they just pull the trigger on Big Braun Hogan, but Cena or Roman wouldn't hurt my feelings, either. Here's to Elias strumming a guitar in his pod the entire match and driving the marks wild.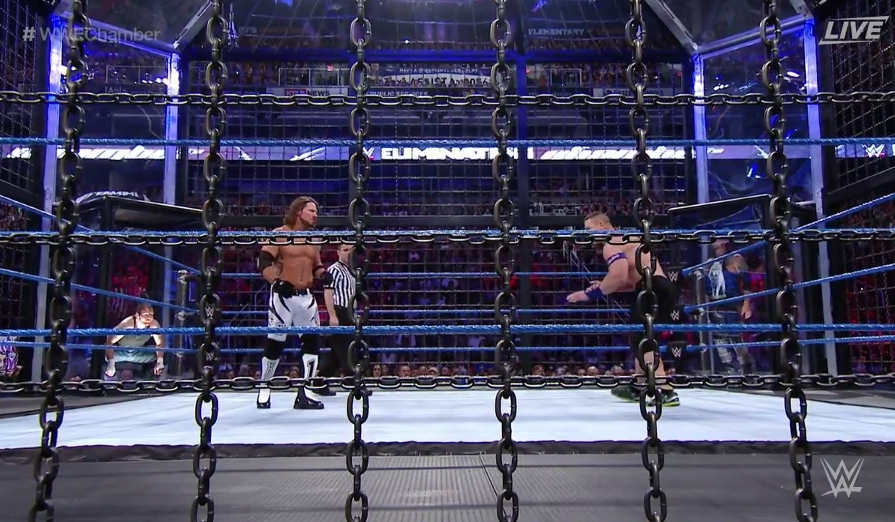 That's what we think will happen. What do YOU think will happen? Let us know below, and we'll see you on Sunday.
Have you subscribed to the With Spandex podcast?