WWE Fastlane — the final stop on the Road To WrestleMania (before we also stop at WrestleMania) — airs this Sunday, March 11, live on WWE Network. The show features a six-pack challenge for the WWE Championship to see who'll be the champ heading into Mania, as well as matches for the Smackdown Tag Team and Women's Championship. Here's the complete Fastlane card as we know it, without the kickoff show matches they always seem to add on Friday after we hit "publish."
WWE Fastlane 2018 Card:
WWE Fastlane card:
1. Six-pack Challenge for the WWE Championship: AJ Styles (c) vs. John Cena vs. Kevin Owens vs. Sami Zayn vs. Baron Corbin vs. Dolph Ziggler

2. United States Championship Match: Bobby Roode (c) vs. Randy Orton

3. Smackdown Tag Team Championship Match: The Usos (c) vs. New Day

4. Smackdown Women's Championship: Charlotte Flair (c) vs. Ruby Riott

5. Shinsuke Nakamura vs. Rusev

6. Becky Lynch and Naomi vs. Natalya and Carmella
We'll be here on Sunday with an open discussion thread, results and more. Until then, scroll down and check out our full rundown of the event card, featuring analysis and predictions for all six announced matches. Be sure to drop a comment in our comments section to let us know who you think will win, as well.
Here's what we think's going down.
Becky Lynch and Naomi vs. Natalya and Carmella
What Should Happen: This feels like it's on the card to set up the Carmella cash-in, finally. It probably won't, but WWE has a tell before cash-ins where they have the person holding the briefcase wrestle a match (and usually lose) sometime right before, so crowds can like, "remember" them. Because they don't trust you to remember what you had for lunch today without a video package and a self-shot video with words all over the screen. Having said that, that also means Becky Lynch and Naomi should win, to give Carmella the loss that sets up her win. It doesn't make a lot of sense.
What Will Happen: First of all, check out how much effort they put into the graphics this month! And is it just me, or does Natalya get a little more inhuman every time they put her in a graphic? She's like Nebula, having parts of her replaced by photoshop every time she loses.
This feels the most like a Smackdown match of this very "feels like a Smackdown" pay-per-view, but there's no reason the women in this match can't put together something watchable. I still think Lynch and Naomi take it, if only to give Lynch a spark of life to hold onto while everyone else does stuff.
Staff Picks
Bill Hanstock – Becky Lynch is still alive! This match MAY set up Flair's challenger or challengers at WrestleMania, or it could just be a nice way of giving the women some more time before Asuka moves over to Smackdown and murders everyone's faces egregiously. Let's say … oh … Becky and Naomi win. Why not?
Scott Heisel – Given that Natalya promised on Smackdown that if she won this match, she'd challenge Charlotte at WrestleMania, and that is literally the last thing I'd ever want to see, I have to pick Baeomi here for my own sanity's sake.
Raj Prashad – What in the world is happening here? Becky Lynch calling Natalya a cat and starting Twitter beef with Carmella led to a match. Seriously. Carmella and Natalya could use a win, so this seems like a decent spot to slide them a quick W.
Brian James O'Connell – See, this I like. A really experienced hand in Natalya, a sure thing in Becky, a better every day revelation in Naomi and a just start putting together all the pieces rising star with great facials in Carmella is exactly what the Women's Tag Division needs. What's that? We don't have a Women's Tag Division yet? Why the hell not? Isn't it sort of crazy we don't have one already? Don't we kind of need one considering the massive amount of talented women in NXT/Performance Center waiting in the wings? My inner Jim Cornette is screaming for a Ms. Crockett Cup and either one of these teams above would make it to the semi-finals. Championship gold is an easy storyline for those ladies not in the main event picture and if you're going to put Jim "The Anvil" Neidhart's daughter in a tag even anyway, give her some gold to go with those pink tights, black leather and black Ray Bans. I am all in on a Nattie's Raiders faction for the Smackdown Women's Division. Give Tyson Kidd a goddamn bullhorn and get out of the way. I feel like this is Nattie's destiny but GlowLass takes the win here with a Dis-Arm-Her on Ms. Money in The Bank.
Elle Collins – Maybe some shenanigans happen here to build toward a multi-woman mania match of some kind. Otherwise, I think Becky and Naomi win, but it all depends on where they're headed next, and that's very much up in the air.
Emily Pratt – I think the babyfaces will and should go over on this one. Smackdown desperately needs to realize it has more than two characters in its women's division right now, and making Becky and Naomi look good against people who aren't the Riott Squad here would be a step in the right direction. Hopefully they do something with Carmella in this match too, for the sake of her eventual cash-in.
Shinsuke Nakamura vs. Rusev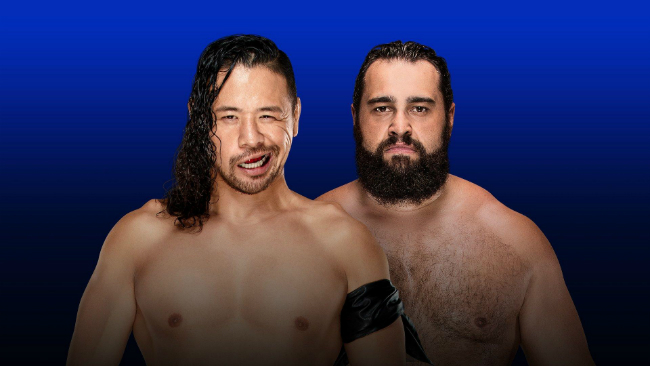 What Should Happen: Rusev should win clean, with authority. John Cena should win the WWE Championship, and then Rusev should challenge and completely whomp him to become champion at WrestleMania. Styles and Nakamura just want to wrestle, let 'em wrestle over anything. Book them against each other in a shampoo commercial, who cares? As long as they're wrestling, we're into it.
What Will Happen: That "noted" from Shane McMahon roughly translated to, "we notice you like Rusev, so we're gonna keep him off TV for a couple of weeks, have him be the second most active member of his tag team about him named after him, and then feed him to our Royal Rumble winner who we're ALSO not really doing much with." And then a chorus of dancing skips across the screen holding up signs reading BECAUSE THE ROAD DOGG.
Nakamura wins, and WWE continues to do that thing where they take objectively great pro wrestlers and have them do nothing in an unspectacular circle for a year until I don't want to cheer for them. Finn, I'm looking in your direction. But yeah, no, complaining aside, if we get Nak vs. Styles one-on-one at Mania, this is all forgettable and fine. Somebody save poor Rusev from his own popularity.
Staff Picks
Bill Hanstock – This is just a complete PPV of putting our darlings on television so they can lose, but we appreciate at least them taking the effort to put our darlings on television. Rusev will try to make this a good showcase match for himself, and Nakamura will win in convincing fashion to look strong heading into his WrestleMania title match.
Scott Heisel – I honestly, truly do not understand WWE booking. Obviously Shinsuke needs a strong win headed into WrestleMania. Why sacrifice Rusev, though? He's built himself up so organically since last October and is, without a doubt, one of the most over wrestlers on either show. And he's kept off TV for weeks and then (presumably) fed to someone with zero buildup on the way to Mania? It's just damn infuriating. However, if this (presumed) loss to Shin ends up breaking Rusev's spirit and he starts to gather up other disgruntled wrestlers — creating a flock, perhaps — then grows his hair back out, gets a nose ring, starts wearing flannel around his waist and starts moaning, "What about me? What about Rusev?" well, then, I'm back on board.
Raj Prashad – Another (seemingly) easy one, with Shinsuke walking through Rusev Day to make it Nakamura Day. Smackdown clearly had nothing better to do with Nak until the 'Mania build, so why not have him match up against the guy getting the loudest pop on the roster? It'll be interesting to see the reaction Nakamura gets. Although he's beloved, Rusev is about as over as he can get.
Brian James O'Connell – Well, this isn't going to get the 18 minutes we want, so I'm going to assume Nak takes this one in a glorified squash. What is the idea here? I know this didn't have any build up and if this isn't the ol' WCW Cruiserweight Best Workers in The World spot on the show, what is the deal? Nak is super over. Rusev is super over and needs that face turn. Oh, God, this is just going to be 7 minutes of "Both These Guys" chants while the audience is still rowdy and hasn't realized yet that they are at Fastlane, the placeholder of PPV's, right?
Elle Collins – First of all, I hope Shinsuke sings more. Obviously he'll win, to build him up for the Mania match with AJ. I'm glad Shinsuke's on verge of maybe finally getting his real main roster moment, but I also hope at some point they acknowledge that Rusev is the most over guy in the company and give him the moments he deserves too.
Emily Pratt – Shinsuke has to win here. They shouldn't have him lose between now and WrestleMania, and Rusev isn't John Cena. Rusev also changed his name to "Duly Noted" on Twitter, so I doubt they have a plan for him that includes a surprise win over the Rumble winner right now. Hopefully this match lives up to its potential and isn't a squash.
Smackdown Women's Championship: Charlotte Flair (c) vs. Ruby Riott
What Should Happen: Charlotte rolls. Ruby Riott is (well, can be) great, but the Riott Squad was dead on arrival, and WrestleMania's all about big title matches with big stars. If there's a chance of them being able to do Flair vs. Asuka at the biggest show of the year, they're gonna do it, right? No matter how good Asuka/Riott could be with the right build and characters.
What Will Happen: Maybe we'll get a surprise run-in from Asuka to save Charlotte from a post-match Riott Squad beatdown, and then the POINTING happens? Charlotte wins regardless, unless something's very wrong.
Staff Picks
Bill Hanstock – Poor Ruby Riott. She cuts one of the best women's division promos in a long time, but she's just there as a stepping stone for Charlotte to get to WrestleMania … and probably to Asuka. Hopefully we'll see a good match, because both of them are capable of it and then some. Flair retains.
Scott Heisel – This is just the Smackdowniest of Smackdown pay-per-views, ain't it? Charlotte retains, because anything else would be literally pointless.
Raj Prashad – Charlotte wins this one, and it's not close. I love Ruby Riott, but she belongs nowhere near the title right now.
Brian James O'Connell – Charlotte wins. That's it, isn't it? If this was Wrestlemania, I'd be stoked for this but it is not so I won't. I'm over the moon that Heidi Lovelace is in a title match on a WWE PPV, but doesn't this seem premature? Shouldn't this be like Raven sending in Perry Saturn at the last second just to troll Charlotte? I don't know understand why we're doing this match at all. Everything feels rushed on this card and I'm only three matches in. We haven't even gotten to the Everybody Get In Here group game improv main event yet.
Elle Collins – I love Ruby Riott, wholly and unreservedly, since back when she had a different name. But as far as the main roster goes, we all know she's not near the top yet. Charlotte wins, and she should.
Emily Pratt – It has to be Charlotte, right? They're not going to have Asuka vs. Ruby Riott at Mania. It looks like there will be some Riott Squad shenanigans, although Charlotte might have to actually fend them off by herself if something happens with the tag match that prevents her pals from helping out. Mostly I'm just glad this should end this feud so I don't have to think about it anymore, which is always the attitude you want your wrestling show to inspire.
Smackdown Tag Team Championship Match: The Usos (c) vs. New Day
What Should Happen: To echo pretty much every fan I know, something should happen to keep this from happening so they can do it at WrestleMania, on the actual WrestleMania card proper, instead. The Usos have never been on a WrestleMania past the opening video package and New Day spent last year cosplaying instead of wrestling. Both teams deserve a massive spotlight, and have earned it, and should get to steal the show at Mania like they stole it everywhere else.
What Will Happen: A great match, no doubt. I'm worried they'll get the Bludgeon Brothers involved to set up a gauntlet or some gangly multi-team match for WrestleMania. I'm down for getting undercard wrestlers I like a big show pay-day, but shit, I think we're all tired of the multi-person stuff. Just do some one-on-one and two-on-two matches and explain why they're happening, don't just pile everyone you aren't using into one thing.
Keep it simple. If you're gonna do a swerve, do it before this match, so we can re-do it at a more important time later. We do not need Konnor and Viktor and Mike Kanellis on the WrestleMania card.
Staff Picks
Bill Hanstock – These two teams always insist on stealing the show when they get together, so I'm looking for this to be the match of the night, or at least close to it. The Usos NEED to be on their "first" WrestleMania card, so I believe the Day One ish they are destined for is the Day One of them being on WrestleMania. Usos retain.
Scott Heisel – Love the matchup, wish it was at WrestleMania. I predict the Usos retain, with the New Day demanding a rematch at Mania that has a "loser leaves Smackdown" stipulation. (jklol it's gonna be another multi-team match that will for some reason include the Bludgeon Brothers, everybody in the pool, ugh)
Raj Prashad – Has there been a better rivalry in 2017-18? New Day and The Usos had a war at Hell in a Cell and this one should be a blast. I'm going with New Day here as they continue building their incredible tag team resume, and the Usos getting a rematch at WrestleMania. Wouldn't be shocked at all if Usos win easily and the Bludgeon Brothers end up with the belts at 'Mania because that makes no sense at all/seems like something totally plausible on Smackdown.
Brian James O'Connell – I am definitely/probably in the minority here among the UPROXX staff but I feel nothing for this match. The Hell In The Cell blow off of these two teams was DOPE but these guys should not have even looked at each other again for at least two years. You know that I know that the Usos trump Booty O's(see what I did there? Alliteration, y'all) in this match so let's not even pretend, shall we? I'm not ready for another build for what I know is great but have already seen already. I'd much rather The Revival got a transfer to Smackdown so that they could just scratch their heads during the rap battle promo with the Usos. Have them hit 'em with the "We are The Revival and we're here to say/that we like pro rasslin' in a major way", drop the mics and then punch Jimmy & Jey so hard they land face first in day-glo face paint.
Elle Collins – These matches are always good, but that doesn't mean there can't be too many of them. I hope the Usos win, and I think they probably will, but I won't be surprised either way at this point.
Emily Pratt – After the match of the night, the Bludgeon Brothers interfere and the match doesn't count, so we have to have an Usos vs. New Day rematch for the title at WrestleMania. Please?
United States Championship Match: Bobby Roode (c) vs. Randy Orton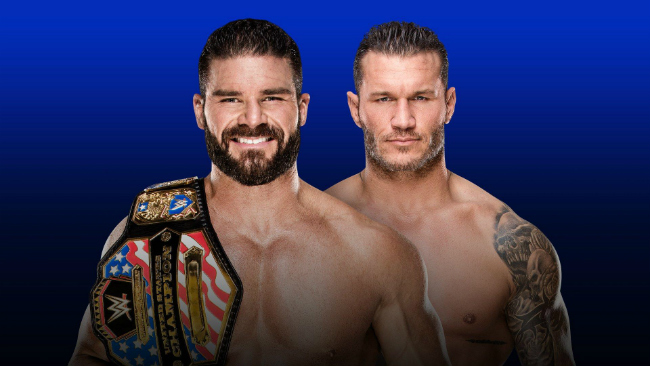 What Should Happen: Randy Orton shows up with his new hair, some sneakers and a pair of jorts and just does all of John Cena's signature moves, easily winning the United States Championship and realizing what he should've been doing for the past 15 years.
What Will Happen: Roode retains, because right now it's more important to get a Bobby Roode 'Glorious' WrestleMania entrance on the show than anything actually involving the secondary championship. Bonus points if Jinder Mahal gets involved again, and Orton vs. Mahal gets shuffled to … I was gonna say "the WrestleMania pre-show," but I think I meant "Impact."
Staff Picks
Bill Hanstock – If Jinder Mahal isn't added to this match, I'll eat a pizza. (Note: I will eat a pizza regardless.) They keep harping on the fact that the only WWE title Orton hasn't held is the U.S. title, so either that means something, or it doesn't mean anything. Orton winning the U.S. title would be the easiest way to actually get Orton onto the WrestleMania card, which they tend to insist on doing, so … Orton wins? Who really cares, though? Not me!
Scott Heisel – If this somehow ends in Jinder Mahal interfering, leading to a triple threat being booked for WrestleMania 34 (pre-show), I'm moving to the mountains and taking up knitting. Guess I better stock up on yarn before Sunday…
Raj Prashad – Bobby Roode has been fun since jumping up to Smackdown, and although I think he walks out of Fastlane with the belt, I'm totally expecting some shenanigans. Wouldn't be surprised to see Jinder cost Orton the belt and three battle at 'Mania.
Brian James O'Connell – /slams head against desk infinity
The coldest boogers on the oldest paper plate per my interest in this feud. This could be Barry Windham vs. Arn Anderson if this crap booking just got out of these two guys way and let them fight for who the audience hates to love more. I'm serious. Forget the booking and just let these guys work, take a break to look at the audience every once in awhile with a, "Oh, you like that?" and then rinse and repeat. I imagine Roode retains with shenanigans or takes a count out loss because Roode without the belt is nothing and Orton is more protected than a Faberge egg. I don't even know how you counter a Glorious DDT into an RKO Outta Nowhere in any way that isn't awkward and a million degrees negative zero Celsius on the Heat Meter.
Elle Collins – I've always been a little meh on Bobby Roode (at least when he's not being platonic friends with Charlotte), but they've found an opponent to get me behind him. It's not so much that I want Randy Orton to lose every match he has, it's that I want him to go away and retire from wrestling. But if he's not going to do that, I'd settle for him at least losing.
Emily Pratt – Renee Young asks Orton about his feelings about the Smackdown Top Ten List right before the match. He reiterates that he doesn't care, but he enters the ring pissed off. Five minutes in, he loses his temper and starts yelling about how much he cares about the Top Ten List and how could Roode not include him on his??? (Camera cuts to Jinder rubbing his hands evilly while watching the match over one shoulder backstage, like how normal people watch TV.) Roode confesses that he wanted to put Orton at #1 on his Top Ten List, but he was afraid it reveal too much… because when he's been talking about how much he respects The Viper Randy Orton, he's really been talking about how much he wants to make out with The Viper Randy Orton.
The Viper Randy Orton is taken aback. He starts pacing around the ring, and Roode braces for an RKO or something. Orton approaches him, but it's not for an attack… it's for a passionate kiss. The two embrace in the center of the ring. Blue confetti spontaneously falls from the sky. Jinder comes out and hugs them because he knew they were in love and has been secretly trying to get them together the whole time. They push him off because it's weird to hug two people who are already kissing each other. They all forget about the US Championship and go to Denny's or something. Anyway, that's what I think will probably happen in this match.
Six-pack Challenge for the WWE Championship: AJ Styles (c) vs. John Cena vs. Kevin Owens vs. Sami Zayn vs. Baron Corbin vs. Dolph Ziggler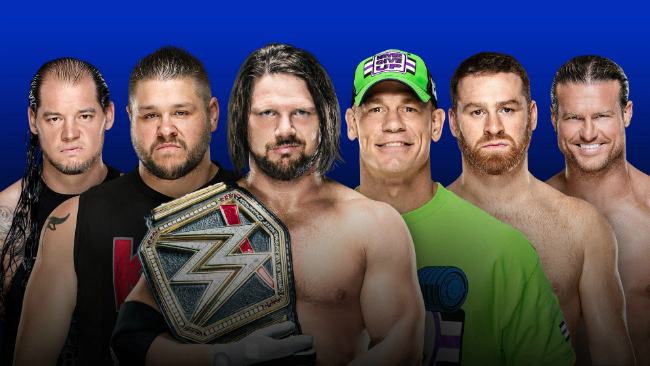 What Should Happen: Cena wins to set up that Rusev fantasy booking from earlier.
No, in all seriousness, I'm not sure what should happen. Styles should retain, obviously, but aside from Cena, everyone else in the match is drifting. Do Kevin Owens and Sami Zayn even have spots on the WrestleMania card, if they aren't fighting each other? Corbin's an Andre the Giant Memorial Battle Royal contestant at best, which was literally the first thing he did on the main roster, so that's not wholly positive. The only way I'm okay with Ziggler winning is if Hot Young Briley shows up dressed like him and Eric Angles the finish.
What Will Happen: … Styles retains. That's gotta be it. I'm a little concerned they'll do a "controversial" finish to add more people to Styles/Nakamura, because they're insane and forgot how one-on-one pro wrestling works, and to fill up all those Smackdowns between now and WrestleMania. I hope that's me being negative to brace myself for an ultimately positive outcome, but it's been a long time and a lot of Smackdowns and I'm very tired.
Staff Picks
Bill Hanstock – We're getting the WrestleMania match we want, the match AJ Styles wants, and the match even people who haven't heard about probably want. Styles vs. Nakamura is for sure on for WrestleMania, and I think the only thing that would make that not be the case is if they want to hotshot the title onto Zayn or Corbin or somebody for a week, have Styles retain the following week, have the mandatory rematch the FOLLOWING week, and then say, "Hey, Nakamura vs. Styles, alright!" But they're not going to do that. So … Styles retains, and we get another amazing screengrab of John Cena looking sad and old.
Scott Heisel – Didn't I just see virtually this exact same match on Smackdown this week? Just imagine how unexpectedly awesome it would've been had the Fastlane main event ended with Sami Zayn betraying Kevin Owens and scoring the win — which would have thrown a super-fun wrench into AJ/Nakamura II? (Neverending sigh.) AJ wins, but man, I am so sick of Smackdown's main event scene right now and John Cena's neon green color scheme isn't making me feel any better.
Raj Prashad – We're THISCLOSE to getting AJ-Nakamura at WrestleMania. WWE couldn't possibly mess this up, right? One year ago, the title probably gets flipped to John Cena and Styles ends up in a meaningless match (He did, and he did). There's no way WWE moves on from this one. AJ takes home the belt, Cena continues his mid-life crisis, KO and Sami probably end up against each other at 'Mania, and Corbin and Ziggler likely fall somewhere on the pre-show/mid card.
Elle Collins – It's got to be AJ. Even though I'd kinda be up for it, they're not going to do Sami Zayn versus Shinsuke Nakamura at WrestleMania this year. So it's AJ, and that' s okay.
Emily Pratt – If AJ Styles doesn't win this and we don't get Styles vs. Nakamura II I will personally fight John Cena or whoever actually wins (but it would be Cena) on the set of Blue's Clues or wherever. Seriously, don't mess with me like this, WWE. Also, I'm psyched for the fallout of Sami swerving on Kevin this week! RIP the yep movement; long live Non-Doormat Heel Sami Zayn.
Brian James O'Connell – Sigh. We are at the end of the Harold. The first and second beats weren't that great but you like all the players on the improv team, so you laughed at the one-liners and hoped they would pull it all together at the end. This isn't necessarily an "off night" for this veteran team but they just dug themselves too big of a hole early on and now they're all pouring into the last group scene with the hopes that if they expend enough energy into it, something funny will happen. It won't.
Dolph is that guy who is only on the Harold team because teaching classes is how he makes his money; the passion is gone. KO is the guy who knows he should have been on the Main Stage years ago and now that he is here, he's wondering why he's still doing the same thing he and his buddy did in their indie sketch show 10 years ago. Zayn is wondering if he should be a little more selfish and start working solo. You know, finally try to work on his SNL reel. Baron Corbin is talented but he's not really an improviser. He's here for the chicks and the stage time and the owner likes them so they keep getting put on Main Stage teams. No one really blames him for it but they also know that he's the weakest link in the shiniest chain.
Cena is the guy who has already "made it" in his comedy career and just comes out once a week to do the show out of loyalty to the theater and to still crack a few beers afterwards. They all know it's different now, though. He's in a different stratosphere these days. His concerns are not the same as the rest of his friends anymore, his success came a little later than his friend Dwayne which eats at him and his presence only reminds the guys on the team that the young students are watching the show hoping Cena will talk to them about their Level 2 class afterwards, and maybe, agree to watch their sketch on Youtube. It would be better if he just came back once a year in between movies. He's like Keegan Michael Key from Don't Look Twice in a lime green shirt.
And then there is AJ Styles. The improviser's improviser. The one everyone on and off the team agrees is the best in the world. He's the glue that holds the whole thing together while simultaneously being the most talented and being a zero dick about it. The one who made it to the Main Stage six years after he should have been there. He's the one who should be on a network sitcom. He's the one who should be a household name. While he currently holds the belt, everyone knows that it all means nothing; eventually, money and fame talks. It always, always does. That's The Business. The guy who already has everything is the one who the studio is going to cast and AJ will just grin, "aw, shucks" and head back to the mid-card to put over the next Baron Corbin because the owner will "owe him one". AJ Styles, The World's Best Good Hand.
LOL Cena Wins.
Subscribe, rate, review the With Spandex podcast.
[protected-iframe id="8333541b4dd5a82249cd1b86a5f250b0-60970621-10222937″ info="https://omny.fm/shows/mcmahonsplaining/episode-30-josef-aka-the-almighty-sheik/embed?style=cover" width="100%" height="180″ frameborder="0″]