WWE Fastlane 2019, the final stop on the road to WrestleMania even though you really shouldn't be stopping in a fast lane, airs this Sunday, March 10, live on WWE Network. The card features a series of matches with Mania implications, including a WWE Championship match featuring a guy who got subbed-in at the last minute, a Raw Women's Championship number one contender match featuring two Smackdown women, and more.
Make sure you're here on Sunday for our complete coverage, including an open discussion thread, news, results, jokes … you know the drill. Here's the complete card as we know it.
WWE Fastlane Card:
1. WWE Championship Match: Daniel Bryan (c) vs. Kevin Owens

2. Becky Lynch vs. Charlotte Flair – if Becky wins, she's added to the Raw Women's Championship match at WrestleMania

3. Smackdown Women's Championship Match: Asuka (c) vs. Mandy Rose

4. Smackdown Tag Team Championship Match: The Usos (c) vs. Shane McMahon and The Miz

5. The Shield vs. Bobby Lashley, Drew McIntyre, and Baron Corbin

6. Triple Threat Match for the Raw Tag Team Championship: The Revival (c) vs. Ricochet and Aleister Black vs. Bobby Roode and Chad Gable

7. Women's Tag Team Championship Match: Boss-n-Hug Connection (c) vs. Nia Jax and Tamina

8. Kickoff Match: Rey Mysterio vs. Andrade
As always, we've got your complete rundown of the card and analysis below, featuring predictions for all eight matches. Make sure to drop a comment and let us know who you think's winning, and be here on Sunday to see if you're correct.
Here's what we think will go down at Fastlane 2019.
Kickoff Match: Rey Mysterio vs. Andrade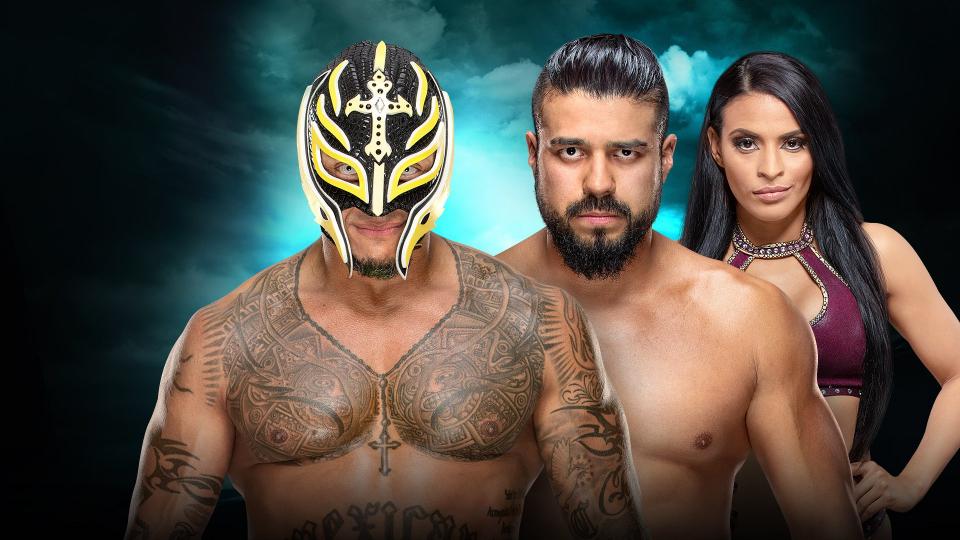 What Should Happen: 10-15 minutes of the greatest luchador of all time and somehow handsomer lucha libre Roman Reigns tearing the ring the hell up and, hopefully, earning each others' respect. If we're going to give tag titles to division-hopping NXT call-ups, we might as well put Rey Mysterio and Andrade together for a cycle to face them at WrestleMania. Tell me you don't want to see that. Eagle tribe represent.
What Will Happen: The rest of the pay-per-view is gonna struggle hard to follow the kickoff show.
Staff Picks
Emily Pratt – It sucks a lot that this is on the kickoff show! It should be very good! I'm guessing Mysterio wins and goes into the US title picture after this!
Bill Hanstock – Well, this is going to rule. We're probably on the road to getting these guys together as a tag team, so I say Rey Mysterio wins and tries to give Andrade the respect handshake afterwards. Either that, or Andrade continues to roll legend Rey Mysterio until everyone's in the WrestleMania U.S. Championship match and Andrade shows the world he means business.
Elle Collins – Full disclosure: I've lost track of the order of wins in this feud, which makes it hard to predict the next one. With that disclaimer, I'm picking Andrade just because I continue to believe that the older guy should always be putting over the younger guy on a PPV.
Raj Prashad – These two are going to have the match of the night on the pre-show. Predicting Andrade to pick up the win.
Women's Tag Team Championship Match: Boss-n-Hug Connection (c) vs. Nia Jax and Tamina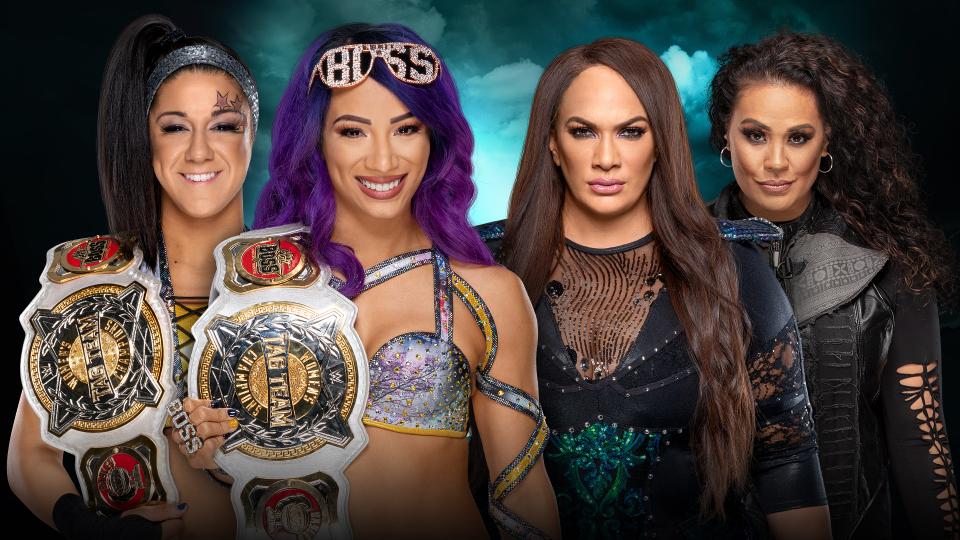 What Should Happen: With NXT running a standalone TakeOver (without a WWE pay-per-view the next night) in San Jose later this year, it only makes sense to keep the Women's Tag Team Championship belts on Sasha Banks and San Jose's own Bayley so you've got something broadly marketable to sell tickets at the top of the card. Plus, I don't even think Nia Jax and Tamina want to see Nia Jax and Tamina as the Women's Tag Team Champions.
What Will Happen: Honestly, the only character-specific concern here for me is making sure WWE's main roster shows that Sasha Banks can defend a championship without immediately losing it. She's lost every Raw Women's Championship run on her first defense, and if she loses her first Women's Tag Team Championship defense as well, that'll be real sad. I know I'm always stanning for an IIconics match, but Sasha and Bayley need to hang onto these belts to get a spot on the WrestleMania card against ANYONE.
Staff Picks
Emily Pratt – With Banks and Bayley showing up on NXT with these titles, it definitely seems like they're retaining.
Bill Hanstock – Sure, whatever. Either the baddies win here to give Boston Nug a feel-good WrestleMania moment, or the virtuous continue to roll towards a multi-team thing at the biggest show of the year. I'll say it's the latter, because even WWE realizes Tamina probably shouldn't get a legacy title reign.
Elle Collins – The IIconics, Fire & Desire, and basically all the women of NXT (but especially the Sky Pirates) are waiting to fight Sasha and Bayley. Literally nobody is waiting to fight Nia and Tamina. So Boss-n-Hug Connection win, and then hopefully on Monday they come out to celebrate and announce their new tag team name that's not a joke that doesn't even rhyme.
Raj Prashad – Looking for Boss-N-Hug to pick up the win and take a prime spot on the WrestleMania card.
Triple Threat Match for the Raw Tag Team Championship: The Revival (c) vs. Ricochet and Aleister Black vs. Bobby Roode and Chad Gable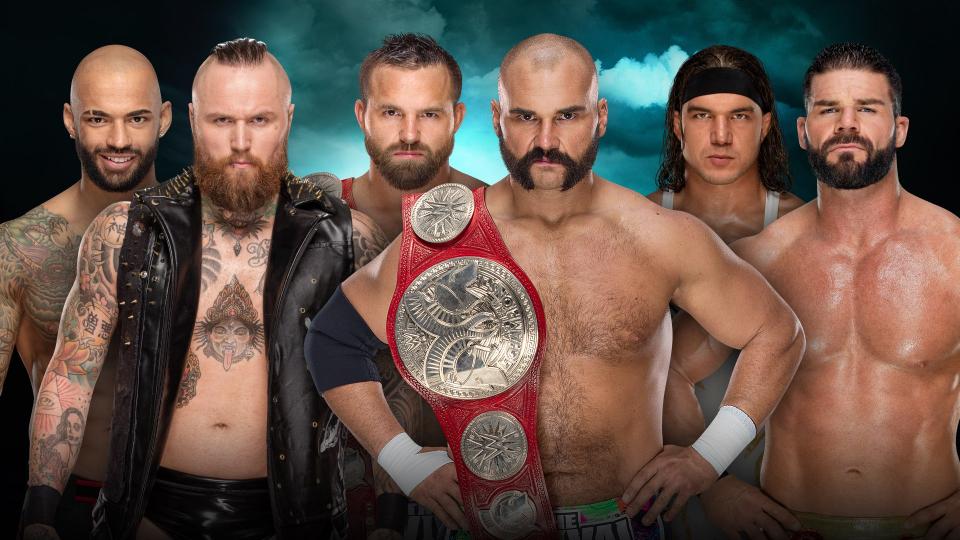 What Should Happen: The Revival should nuke their opponents, then cut a long, passionate, Arn and Ole-style promo about how tag team wrestling is a serious thing again and Raw's tag division is hella embarrassing, so they're packing up and heading to Smackdown for a unification match with the Usos at WrestleMania. Then we never, ever treat The Revival like clown jobbers again.
Also, in a perfect world, James Storm finally jumps Chad Gable before the match and replaces him as Bobby Roode's actual tag team partner.
What Will Happen: Ricochet and Aleister Black win, because they've absolutely crunched everybody they've faced on the main roster in a matter of minutes and are almost definitely winning the Dusty Rhodes Tag Team Classic. Plus that gives us the Ric and Black vs. Rey and Andrade WrestleMania match I stumbled into earlier in these predictions. Although nothing says "Raw Tag Team Championship booking" quite like the champs losing a bunch of non-title matches in a row just to illogically retain on pay-per-view, and maybe the NXT guys winning Raw titles would shackle them to Raw and prevent further Smackdown matches, so I'll say the Rev actually wins. By mistake.
Staff Picks
Emily Pratt – It seems like Black and Ricochet would have more interesting things to do on Smackdown than Raw! So why not have them win the Raw Tag Team Championships and yet still hang out on Smackdown and have the Raw tag scene just wrestle each other in circles some more?
Bill Hanstock – Boy howdy, if this gets at least 18 minutes, it could be a potential match of the year. I'm guessing that the Revival retain in something resembling a strong, clean win, because otherwise that "give us three months to show you this will turn around" report is on track to being the "NOT PENNY'S BOAT" of pro wrestling reveals.
Elle Collins – Ricochet and Black are great wrestlers, but they just got thrown together as a tag team for no reason, with no explanation. Roode and Gable are the same, except it's been long enough since they got randomly thrown together that they're kind of cohesive now. But the Revival are goddamn tag team, who've devoted themselves to working together seamlessly. They have to win this, or there's no point.
Raj Prashad – It's wild to see Ricochet and Black already in a title spot, but here we are. Sticking with the Revival to pull this one off.
The Shield vs. Bobby Lashley, Drew McIntyre, and Baron Corbin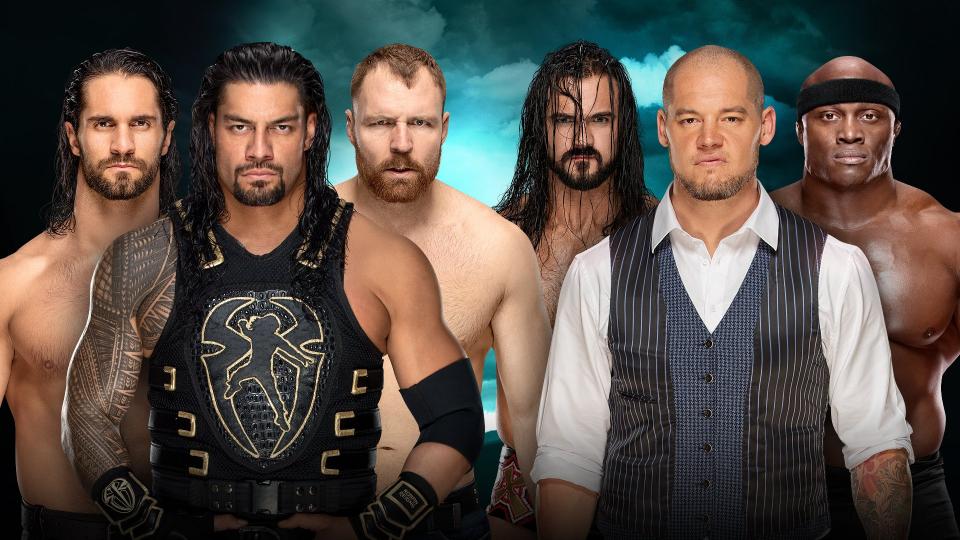 What Should Happen: A move-for-move remake of the Shield vs. New Age Outlaws and Kane match from WrestleMania 30. Death to the unbearable Raw heel collective.
What Will Happen: It all comes down to how they plan to send Dean Ambrose out. Maybe he'll swerve his friends again to set up Roman vs. Dean at WrestleMania. Maybe he'll play ball and show he's not the weak link for like the third or fourth time, and The Shield will get one of the tag title shots at Mania. It's honestly a toss-up, as nothing Dean Ambrose has done since betraying Seth Rollins on leukemia announcement night has made much sense. If I have to pick, I say The Shield wins, and then Ambrose turns after the match for some reason.
Staff Picks
Emily Pratt – Maybe Dean turns heel again here or something, but I hope we get one more Shield team win before he gets beaten out of the company. If he does turn though… Ambrose vs. Reigns at WrestleMania would be pretty rad. [Insert Distracted Boyfriend meme with WWE as the boyfriend, Reigns vs. Ambrose as the girlfriend, and Reigns vs. Corbin as the other girl.]
Bill Hanstock – I mean … the Shield wins, right? One Last Ride™, etc. We get the feel-good win, then move on to Reigns vs. Corbin and Ambrose vs. Jax at WrestleMania, wherein Roman spears Corbin so hard that he becomes a werewolf again, and Nia Jax retires Jonathan Good.
Elle Collins – Of course the Shield wins! The whole point of the Shield is that they win. The whole point of the other three guys is that… they're tall, I guess?
Raj Prashad – Roman Reigns' joyful return to Raw doesn't feel like the time for a heel turn against him. Looking for the Shield to take the win.
Smackdown Tag Team Championship Match: The Usos (c) vs. Shane McMahon and The Miz
What Should Happen: I've been trying to predict it (badly) since they got together, but a match in Cleveland a month before WrestleMania has to be when the other shoe drops on the Best Tag Team In The World. If I'm booking it, Shane takes the pin and Miz flips out on him about it, which would be perfect since Shane was so forgiving of Miz losing the match at Elimination Chamber. Plus, maybe we get a WrestleMania moment where Miz is about to kill Shane and George Mizanin gets in the ring on his knees to beg for mercy. And then Miz can give him a DDT.
My only concern is that if Miz went super heel, it'd accidentally turn Daniel Bryan face again.
What Will Happen: I think the Usos retain, and they save whatever they're doing with Miz and Shane McMahon for a Miz TV segment on Smackdown. That feels more like what they'd do. Lots of, "what's next for the Best Tag Team in the World?"
Staff Picks
Emily Pratt – For the love of tag team wrestling, PLEASE let the Usos win this. And I'm guessing they will and this is the final straw in the Miz and Shane McMahon breaking up because it is very important that we get extensively-built singles matches for both Shane McMahon and Triple H on the WrestleMania card in 2019.
Bill Hanstock – The Usos win following BETRAYAL MOST FOUL in the Miz's home country of Cleveland, disappointing Mr. Hero, because there are no heroes and the Miz is the only person who understands that.
Elle Collins – There's no reason to give the belts to the Usos and then take them back so quickly. Plus if they're going to do Shane vs Miz at WrestleMania, which seems like the thing to do, they're running out of time to pull the trigger. So the Usos win here.
Raj Prashad – Lets go ahead and set up that McMahon-Miz match for the next rivalry with the Usos keeping the belts.
Smackdown Women's Championship Match: Asuka (c) vs. Mandy Rose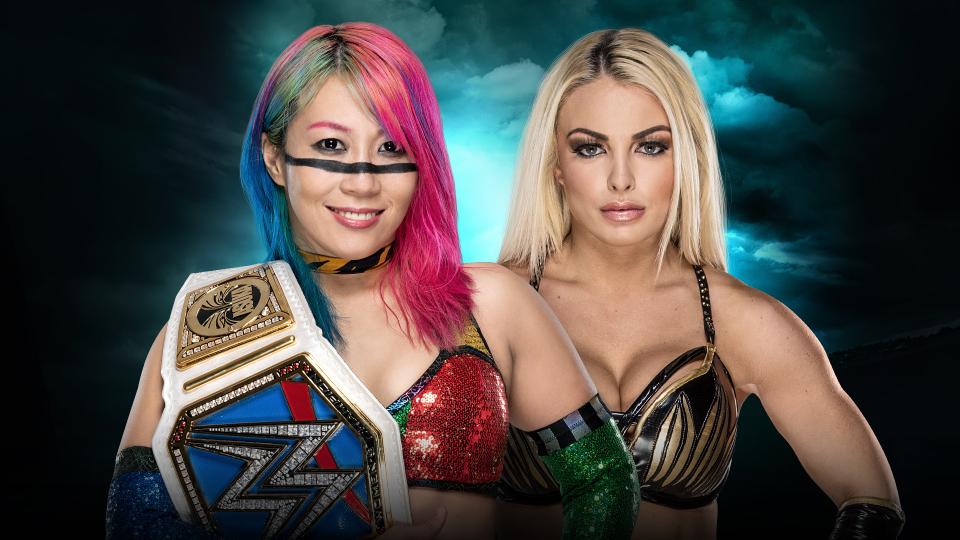 What Should Happen: Actual death via kick-related head trauma within 60 seconds of the bell.
What Will Happen: Brother, if they have Mandy Rose go over Asuka for the Smackdown Women's Championship a month before WrestleMania and shuffle goddamn Asuka into the Not Moolah Battle Royal, I will flip every table in my apartment. Maybe we can use it to get Asuka vs. Sonya Deville in a star-making match at Mania? Yes, yes, I know it's just going to be Lacey Evans. Ronda Rousey vs. Charlotte Flair and Mandy Rose vs. Lacey Evans would be a very Vince McMahon WrestleMania.
Staff Picks
Emily Pratt – Mandy Rose is a pretty good wrestler now and her character work has been strong lately. HOWEVER, if she beats Asuka for this title and we don't get an Asuka match at WrestleMania I will lose my mind. I don't trust WWE to not make me lose my mind in this way right now!
Bill Hanstock – Asuka wins in like four seconds.
Elle Collins – Obviously Asuka should win. There's no world where it makes sense for Mandy Rose to beat her at this point, and Asuka deserves a long run with the belt. Unfortunately, WWE hasn't shown the slightest interest in Asuka as Smackdown Women's Champion, and has barely used her since she won it. Meanwhile they seem to love building up Mandy and making her seem important. So yes, as much as it breaks my heart for Asuka, I'm predicting that Mandy Rose win the belt here.
Raj Prashad – There's no way they take the belt off Asuka before 'Mania, right? That's what I'm banking on, picking Asuka here.
Becky Lynch vs. Charlotte Flair
What Should Happen: Becky Lynch should get a strong win via submission to remind us that she's still the cool and dangerous wrestler we all decided at once to like last year, and not the weird disaffected weakling in an iron lung they've turned her into in 2019. Also, somebody in creative should remember that Lynch won the Royal Rumble and already has a guaranteed championship match at WrestleMania, and the only reason she was going to miss it is because she was suspended. If she's not suspended anymore, she's not going to miss it.
What Will Happen: Raw took a very easy main-event-level WrestleMania feud and turned it into the most confusing mess, huh? Honestly, I think Charlotte wins here or there's some kind of double count-out or double disqualification, and Lynch has to jump through another hoop or two because they don't know how to sell WrestleMania anymore without turning someone into Daniel Bryan. Ronda Rousey shows up and causes problems, if she can break away from her busy schedule of telling everyone on the Internet how fake wrestling is.
Staff Picks
Emily Pratt – You might say, "Of course, Becky will win this so she can be in the match that's pretty close to the match people have wanted to see her have since November." I respond to you with, "Have you seen how dumb this angle as gotten already? Becky could easily lose and get put in the match in an even more convoluted way!" Still, I think the Man wins and, like some other matches on this card, if the nonsense that could happen is kept to a minimum, the match should be very good.
Bill Hanstock – Becky will win here, and the McMahons will discover a rule stating that winning a match to enter a match you already won the right to be in results in a double-positive, which negates both wins and results in you never having existed in the first place. It's called the George Bailey Clause.
Elle Collins – Obviously the movie is for Becky to win and finally make the WrestleMania match official. So let's be real, none of us will be surprised if Charlotte wins and they take two more weeks to overbook Becky back into the Mania match. Still, I'm going to be optimistic here, and predict The Man to win, as she should.
Raj Prashad – There's nothing like forcing Becky Lynch to jump through hoops just to take back the spot she earned a month ago. Going with Lynch to get back into her main event slot.
WWE Championship Match: Daniel Bryan (c) vs. Kevin Owens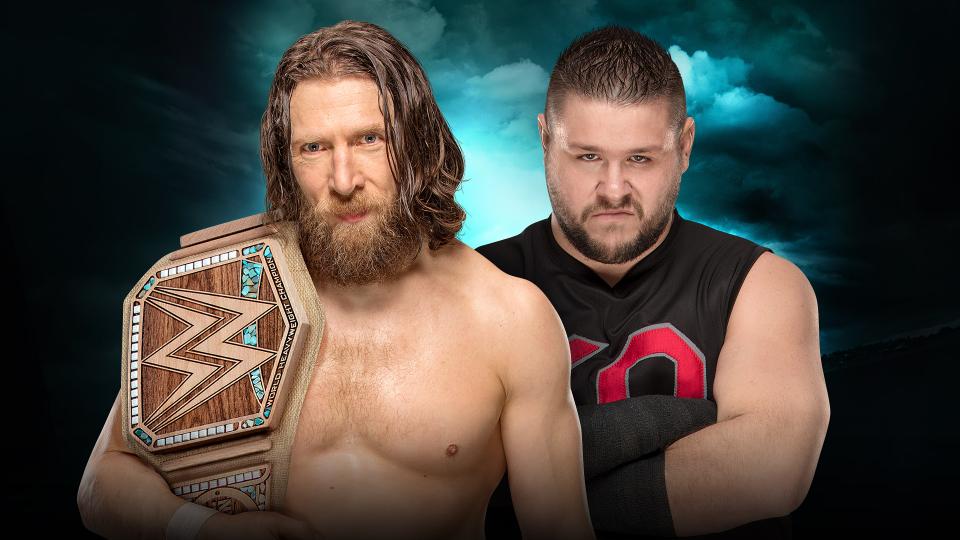 What Should Happen: Sami Zayn shows up looking like he's going to help Kevin Owens, only to swerve him and join Daniel Bryan's Planeteers. Because the only thing more important to Zayn than friendship is social justice. Then we get Owens vs. Zayn with the alignments flipped for WrestleMania (or add them to whatever multi-man Intercontinental Championship thing is happening again) and free up Kofi Kingston for that title shot he still deserves.
What Will Happen: See above. I'm not gonna put that big book energy out into the world and then destroy it with some pessimistic take in the followup. Bryan retains, and Bryan vs. Kingston tears the figurative roof off of MetLife Stadium.
Staff Picks
Emily Pratt – It's cool Kevin Owens is getting such a high-profile match right after coming back from injury and he's been killing it on SmackDown, but there's no way he's winning because #KOFIMANIA, bay-BEEEE. This match should be fun anyway though as long as the Rowan interference aspect doesn't get too out of hand.
Bill Hanstock – Daniel Bryan retains via having a more animal-friendly diet and a lighter conscience, and we move the heck on to Daniel vs. Kofi at WrestleMania already.
Elle Collins – I'd love to see Kevin Owens with the WWE Championship down the road, but right now Daniel Bryan's going so strong, and there's still the Kofi Kingston situation to deal with. Bryan clearly has to win.
Raj Prashad – KO looks great in his return, but sticking with Bryan to keep the belt on the road to WrestleMania.
Those are our thoughts on Fastlane 2019, and we're a weekend away from full-blown WrestleMania season. Who do you think's winning what, and why? Let us know down in the comments section, and make sure you're here all weekend for our Fastlane coverage.
Then be sure to join us again in June for the Greatest Fastlane!