Welcom to Season 2 of the WWE Mixed Match Challenge, a half-hour show featuring a 1o-team round robin mixed tag tournament between Raw and Smackdown. The episodes air live on Facebook Watch at 10 p.m. every Tuesday night, but you can watch the new episode any time you want. I'm changing up the format of these recaps, since they've changed so much about the show. For one thing, it's not for charity anymore, which is honestly kind of a shame but I get how that aspect made more sense if it was a one-time thing.
As I mentioned, the tournament is also round robin now. WWE hasn't done a great job of making it clear how exactly it's going to work, but my understand is that all the RAW teams will face each other while all of the Smackdown teams face each other, and then the teams from each brand with the most wins will compete in the final.
Unfortunately there also doesn't seem to be as much emphasis on building the matches on social media this time around, which is a shame since that was one of the most fun aspects of Season 1. Still, there's plenty that's fun about Season 2, so let's dive into it.
Match One: Monster Eclipse Versus Team Pawz
Until yesterday, this match was supposed to feature Alexa Bliss as Braun Strowman's partner, but she was replaced at the last minute by Ember Moon. As fun as Team LittleBig was, I also enjoyed the Southern Monsters: Carolina Frankenstein and the Texas Werewolf. Yes, officially their name was Monster Eclipse, but that's kind of boring so let me have my fun.
We know from Monday Night Raw that Kevin Owens' current contract lets him do whatever he wants, so it's an interesting question why he wanted to team up with Natalya and face his worst enemy, Braun Strowman. KO certainly didn't seem to be enjoying it, despite Nattie's best efforts to comfort him and keep him safe (always the mom friend!).
On the other hand, Braun and Ember were obviously having a great time together. Whereas the love story between Braun and Alexa in Season 1 made Alexa briefly seem like a little bit more of a babyface, this non-romantic pairing made me realize how great Ember Moon could be as a heel. She's so good at taunting that she can make fun of an opponent with just her face. Plus, she has that devastating finisher, which looks all the more impressive (if a little unsteady) off of a giant's shoulders.
Since we don't know for sure if Ember's staying in the tournament or being replaced by a returning Alexa Bliss (although this backstage video makes it sound like Ember's here to stay), I was glad she got the pin in this match. Plus, it leads to a classic Kevin Owens backstage aftermath video, but now with the added bonus of Natalya trying and failing to take care of him.
The round robin nature of this tournament means that we get to see more of both of these teams, which is exciting. One of the most disappointing aspects of Season 1 was so many fun teams that disappeared after losing in the first round. Monster Eclipse seem like they'll do well as the tournament goes on, and in fact given the absence of any Shield members, Bellas, or female MMA stars in the MMC, they're probably the Raw team to beat.
Match Two: Fenomenal Flair Versus Day One Glow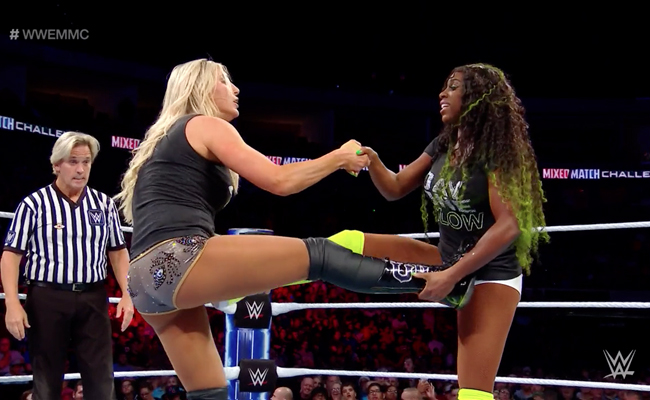 The Raw match was an amusingly messy collection of people who don't know each other well, but the Smackdown match felt like a bunch of friends having fun together. Obviously real-life spouses Naomi and Jimmy Uso have natural chemistry together, despite commentary doing their best to sell the idea that Season 1 was a source of conflict in their relationship (something I certainly don't remember). Self-aggrandizing southern babyfaces Charlotte Flair and AJ Styles also seem to get along, and they continue the odd trend of Charlotte only teaming up with guys who knew her dad in TNA (last time her partner was Bobby Roode).
There were a bunch of intergender spots toward the end of this match, which I always enjoy. I loved Charlotte putting Jimmy Uso in a Figure 4 only for Naomi to stop her from locking in a Figure 8 by jumping on top of both of them.
I also liked seeing AJ sell Naomi's offense. I knew going in that Jimmy was a cool guy, so I'd have expected him to sell for a woman without complaint. AJ seems pretty old-fashioned in his social mindset, on the other hand, so I wouldn't have been confident he'd be cool with that, and I like knowing that he is. Perhaps my single least favorite moment from Season 1 was Rusev no-selling Charlotte's chops, so I'm glad we didn't get any of that crap here. Another fun bit was when AJ caught Naomi in mid-air, leading to Jimmy doing the "don't touch my wife" as a confused AJ backed off quickly. Something like that could be creepy if done badly, but when you don't treat it like a huge deal and everybody's obviously having a good time, I think it works.
It was interesting that this match happened no more than a half hour after Becky Lynch beat down Charlotte at the end of Smackdown. Charlotte got plenty of cheers here, even though a few minutes earlier the same crowd was cheering for Becky beating her up. If anything, that proves that the WWE Universe doesn't hate Charlotte, they just really, really love Becky. Sadly, Becky's not in this tournament, which is really too bad.
Fenomenal Flair's victory was pretty much a foregone conclusion, but I'm glad the victory was so amicable (not what AJ or Charlotte have been used to lately, to be sure). I'm also happy that Day One Glow are sticking around for more Round One matches.
Just like last time, both matches were breezy and fun, and had a House Show feel, in that positive sense of not being overbooked or over-serious. That was what made Season 1 fun to watch, so I'm glad they've recaptured the magic. Plus, this year Asuka doesn't have a winning streak to protect, so the tournament's far less likely to go off the rails by the end.
That's all for this week. Join us next time, when Legit Dominance (Sasha Banks and Bobby Lashley) go up against Mahalicia (Alicia Fox and Jinder Mahal) and the pleasantly streak-free Awe-Ska (Asuka and the Miz) face the Fabulous Truth (Carmella and R-Truth).