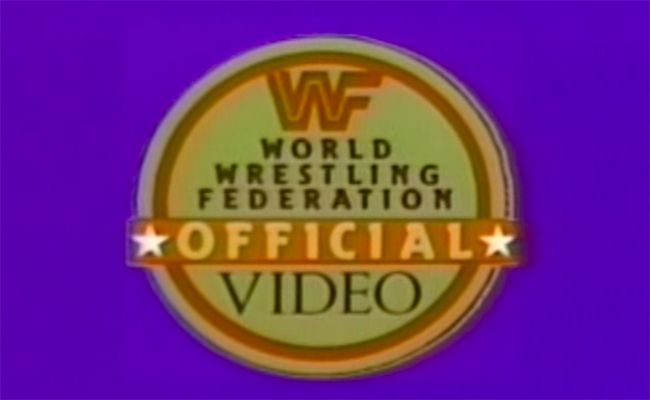 If you're a pro wrestling fan of a certain age (or if you used to be a pro wrestling fan of a certain age), you know there's no way to overstate how important Coliseum Video VHS tapes were to your fandom. WWF (as it was, of course, known at the time) put all its home releases out via Coliseum in the 1980s and 1990s. In addition to the few pay-per-view home releases, Coliseum supplemented its annual slate with compilations, rarities, and the occasional collection of tours or supershows.
Back in the days of pre-Attitude Era video rental stores, fans who loved watching WWF on Saturday and Sunday mornings were able to get their fix by picking up and watching these random Coliseum videos. I can remember renting a few of them several times from a Blockbuster video when there just wasn't enough new wrestling content on TV each week. (Can you imagine such a time? My heavens.)
On Monday, WWE Network will upload a gargantuan assortment of these Coliseum releases. It's not everything Coliseum put out, of course — there are some "Hulkamania" Hulk Hogan compilations that the company understandably wants nothing to do with at the moment — but it will definitely tickle your nostalgia bone. (That's an expression, right?)

WWE Network News first supplied the list of titles coming on Monday and offered original release dates and original run times as these releases appeared via Coliseum home video. Joedust later provided a Google document running down the matches and segment originally included on the VHS tapes. What we're bringing to you below are the titles and a summary of what you can expect on each tape.
Bloopers, Bleeps, and Bodyslams, 1985
A few random comedy matches, but mostly a collection of Tuesday Night Titans segments. Also includes the PIper's Pit with Cyndi Lauper.
Unusual Matches, 1985
Some of the "unusual matches" at this time include a lumberjack match, strap match, Texas tornado match, and steel cage match. This does include a 1960s women's battle royal and Jimmy Snuka vs. Don Muraco in a steel cage.
Big, Small, Strange, Strong, 1985
A compilation of WWF's biggest, smallest, most unusual, and strongest wrestlers. Sort of what it says in the title. Featured performers include Andre the Giant, Haystacks Calhoun, King Kong Bundy, Sky Low Low, Mad Dog Vachon, Ken Patera, and Mil Mascaras.
Grudge Match '86, 1986
Recapping some of the hottest feud blowoffs from 1977 to 1986. Rivalries include Terry Funk vs. Junkyard Dog and Tito Santana vs. Greg Valentine.
Villains of the Squared Circle, 1986
Showcasing some of the biggest heels of the era, with particular attention paid to Don Muraco and Roddy Piper.
Inside the Steel Cage, 1986
Cage matches ranging from the 1970s through 1986.
Grand Slams, 1986
This one is a pretty wide-ranging collection, and was likely just a comprehensive "best of" for WWF in general. It includes things like the Gorilla Monsoon and Muhammad Ali angle, Intercontinental title wins by Tito Santana and Randy Savage, Bruno Sammartino vs. Billy Graham, and Hogan's world title win over the Iron Sheik.

Most Embarrassing Moments, 1987
This is mostly heels getting their comeuppance, either in vignettes or in blowoff matches.
Brains Behind the Brawn, 1989
Focusing on the charges of various managers. Includes Hogan's feud with Andre and Bobby Heenan, Ted DiBiase buying Hercules from Heenan, Honky Tonk Man and the Hart Foundation under the tutelage of Jimmy Hart, Slick's work with the Twin Towers, and Mr. Fuji's time with Demolition.
SuperTape, 1990
The "main event" of this tape is the special No Holds Barred pay-per-view match pitting Hogan and Brutus Beefcake against Randy Savage and Zeus in a steel cage. There are also three Bushwhackers matches here, as well as various Bushwhackers segments, so if you like the Bushwhackers, this is the video for you.
Wrestling Superheroes, 1990
Only five matches on this one, but one of those matches is Rick Rude vs. Roddy Piper in a steel cage.-0
WrestleFest '90, 1990
This has (among other things) a Piper vs. Savage match, a Hogan vs. Mr. Perfect match, and Hart Foundation matches against the Powers of Pain, the Rockers, and Honky Tonk Man and Dino Bravo.
Wrestling Tough Guys, 1990
This one-hour tape has matches involving real life tough guys like Haku and Barbarian, as well as Jim Duggan, a man who calls other people "tough guy."
World Tour '90, 1990
Two hours of international matches from 1989 and 1990.
SuperTape II, 1990
Another best-of compilation featuring non-pay-per-view matches, which also includes 1990 wrestling bloopers. Bret Hart vs. Rick Martel might be one of the gems fans will enjoy here.
Hottest Matches, 1990
"Hottest" seems to mean whatever you want it to mean, since this also includes a workout vignette with Hercules and Paul Roma. There's a Rockers vs. Orient Express match here, as well as a 1990 match between Shawn Michaels and Ted DiBiase. There's also Brutus Beefcake vs. Haku, and you better believe I'm watching any Haku match that gets highlighted as one of the hottest matches of 1988-1990.
SuperTape III, 1991
Some very strange ones on this, including Marty Jannetty vs. Paul Roma, which might be the exact opposite of Shawn Michaels vs. Ted DiBiase.
Funniest Moments, 1991
Big Boss Man vs. Bobby Heenan in a ball cna chain match, Buddy Rose's "Blow Away" commercial, the Gobbledygooker dancing, and plenty of Bushwhackers. Your standard 1991 funny stuff.
Mega Matches, 1991
The highlight of this one is likely Savage vs. Ultimate Warrior in a steel cage, although I strongly suspect that this 11/24/90 match between Bret Hart and the Barbarian will seriously rule.
Greatest Hits, 1991
This is a strange collection of "greatest hits," as it has Rick Martel vs. Jannetty, Hogan and Tugboat against Rhythm and Blues, and Big Boss Man vs. Barbarian, but it does also have Mr. Perfect vs. Kerry Von Erich for the Intercontinental Championship and Ultimate Warrior vs. DiBiase for the WWF Championship.
SuperTape IV, 1991
A Bushwhackers cooking vignette! Also another early Shawn Michaels singles match, as he takes on Crush, and three Big Boss Man matches.
WrestleFest '91
This is another mostly random assortment of matches, but there are also "grooming tips" from Brutus Beefcake, and a Warlord vs. Koko B. Ware match, which on paper makes me feel like you can't NOT want to watch that. This also has one of the few available Legion of Doom vs. Hart Foundation matches.
Wrestling's Greatest Champions, 1991
This could have just been called "champions at the time," because it features matches with Mr. Perfect and the Hart Foundation, but it does also have a 1988 match between Randy Savage and Andre the Giant, as well as a "Desert Storm Match" between Hulk Hogan and Sgt. Slaughter.

World Tour '91, 1991
There are some real odd ones on this — again! Like Warlord vs. Jim Neidhart, or Jim Duggan vs. Kendo Nagasaki(!), but the one everyone is probably going to hustle to watch Shawn Michaels vs. Mr. Perfect from 1991. Holy crap.
Battle at The Royal Albert Hall, 1991
This one amounts to what is essentially an entire pay-per-view card at the Royal Albert Hall in London on October 3, 1991. The British Bulldog is in BOTH main events on this one, because he was fairly popular at the time. There's also a match between Ric Flair and Tito Santana, which I probably need to see pretty badly.
Rampage '91, 1991
It's the rise of the Undertaker, as he appears in a Coliseum main event for the first time, in a match against the Ultimate Warrior. Other oddities include Road Warrior Animal vs. Paul Roma and Ricky Steamboat against Demolition Smash.
SuperTape '92, 1992
This one includes the Tuesday in Texas main event between Hogan and Undertaker, but also has two other Undertaker matches, two Bret Hart matches, and Tito Santana and Virgil fighting Ted DiBiase and Repo Man.
Invasion '92, 1992
This is a big one, as it has Ric Flair vs. Bret Hart AND Ric Flair vs. Shawn Michaels. In 1991. Unless you're here for Legion of Doom vs. Beverly Brothers.
Euro Rampage '92, 1992
Originally marketed as UK Rampage '92. UK Rampage was an annual show in Sheffield, England, that had four installments. The main event of this one was British Bulldog vs. Irwin R. Schyster, but it does have an over-15-minute WWF Championship match between Randy Savage and Shawn Michaels.
Crunch Classic, 1992
This one includes Roddy Piper's Intercontinental Championship win over the Mountie, and for some reason also includes Piper's 1987 hair vs. hair match against Adrian Adonis, plus two Jim Neidhart matches that don't involve Bret Hart and a bunch of other odds and ends.
WrestleFest '92, 1992
WWF really began ramping up their push of Bret Hart at this time, as this includes a Hart vs. Barbarian match, but also a collection of Hart's early-'90s highlights. There are also seven other matches on this one, including Shawn Michaels vs. Virgil, and an eight-man tag pitting the Legion of Doom and the Natural Disasters against the Nasty Boys and Money Inc.
World Tour '92, 1992
Seven matches in total on this one, including two British Bulldog matches, and a main event of Randy Savage vs. Shawn Michaels, which is the same one from the Euro Rampage '92 collection.
Rampage '92, 1992
This might be the most well-known tape in the bunch, as it contains an Intercontinental title match between Hart and Michaels, Undertaker vs. Razor Ramon, Undertaker teaming with Ultimate Warrior, and a WWF Championship match between Randy Savage and Repo Man. You remember when Repo Man earned that title shot and pointed at the WrestleMania sign, right?
WrestleFest '93, 1993
This is another big one, as it has the loser leaves town match between Mr. Perfect and Ric Flair. 12 matches in all on this tape.
Smack'Em Whack'Em, 1993
This has the first WWF ladder match between Bret Hart and Shawn Michaels, as well as Hart winning the world title from Ric Flair. I would imagine most fans will be starting with this one right away.
UK Rampage '93, 1993
The last UK Rampage annual show. Seven matches, with Lex Luger, Mr. Perfect, Bob Backlund, Shawn Michaels and even Fatu in action.
Bashed in the USA, 1993
This video has a trio of Shawn Michaels matches, a vignette about Bret Hart's cartooning hobby, and Undertaker vs. Yokozuna.
Invasion of the Bodyslammers, 1993
Another greatest hits joint, with Michaels vs. Hart, Flair vs. Perfect, and a bunch of other stuff, including a 1993 match between Typhoon and Bam Bam Bigelow, Yokozuna vs. Earthquake, and Papa Shango vs. Undertaker.
Endless thanks to WWE Network News and to Joedust for compiling all of this information. Now the rest of us get to just sit back and allow nostalgia to wash over us. Which of these releases are you most looking forward to waching?