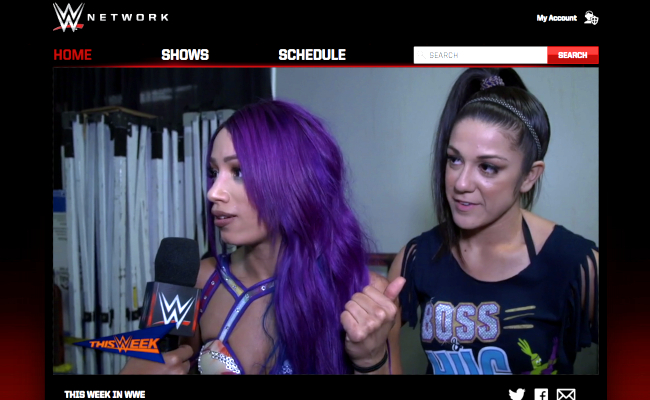 Probably most people who read With Spandex, and certainly those of us who work here, rely on the WWE Network to deliver a lot of wrestling content, both live and archived, whenever we want it. However, not many of us ever give much thought to have that content actually gets from WWE to us. The delivery of streaming content is its own industry these days, and from Variety we've just learned that WWE has switched providers.

The newly formed Endeavor Streaming has announced that WWE is now their client, which means that WWE has ended its ties with the company formerly known as BAMTech, which is now Disney Streaming Services. BAMTech has provided the infrastructure for the WWE Network since its launch in 2014. However, Endeavor's other clients include the NFL, NBA, Univision, Sportsnet, Sky Sports, National Geographic, and Big Ten Network, so WWE is clearly in good company there.
WWE has also partnered with a user-interface design firm called Massive Interactive, and between them and Endeavor it seems likely that noticeable changes are coming to the network soon. Obviously less connectivity hiccups during major PPVs is one thing we can all hope for, and changes to the menu screens are also likely (particularly with Massive's involvement).
Being on the WWE Network now feels a lot like being on Netflix about 8 or 9 years ago, with rows and rows of boxes in too few categories. I'm not saying I want the Network to become just like Netflix is now (note to WWE: nobody likes autoplay), but a bit more intuitive user-friendliness would certainly be a plus. Also, if they want things 205 Live and NXT UK to be a big deal, they really should find a way to spotlight them that's not just the same "In-Ring" section they share with Superstars and Main Event.