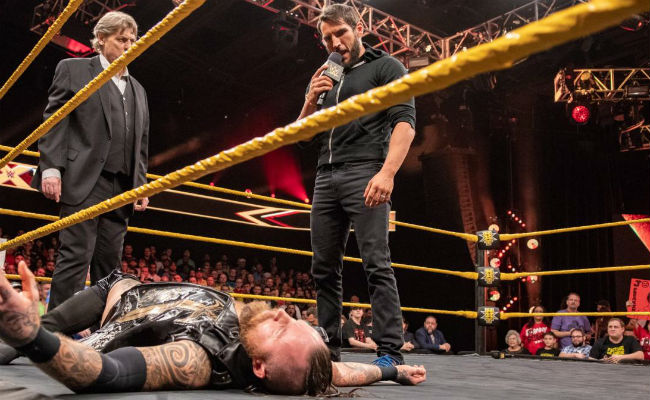 The WWE Network yet again has a new-ish Wednesday night programming block, and we have a live discussion thread in which you can talk about it on With Spandex! Tonight we have two new episodes of NXT UK (3 and 4 ET, with replays starting at 9), a new installment of 205 Live at 7 ET, and NXT (US) at 8.
Official WWE preview for the UK shows:
The Bruiserweight prepares to put his WWE United Kingdom Championship on the line against The Governor Danny Burch. Plus, the debut of Eddie Dennis, Wolfgang and The Coffee Brothers will look to mark their territory and Toni Storm will take on Dakota Kai. Don't miss back-to-back episodes of NXT UK today at 3 ET and 4 ET on WWE Network.
And for 205 Live:
Tonight on WWE 205 Live, WWE Cruiserweight Champion Buddy Murphy hopes to send a message to Mustafa Ali when he battles the UK division's Mark Andrews. Plus, can The Lucha House Party stop TJP from stealing their masks?
And at Full Sail University:
Velveteen Dream faces off with an incensed Lars Sullivan, who seeks to send a message to NXT General Manager William Regal. Plus, Johnny Gargano promises to explain the motive behind his shocking attack on Aleister Black.
Our five-point preview:
1) Will Lucha House Party start super-gluing their masks to their faces, or will they ignore my many unsolicited DMs about the surefire way they can defeat TJP?
2) No one can convince me that Velveteen Dream didn't have "Send me to WrestleMania, Lars" airbrushed on a pair of tights at some point only for that to be ix-nayed before this episode taped.
3) I would like to see Johnn Gargano complete his transformation into Cool Peter Parker with a shot-for-shot reenactment of the montage below, please.
4) "The Ragging Welchman" Eddie Dennis is exactly the type of nickname I want to see on a British pro wrestling show.
5) Do you guys think Dakota Kai will ever move up to the main roster? Right now it feels like it might take like three years for her to get near the top of any women's division, but maybe a strong showing against Toni Storm would make me feel differently.
If you want us to keep doing this Wednesday night WWE open thread, participate in it! Also, come back tomorrow for the Best and Worsts of NXT and NXT UK!