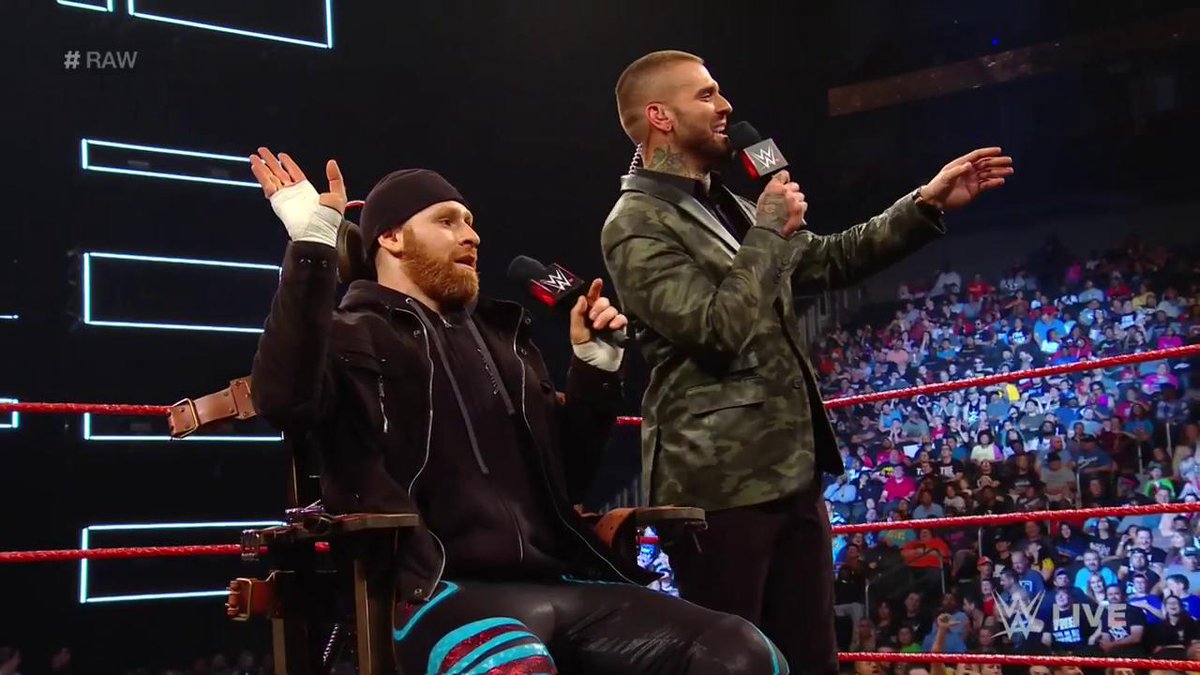 Here are your quick and dirty, editorial-free WWE Raw results for May 27, 2019. The episode featured Sami Zayn vs. Seth Rollins, an appearance from Brock Lesnar, and more. Make sure you're here tomorrow for the complete Best and Worst of Raw column.
WWE Raw Results:
– Kofi Kingston opened the show with a promo, and was interrupted by Seth Rollins. Brock Lesnar interrupted both men and used his Money in the Bank briefcase as a "boom box," playing their entrance themes and dancing. Rollins walked to the back. Dolph Ziggler then attacked Kingston from behind and Zig Zag'd him on the ramp. Xavier Woods made the save, and he and Ziggler brawled until Kofi recovered to make it 2-on-1. Ziggler then cut a long promo reiterating what he said last week, and putting over a match between him and Kingston for Super Showdown.
– The Usos had a "block party" in a tarped off backstage area full of jobbers and extras. Eventually the Revival showed up and the two teams cautiously played a game of Cornhole, but the Revival cheated to … win the cornhole.
– Shane McMahon made an entrance, then left.
– A long Triple H vs. Randy Orton video package aired.
– Shane McMahon came back out with Drew McIntyre and cut a promo on Roman Reigns. He challenged anyone from the Samoan dynasty to wrestle him. Lance A'naoi, Reigns' cousin, answered the challenge. The bell rang and Drew McIntyre immediately beat Lance up, so they pretended it hadn't started and rang the bell again. McMahon then "won" the "match" by submission and continued attacking the kid while taunting Reigns. Reigns made the save
– Brock Lesnar and Paul Heyman walked back out to announce Lesnar's intention to cash in his Money in the Bank contract Rollins interrupted them and tried to goad Lesnar into cashing it in right now, but Lesnar inadvertently discovers he has a full year to cash in the contract and leaves.
– AJ Styles was announced for the main event, but then unannounced himself due to injury. Baron Corbin will replace him. Corbin then attacked Styles.
1. Becky Lynch and Nikki Cross defeated The IIconics. A graphic identified the IIconics as the "Raw Women's Tag Team Champions" instead of "WWE." Lynch pinned Royce after a Rock Bottom. After the match, Lacey Evans walked out and did nothing.
2. Ricochet defeated Cesaro with a clever entrance into a hurricanrana.
– Rey Mysterio will be on next week's Raw to relinquish the United States Championship due to injury. Samoa Joe briefly appeared to say he'd be there too.
3. Number One Contender Match: Baron Corbin defeated Braun Strowman, The Miz, and Bobby Lashley. Corbin pinned Miz with the End of Days. He'll go on to challenge for the Universal Championship at Super Showdown.
– Sami Zayn was a guest on the "electric chair," which for some reason is an actual electric chair in the middle of the ring that you sit in while fans ask you questions. Zayn insulted fans and namedropped AEW until Seth Rollins ran down to the ring and ran him off. That led directly to the main event.
4. Seth Rollins defeated Sami Zayn with a pair of Stomps. Rollins will face Baron Corbin at Super Showdown.