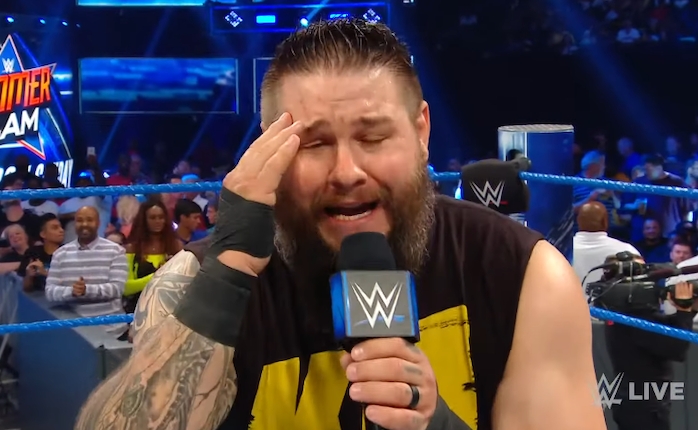 Tonight on the With Spandex WWE Smackdown Live open discussion thread:
Last week, Shane McMahon was absent from SmackDown LIVE at the advisement of his life coach. "The Best in The World" says he is centered and has found peace ahead of his battle with Kevin Owens at SummerSlam. However, he may be brought crashing back down to earth tonight. Kevin Owens has invited McMahon to be his guest on "The Kevin Owens Show" just five nights before their clash at The Biggest Event of The Summer. What will happen to these two rivals ahead of SummerSlam? Find out on SmackDown LIVE, tonight at 8/7 C on USA Network! (via WWE.com)
Our five-point preview:

1. We had to endure a week without Shane McMahon, but don't worry, he's back this week. Gotta make sure to promote that Shane McMahon match at the second biggest pay-per-view of the year, featuring Trish Stratus and Goldberg matches! Everything's fine!
2. Will Aleister Black accept Sami Zayn's challenge? I don't know, does he want an easy win?
3. Kofi Kingston will respond to Randy Orton in an *exclusive interview.* Really thought Impact Wrestling was gonna get that scoop.
4. What's next for Roman Reigns' Final Destination story? Is he going to try to eat a bowl of soup and choke, somehow?
5. Is Charlotte Flair ready for Trish Stratus? After seven minutes of Trish not wrestling on Raw, who knows?
As always, +1 your favorite comments from tonight's open thread and give them a thumbs up and we'll include 10 of the best in tomorrow's Best and Worst of Smackdown Live report. Make sure to flip your comments to "newest" in the drop down menu under "discussion," and enjoy the show!