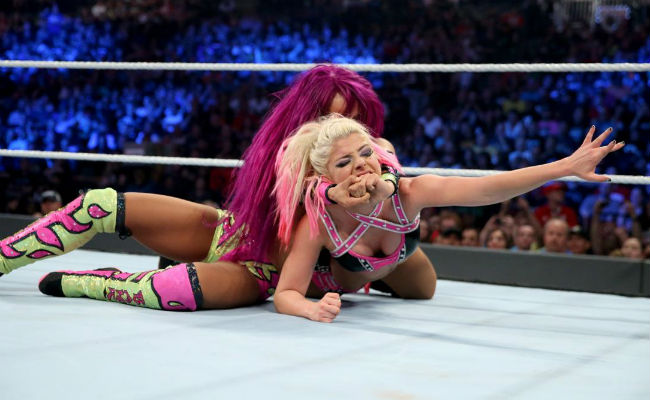 WWE's SummerSlam is fast approaching, and this year's Biggest Party of the Summer™ has the most matches involving wrestlers who are women in the PPV's history. We have Alexa Bliss defending her Raw Women's Championship against Ronda Rousey, Carmella defending the SmackDown Women's Championship in a triple threat match against Becky Lynch and Charlotte, and Rusev and Lana facing off against Cien Almas and Zelina Vega in a mixed tag team match on the pre-show, and two out of three of these have had high-profile builds on their respective weekly TV shows.
Over the previous thirty SummerSlam PPVs, women wrestled in a total of twenty matches. Some SummerSlams had multiple women's matches and/or mixed tag matches, the 2001 and 2009 shows only had women in dark matches, and the 1988, 1989, 1991, 1992, 1993, 1996, 1997, 2002, 2003, 2004, 2005, 2006, and 2012 shows didn't included any women's wrestling.
It seems unlikely we'll slam in the summertime without seeing any women pretending to fight each other in the future, unless they move this PPV to Saudi Arabia or something, and the all-women Evolution PPV is coming up this fall, so now seems like as good a time as any to rank all the SummerSlam matches in which women wrestled! They range from bona fide classics to dull disasters, and work as a microcosm of the how women have been booked in WWE over the decades.
20. Queen Sherri vs. Sapphire, 1990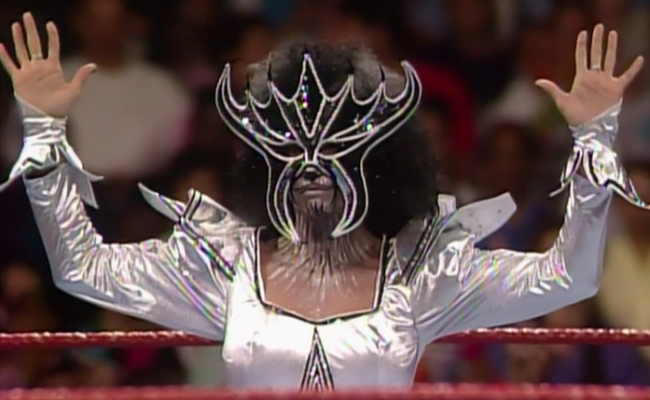 The Queen Sherri vs. Sapphire match doesn't actually happen, so it's at the bottom of this ranked list of matches! The build to this segment started before WrestleMania VI, when Randy Savage used Dusty Rhodes' valet, Sapphire, as an example of women who were not ladies, contrasting her with his valet, Sherri. All four faced off in a mixed tag team match on the Grandest Stage Of Them All, and same-gender singles matches within the rivalry were scheduled for SummerSlam.
But when "American Dream" hits at SummerSlam, Sapphire doesn't come out, and Sherri is left in the ring looking fantastic and also like what we would get if Finn Balor merged his Demon King and LGBT+ rights PPV entrance types into an impossibly powerful demonic drag queen persona. Sapphire doesn't show up for so long that the match gets thrown out, and Sherri celebrates the win via forfeit.
Backstage, a concerned Dusty says he can't find Sapphire anywhere, and describes the lavish gifts she's been receiving from a mysterious source, which included a mink coat, a diamond and sapphire necklace, "cruising around the world," and a new Cadillac. Then, before Rhodes vs. Savage, it is revealed that Ted DiBiase has bought Sapphire, in one of wrestling's many weird allusions to slavery. If you think I'm being facetious to make 20th century WWF sound more racist, check the tape! I will leave deciding whether this was the most racist thing on a card that also included the Orient Express and Mr. Fuji up to you lovely readers.
19. The Kat (with Al Snow) Vs. Terri (with Perry Saturn), 2000
SummerSlam 2000 included one really cool match involving female wrestlers and their significant others, and also included The Kat vs. Terri in a historic, "first-ever thong stinkface match." This few minutes of okay-for-YouTube (though not featured on WWE's YouTube channel) fetish porn is Vince McMahon at his most Don Dimello. This match is an excuse to put women in lingerie slapping each other, pulling each other's hair, and backing their butts towards the cameras on TV. Also, neither The Kat nor Terri can act well or wrestle at all, so to anyone not actively watching this for the wrong reasons, this segment is glaringly poorly executed.
18. Divas Battle Royal, 2007
Battle royals that involve all the wrestlers starting in the ring always begin with a visual mess of punching before they get to the fun spots and character moments. But when most of the performers in a battle royal aren't good wrestlers and don't really have characters and the entire match is under ten minutes long, you never get to the good stuff. That's what happened with SummerSlam 2007's Divas Battle Royal in which Beth Phoenix outlasted Maria, Melina, Jillian Hall, Mickie James, Victoria, Michelle McCool, Torrie Wilson, and ECW's Extreme Expose (Kelly Kelly, Layla, and Brooke) to because the number one contender to Candice Michelle's Women's Championship. Commentary's observation that there's "a lot of screaming and moaning going on in that ring" pretty much sums it up.
17. Ivory vs. Tori, 1999
The backstory to Ivory defending her WWF Women's Championship against her former fan, Tori, is that Ivory attacked Tori from behind and wrote the words "skank" and "slut" on her with shoe polish. Tori runs straight to the ring like an NJPW Young Lion, but, sadly, has pre-beginner wrestling skills. Ivory is clearly a lot more experienced, but the match as a whole is awkward, and includes a stupid post-match segment in which Ivory pulls down Tori's pants for a second, then removes her bra before being chased away by Luna Vachon. The Attitude Era, everyone!
16. Kelly Kelly (with Eve Torres) vs. Beth Phoenix (with Natalya), 2011
The Phoenix vs. Kelly feud for the WWE Divas Championship was based on the also blonde and conventionally attractive Phoenix wanting to prove that the time of the "perky, blonde, cute little bimbo" was "officially over." The match is hurt by the fact that, despite Kelly clearly giving it her all, she is not good at wrestling and her acting decisions don't make any sense. She's flexible and athletic, but nothing she does suspends any disbelief, and WWE doesn't care because they don't care about women's wrestling at this point.
And Beth Phoenix is a wrestler who deserved to have her prime in a different era of women's wrestling, and, like for most of her career, does the best she can here with the booking she's been given. At one point she straight up catches Kelly because the move she was doing took too long to set up because it involved a bunch of gymnastics, and now my ultimate dream match is Beth Phoenix absolutely destroying Will Ospreay.
15. Natalya (with Cameron and Naomi) vs. Brie Bella (with Eva Marie and Nikki Bella), 2013
Check out that devastating submission! Would you believe that the main issue with this match is that none of the offense is believable? Also, it's about a feud between squads from the cast of Total Divas. They try to go full reality show with slapping and trash talk, but Brie and Nattie are really bad at trash talk. My favorite thing about this match is a commentator saying, "I love the Total Divas TV show. I DVR it and watch it back to back, over and over," which is probably an indication of a severe medical problem.
14. Melina vs. Alicia Fox, 2010
The story behind this Divas Championship match is actually pretty solid and not dehumanizing to anyone: Melina had to vacate the championship due to injury, and now she's fighting to win it back. And in her home town! And she does win! And then she gets cheered and looks super emotional about it! (And then she gets mocked and beaten up by LayCool shortly afterwards.) This match, though, is really poorly put together, and the spot choices aren't engaging to watch. Alicia Fox can hang with the Women's Revolution generation now, but eight years ago she was a very awkward worker.
13. Dolph Ziggler and Kaitlyn vs. AJ Lee and Big E Langston, 2013
On the same PPV as The Stars Of Total Divas At SummerSlam match we got this weird love triangle/possibly quadrangle mixed tag. The Dolph vs. Big E stuff is exactly what you would expect from both those guys in 2013, so it's pretty decent. But the match is hurt by WWE's momentum-killing mixed tag match rules that say when one wrestler tags in their partner of the opposite gender, the other also has to tag their partner of that gender.
By the time of the Mixed Match Challenge, they had figured out how to book matches in an entertaining way despite this, but here it's a slam on the breaks. It doesn't help that AJ and Kaitlyn, who are both great, are noticeably way less believably aggressive and technically proficient than their male counterparts here.
12. Nikki Bella, Natalya, and Alexa Bliss vs. Becky Lynch, Naomi, and Carmella, 2016
The crowd is hot for these performers and this match when it starts, but have justifiably cooled down by the end. The babyfaces are likeable, the heels are hateable (Nikki Bella's pushup taunt > Cody's? Let's debate! I take the side of "yes"), but there are about three to three and a half good workers between them, and the whole thing flounders after a fun start. This exact match in 2018 would definitely be a lot better.
11. Bertha Faye (with Harvey Wippleman) vs. Alundra Blayze, 1995
Here's the thing about this match: it is solid from a wrestling standpoint. Amid fat jokes from Jerry Lawler, McMahon on commentary points out that Bertha Faye "does know how to throw that weight around. She is an athlete, and could be the WWF Women's Champion." And Faye wrestles like it, hossing it up as the champ tries to counter the size and weight advantage with speed and technical ability, while also dealing with an interfering Harvey Wipplemann. Ultimately she can't do it, and Faye pins Blayze after a powerbomb for the win.
But even though the match makes sense, it's hurt by dumb and offensive packaging. Faye is a fat woman who believes she's beautiful and dresses in a weird, child-like way, and wants to make over the WWF women's division in her image. Her shrimpy nerd boyfriend Harvey supports her in this by helping her cheat at sports. Though the performer is absolutely doing her best and is not a bad wrestler, the character and the story makes you think, "This angle is dumb. It's gross that this was what she had to do at her job.
What is Vince McMahon's deal with fat people, especially fat women, especially when there are so many great fat people throughout the history of wrestling?" So this 1995 WWF Women's Championship match doesn't hold up very well as a piece of entertainment.
10. Edge and Sable vs. Jacqueline and Marc Mero, 1998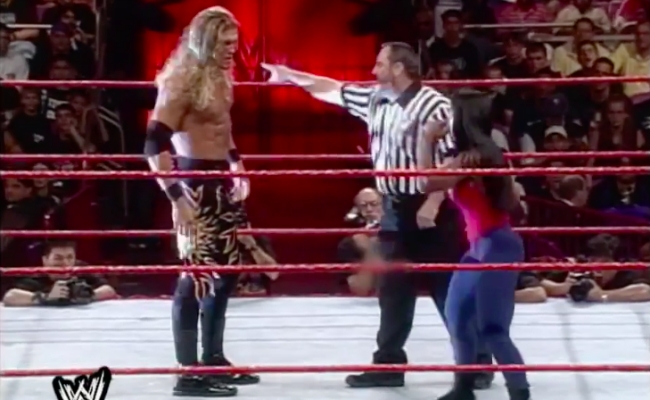 This mixed tag team match isn't very good, but it has some entertaining moments. The Edge vs. Mero parts are solid, and show why Edge went so far in his career soon after this. Jacqueline is a good performer, and the moments of her and Mero cheating are well done.
However, weak links of this match are extremely weak. One of them is that 1998 Sable is really, really bad in the ring. The other is sexism, and the type of sexism that makes you realize why the WWE mixed tag match rules are the way they are. There's a moment in the match where Edge, the face, catches Jacqueline, who has been messing with him throughout the match, and puts her over his knee and spanks her. It's a moment of "You want to see a man slap a woman around, right?" And in this context, with this crowd, that was correct! And that's like 80 percent of why people are still weird about intergender wrestling sometimes.
9. Glamarella (Beth Phoenix and Santino Marella) vs. Kofi Kingston and Mickie James, 2008
This match between two capable tag teams has an odd set up: It's intergender, and it's for both Kingston's Intercontinental Championship and Mickie's Women's Championship. Whichever team wins gets both titles. The whole match is pretty goofy, but these are all good wrestlers and overall performers, and they make it work. It's great to see Mickie James in peak sweetheart babyface mode, but Marella's unibrow might be the MVP of this match.
8. Natalya vs. Naomi, 2017
Last year's SummerSlam SmackDown women's championship match was a mixed bag. The set up of traditionalist, stick-in-the-mud Natalya vs. self-expressive, much cooler and more likable Naomi was solid. Naomi shows off her crazy athleticism with spots like that slingshot legdrop, and Natalya is easily hatable and does a pretty good job dominating a lot of the match with old-school heeling. However, a lot of the moments between when the moves are actually being performed are awkward, and that keeps the match from being very exciting.
7. Paige vs. AJ Lee, 2014
This frenemy vs. frenemy championship feud was a sign things could be looking up for women in WWE. NXT favorite Paige brought it to AJ on a wrestling level and a weird, sort of sexual, definitely unhinged character level. This Divas Championship bout is decent, but probably would have been a better wrestling match and held up better with a bit less Hot Topic craziness.
6. Brie Bella vs. Stephanie McMahon, 2014
The Brie vs. Steph feud building up to this match involved a lot of invocation of Daniel Bryan and a lot of bad Bella acting and a lot of nonsensical writing, but the actual match works really well. As we've seen recently in her interactions with Stone Cold Ronda Rousey, Stephanie McMahon is a really good wrestling villain. Despite her lack of in-ring experience, she believably dominates Brie through most of this match with a combination of ruthlessness and having more muscle tone than most of the women on the main roster at this point.
Brie's offense isn't great, but McMahon is such an engaging and hatable villain that it's easy to overlook it and root for her. The finish is screwy, with Triple H and Nikki getting involved, but it's an effective use of shenanigans that makes you frustrated on behalf of the babyface rather than just about booking. A lot of Authority stuff has been bad over the years, but Brie vs. Steph at SummerSlam was a quality moment and a decent match.
5. Sasha Banks vs. Alexa Bliss, 2017
Bliss vs. Banks for the Raw Women's Championship is an entertainingly mean-spirited fight, with the levels of aggression and attitude making up for a relative dearth of memorable spots. It's not an all-timer, but it's a decent match between two talented performers.
4. Team PCB (Becky Lynch, Charlotte, and Paige) vs. Team B.A.D. (Naomi, Sasha Banks, and Tamina) vs. Team Bella (Alicia Fox, Brie Bella, and Nikki Bella), 2015
This three-team elimination tag match is super fun,with an easy to follow and support story and lots of engaging performers, and felt really fresh for the WWE women's division. It's still early in the Women's Revolution, but all of the women in this match, even Brie, sort of, at this point, can go. The storyline of women fighting to elevate their division and prove themselves as wrestlers parallels what's going on in these women's careers, and that type of thing almost always makes wrestling matches better.
We have Team Bella, with stars from the Divas era, as Mean Girls; Team B.A.D. as mean girls from a different high school, and Team PCB with a rare and powerful alliance between the buff jock princess, emo, and steampunk aesthetics. Sasha has that recently-put-on-NXT-classics heat, Tamina and Charlotte are the relative hosses of the match, the Bellas double suicide dive spot is rad, Nikki Bella is in her strongest form as a surprisingly good at wrestling hot jock heel, and Paige and Charlotte especially get to shine as rising babyface stars.
Team PCB wins, and it's a feel-good win for a good reason. The viewer is happy for those characters, happy about the improving state of women's wrestling in WWE, and happy for these performers, all of whom just demonstrated that the quality of and standards for women's wrestling are way higher in this promotion than they have been for a long time.
3. Eddie Guerrero and Chyna vs. Trish Straus and Val Venis, 2000
It's incredible that Chyna and Eddie Guerrero picked up the Top Kayfabe Power Couple Of The 21st Century award in 2000, and no one has managed to take it from them since then. It's also pretty incredible that this match, despite some eye roll-inducing Attitude Era storytelling tropes in the build, holds up so well. It's Guerrero and Chyna vs. Stratus and IC Champ Venis in an intergender (with intergender rules) tag team match for the Intercontinental Championship, with the stipulation that Venis will lose his title to whoever pins or submits his team.
Venis's ego and Trish's lack of in-ring experience keep Stratus mostly relegated to shenanigans, which also helps the quality of the match because Stratus 2000 still has a long way to go as a wrestler. The Venis vs. Guerrero parts of the match pit Eddie against an opponent with a size and strength advantage, which is always fun to watch him. When Chyna is tagged in, it's really satisfying to see her just lariat the heck out of Venis. She wins by pinning Trish after Eddie deals with Venis at ringside, and becomes the Intercontinental Champion.
It's a feel-good ending, for the moment, to a story that's easy to get behind, with odd couple babyfaces you can easily support and heels you can easily boo, after a good match.
2. Alundra Blayze vs. Bull Nakano, 1994
This match (which Danielle Matheson wrote about on its own for With Spandex a few years ago) is remembered as a high point in women's wrestling in North America for a reason. Both Blayze, face of both WWF and WCW's '90s women's wrestling divisions done wrong and current commissioner of World Wonder Ring Stardom, and All Japan Women's Wrestling legend Nakano, are great wrestlers, and are presented as such here. Yes, Blayze is put over by commentary as beautiful, and part of Nakano and Luna Vachon's heelness is that they're not conventionally appealing to men, and Nakano is something of a Foreign Menace. But McMahon on commentary calls Blazye, "an outstanding athlete, taking nothing away from Nakano, who certainly has a decided weight advantage." Lawler counters that with, "and a wrestling ability advantage," and they basically call the match as if they would call one between two men (and two white men, even) that they respect.
It's not the most technically complicated in the world, but Blayze vs. Nakano is a straight up good wrestling match. Everything is well-executed, and follows the story of Blayze trying to strategically use her superior speed to counter her Nakano's size. But Nakano's a smart hoss too, and Blayze has to show admirable babyface heart to survive a series of submissions until she dodges a leg drop from the top rope, capitalizes on Bull being down to take out Vachon at ringside, and pins her challenger after a rad German suplex with a bridge.
1. Charlotte vs. Sasha Banks, 2016
In what I believe to be the best match that includes women wrestling at SummerSlam in the PPV's history, Charlotte defeats Sasha Banks to become WWE Women's Champion for the second time. We get the ice cold, pedigree-obsessed Queen against the beloved underdog Boss, with a size advantage on Charlotte's side and experience edge on Sasha's. They're both take-no-prisoners, badass women with a heated rivalry, and they wrestle like it. The finish is really good too, with Banks countering a tilt-a-whirl into the Bank Statement in the center of the ring, but Charlotte using her size advantage to reverse it into a pin just long enough to regain her title. It's a smart, clean win, but the type everyone hates to see from a character they love to hate against a character they love.
Could any of the matches from SummerSlam 2018 knock the Boss and the Queen off the top of the list? Should I not have put them there in the first place? How would you evaluate the women's wrestling at SummerSlam over the years? Let us know in the comments!