Previously on Jesus Christ, Superstars: Bret Hart used the power of SASKATOON to defeat Ric Flair for the WWF Championship. Also, Vince McMahon and Mr. Perfect talked extensively about what a terrible wrestler Brian Jewel was.
If you'd like to watch this week's episode, you can do that here, and you can support the column (so we're allowed to keep writing it) by reading previous installments on our Jesus Christ, Superstars tag page.
If you like these, and our break from the normal Best and Worst format, make sure to share it around so it gets read and drop us a comment below.
Here's what you missed 27 years ago on WWF Superstars for October 24, 1992.
Jobbers Of The Week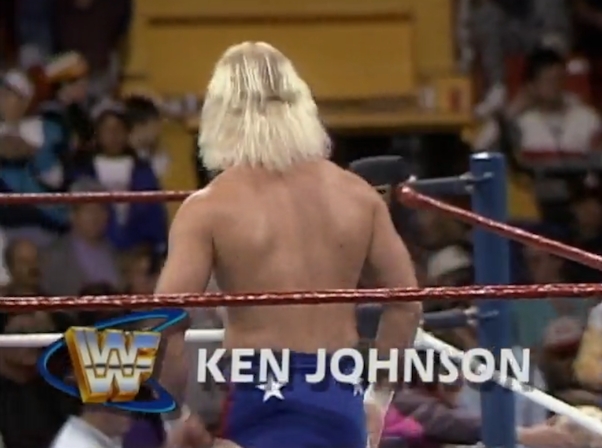 Opening this week's show with a loss to Crush is Canada's own Kenny Johnson, not to be confused with Texas wrestler Ken Johnson, the guy who got Shawn Michaels into wrestling. You may remember Kenny as the tag team partner of Brian Jewel, the guy everyone buried on commentary last week.
Not much to say here, except that every time Crush wrestles and wins with the Head Vice, I wish they'd brought in a special effects team and had him actually crush a guy's head once. Like, some Barry Horowitz type won't submit in the hold and suddenly, pop, Bobby's not the only one with the brains. Basically I want Crush to stop being Crush and start being Ser Gregor Clegane. You can also leave off the second half of that sentence and it's still true.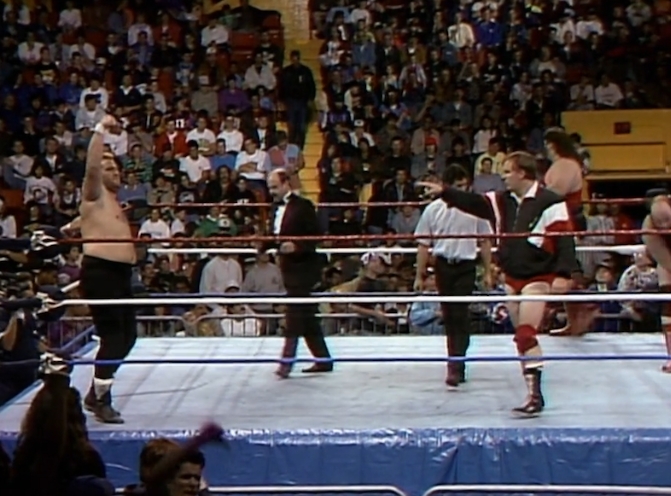 The Natural Disasters throw their weight around against recurring baby boomer Tom Stone and his tag team partner Bill Jodoin. Jodoin was previously billed as "Bill Jordan" in one of those hilarious, "we asked for your name but we weren't really listening" WWF Superstar jobber approximations. If Bret Hart was a jobber he'd end up billed as "Bert Harp." Papa Shango'd be out there wrestling as "Pop of John Doe."
The Internet tells me that Jordan/Jodoin also wrestled under two way better, way funnier names: "Heavy Hitter," which speaks for itself, and "Snake Williams." If anyone ever allowed me to call myself "Snake Williams," I'd never answer to anything else. Oh, yeah, my real name is Mike but people call me GATOR WASHINGTON, I'm either a shitty Canadian wrestler or the protagonist in a John Carpenter action movie.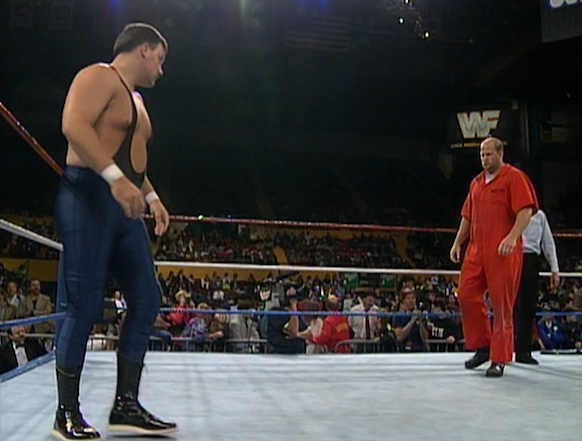 Nailz is scheduled to face a wrestler named Scotty Zappa (pictured), and just tosses him out of the ring instead of making him eat the yellow snow. Zappa's gear is fine, but I'm sad the brown shoes didn't make it. Does humor belong in wrestling columns?
Nailz doesn't actually wrestle here, possibly because somebody realized how bad he is at it, and because he's doing this bit where he "calls out" the Big Boss Man to fight him whenever Boss Man's not scheduled to appear. It seems like a weird thing to do when your entire character is a guy who got out of prison and kept wearing his prison clothes specifically to hunt and kill the Big Boss Man, especially when you've only had one fight with him and beat him up so badly he almost retired. Instead of getting the Boss Man, Nailz gets a face-to-face confrontation with The Undertaker. Presumably they were being set up to feud before Nailz left the company in disgrace or whatever, so all we get is this one staredown and Nailz nervously jerking off a nightstick the entire time.
It's pretty weird!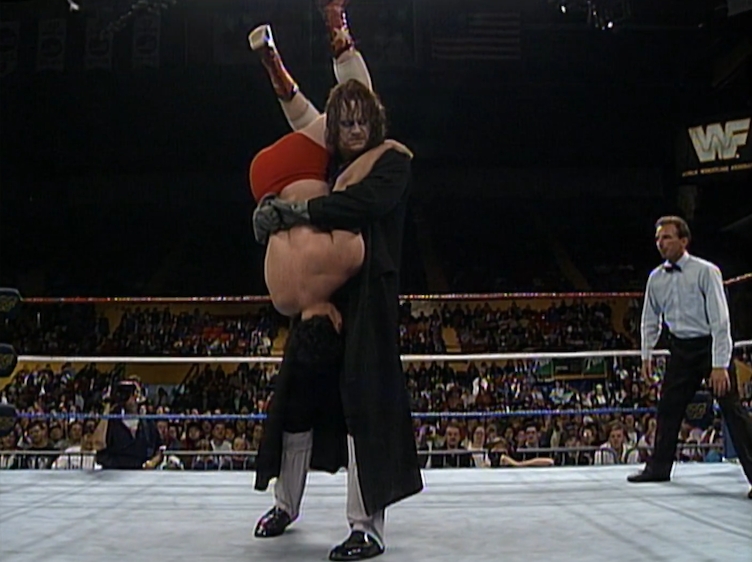 Undertaker sticks around to squash Jason Helton in record time, and really all you need to know about him is that he's got the funniest match-opening attack of all time. Here, watch it for yourself. I've been laughing about this for like 20 minutes.
Okay, there's actually more to learn about him. He's one of the guys who helped train Yokozuna before his debut, which is pretty cool. Outside of this one loss to the Undertaker, he's probably most famous for that time he showed up in ECW with a Muy Thai boxing gimmick for a "shoot fight" and stuck around just long enough to get his neck broken by Taz. He should've tried running straight at him with his arms in the air.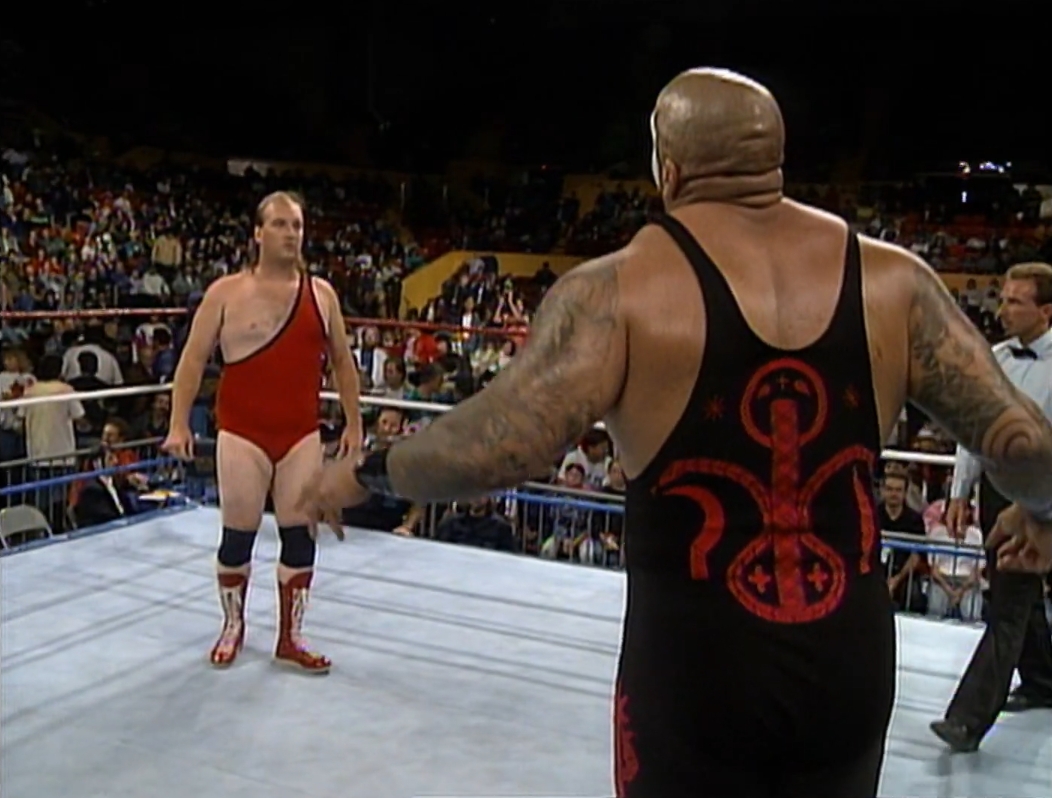 No, that's not a bowling alley you smell, it's the sweet smell of Victor Reed. The only thing thinner than Victor's hair is the chance that he'll get through a Papa Shango match without having his intestines turned into snakes, or whatever. This is the only time Victor Reed ever competes in a WWF ring — or a wrestling ring at all, presumably, as he's this week's guy who looks most like he answered a local newspaper ad — but he does get a couple of followup matches on the Wrestling Challenge as Victor "Reeves." Superstars name approximator strikes again.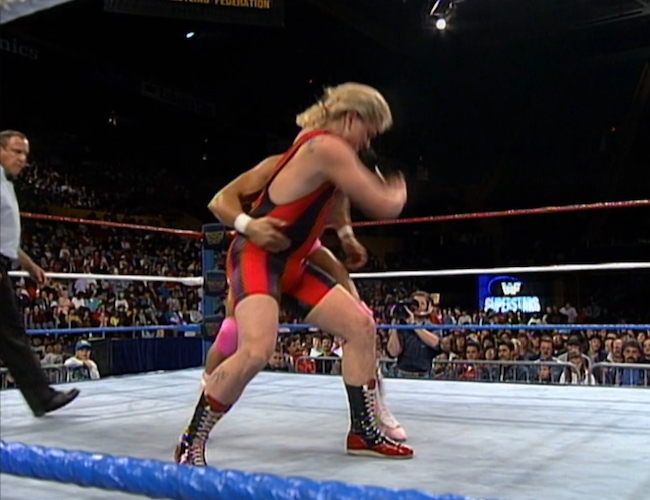 Finally this week we've got Butch Banks. Luke uses a credit union, but Butch Banks. He's here to look like one of the Founding Fathers got wrapped up in a circus tent and lose to a Singin' in the Rain variant of 'The Model' Rick Martel.
Banks is still competing under the name HARDCORE CRAIG, which is just as funny as "Butch Banks," but in a different way. He's at least one Illinois promotion's version of that one guy who is in every local wrestling promotion: the kinda short, bald, tattooed and way-too-muscular veteran who has hardcore matches all the time because he just wants to KICK SOMEBODY'S ASS.
Insane Bullshit Of The Week
The only other development on this week's episode — besides the announcement that the Natural Disasters will defend the Tag Team Championship against the Nasty Boys next week — is a show-opening promo where the Ultimate Maniacs respond to being called the "Ultimate Losers" in a way that definitely makes them sound like normal, sane winners.
Macho Man starts out by paraphrasing Chris LeDoux:
"Do you know what the difference is between you guys and us guys is? I'll tell you what the difference is, the Ultimate Warrior and the Macho Man, we are survivors, yeah. In fact! In fact we been surviving all of our lives, yeah. In fact, you can ride a black tornado across the western sky, rope an old blue northern and milk it til it's dry, bulldog the Mississippi and pin its ears down flat, long before you beat all of us Ultimate Maniacs! Ooh yeah! And on Thanksgiving Eve, the Ultimate Maniacs will be the Ultimate Survivors, yeah!"
If that's not weird enough, the Ultimate Warrior tops it with his original country hit about how evil people don't bleed (?) in the woods of their worlds (??):
"I SAY TO YOU NATURE BOY RIC FLAIR, THROUGH THE VISIONS OF THESE GLASSES THE MACHO MAN HAS GIVEN ME, IF YOU HAVE THE TRUE NATURE YOU SAY YOU DO THEN TAKE YOUR COMPADRE RAZOR RAMON TO THE WOODS OF YOUR WORLD, LET HIM SLICE OPEN YOUR HEART, THEN HIS, FOR THROUGH THESE GLASSES I SEE THERE SHALL BE NO BLOOD SHED, FOR FROM BLACK HEARTS NO BLOOD CAN FLOW THEREFORE NO BOND CAN BE FORMED! AND AT SURVIVOR SERIES THERE WILL BE ANOTHER VISION THAT SHALL TAKE PLACE; YOUR ULTIMATE DESTINY IS ULTIMATE DEFEEEEEATTTTT"
I'm … gonna side with the cool rich guy and his tag team partner, the guy who gets pissed at people at taquerias, thanks.
Next Week Of The Week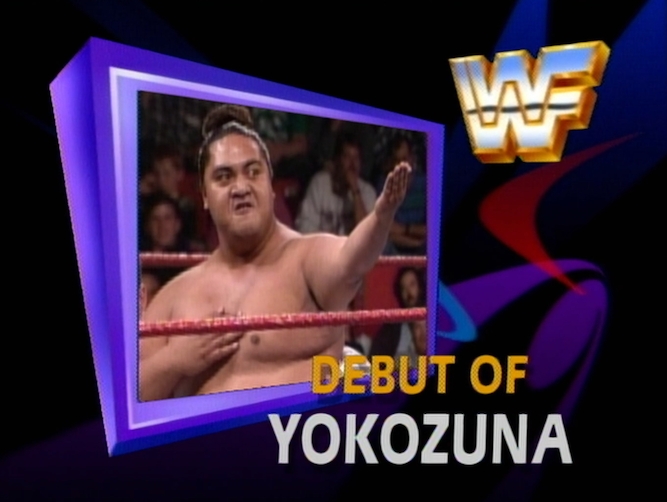 It's the debut of one of the two WWE Hall of Famers to debut in the World Wrestling Federation in 1992 with nationality-specific gimmicks for nationalities they aren't! Yokozuna is here! Plus the Nasty Boys don't actually challenge for the Tag Team Championship (spoiler alert) and more, next week! See you then!