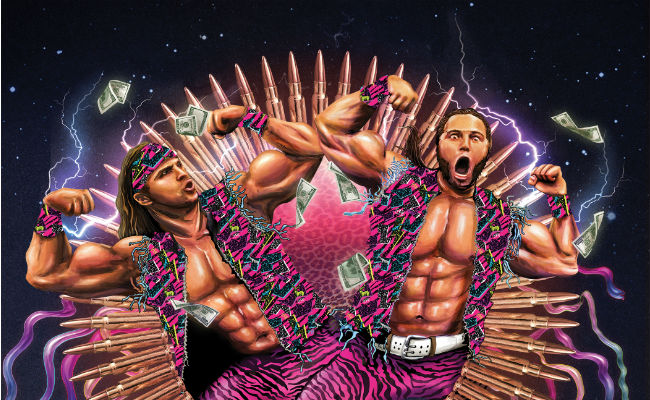 The Young Bucks, Matt and Nick Jackson, are one of the most popular and lucrative acts in pro wrestling right now. The brothers have brought their unique brand of tag team action to Ring of Honor (where they're currently ROH World Six-Man Champions with Cody), New Japan Pro Wrestling (where they're currently the IWGP Heavyweight Tag Team Champions), and independent promotions around the world.
The Bucks, Cody, and the rest of their Bullet Club Elite brethren/Being The Elite castmates will complete maybe the biggest achievement of their career on September 1, when they perform at their All In wrestling event in Chicago. When the enter the sold-out Sears Center for the show (also available from all PPV providers, Fite TV, and Honor Club at 6 PM CT, and with a WGN America-exclusive "Zero Hour" pre-show starting at 5 PM), it'll be to a new theme song.
The new song, "Superkick Party (The Young Bucks Entrance Theme)," composed by Class of 88 and produced by Jason Michael Brescia, is available to stream and download on all digital platforms (including Spotify, Apple Music, iTunes, Amazon, etc.) as of August 22. The song will also be featured on today's Talk Is Jericho episode.
When asked by Uproxx why they felt now was the time for a new theme song, the Bucks explained, "We've been wanting a fresh, new theme song for quite a while now. We wanted an original song and not just something chosen from a catalog. I feel like this new theme illustrates our personalities and style very well… We absolutely love the finished product. I think it captures exactly what the Young Bucks are: high energy, post-modern and edgy. The beat almost perfectly matches the way we walk, down to each step."
The brothers said they, "were approached by Meat Sauce Media, and their sister company Enjoy The Ride Records, for the project and after doing some research and then given samples of their work, we knew it was a perfect fit. We collaborated and brainstormed some ideas and they came up with the original music."
And, the Bucks being the Bucks/notably in possession of very strong merch game, they also have limited edition physical media to commemorate the song's release. "Superkick Party" will be available on 7″ vinyl record in two different variants (350 copies of each) with a reversible inner sleeve and die-cut jacket. The record will include "Superkick Party (The Young Bucks Entrance Theme)," "Superkick Party Reprise (The Young Bucks Exit Theme)," and two songs by Papa Buck, "Cease and Desist" and "The Elite/Superkick Party."
There's also a Championship Gold Bundle, even more limited with only 300 copies, that includes a gold vinyl, gold foil vinyl jacket, magnet bumper sticker, and t-shirt with the same artwork as the record jacket. All this physical merchandise can be found on www.meatsaucemedia.com, on sale on August 24, and available to preorder today. You can keep up with Meat Sauce Media's future endeavors in pro wrestling music on Instagram, Twitter, Facebook, and via their YouTube channel.