I'm entirely biased as a product of my time but 2022 was a great year to be a sneakerhead. Not only were there more dope drops than we care to count (technically we did count them because we chronicled the best drops every week) but the current climate of sneakers offers a little bit of something for everyone. Classic silhouettes from the '80s and '90s are enjoying a renaissance as sneakers like the Air Max Penny 2 and the New Balance 550 have found new audiences.
Meanwhile, Jordan heads are getting spoiled rotten with re-stocks of legendary colorways and new collaborations over the best silhouettes of the lineage (Jordan I-V). The often mocked Y2K era of sneakers has found fans (Nike Shox anyone?) and luxury wear and sportswear are more aligned than they've ever been as silhouettes like the Jacquemus Air Humara and Prada x Adidas Re-Nylon Forum sell out in an instant. We even got a new show to celebrate this year — Uproxx's Fresh Pair.
Sneakers in 2022 have never been boring and in celebration of one of the strongest years in sneakers since pre-pandemic, we're naming the 20 best drops of the year and where to cop 'em. This will ensure that as you step into 2023, you're geared up with the best kicks possible. On to the next year!
But first… a quick word on Yeezys
You're not going to find any Yeezys on this list even though much of the first half of 2022 was dominated week-to-week by some truly fly Yeezy drops. Meaning the omission might come as a surprise… unless of course, you've been paying any attention to the insane words that have been spilling out of Ye's mouth in recent times. I thought that going into this list ignoring the brand was going to be a challenge but you know what? It wasn't. As I said, 2022 was a great year for sneakers and while Ye dropped some great sneakers in the year's first half, he spent the rest of it doing odd shit like wearing White Lives Matter t-shirts, palling around with literal Nazis, and spewing all sorts of misinformed anti-semitic horseshit.
In his hubris, Ye declared "The thing about me and Adidas is… I can literally say anti-semitic shit and they can't drop me" and then repeated himself for dramatic effect (and because he didn't really have anything substantial to say) "I could say anti-semitic things and Adidas can't drop me, now what, now what?" Only to, you know, be dropped by Adidas — a brand that was quite literally started by a card-carrying member of Germany's Nazi party. So… I guess they showed him.
Full stop, hate, and division simply have no place in streetwear and Uproxx won't celebrate a brand/ line of products by someone who actively spreads it. Yes, at one time Ye made some great music and some dope sneakers, but that's not a good enough excuse for his bullshit and streetwear has enough problems, from the sheer amount of waste produced by the fashion industry to shady labor practices, and Nike's dealings with supply chains in China linked to forced labor by done by Uyghur Muslims in the Xinjiang region (according to the New York Times, Nike claims they no longer source products from Xinjiang and that its suppliers were not using textiles or yarn from the region, but stronger audits are needed). So, yes, we're skipping Ye.
As fans of streetwear we should continue to be outspoken and critical of the brands that produce our favorite sneakers, streetwear is far from perfect, but by talking about its shortcomings openly and often, hopefully, we the consumers can push our favorite brands in the right direction.
That's a bigger conversation that deserves its own dedicated article, for now, let's talk about the year's best sneakers.
JJJJound x New Balance 990v3 Made in USA Olive, February 2022
While 2022 was a strong year for sneakers, it started off at a snail's pace. It took two full months until we got our first notable drop of the year in Justin Saunders' JJJJound x New Balance 990v3. Built upon the third iteration of the 990 silhouette (arguably the best) this sneaker features a dope dark olive colorway over a mesh midsole with pigskin suede overlays.
By just utilizing three colors, Saunders was able to deliver a harmonious design that combined earthy green tones with reflective silver accents and a black 'N' logo to pull it all together.
Find the JJJJound x New Balance 990v3 Made in USA Olive at your favorite aftermarket site.
Union LA x Nike Dunk Low Pistachio, February 2022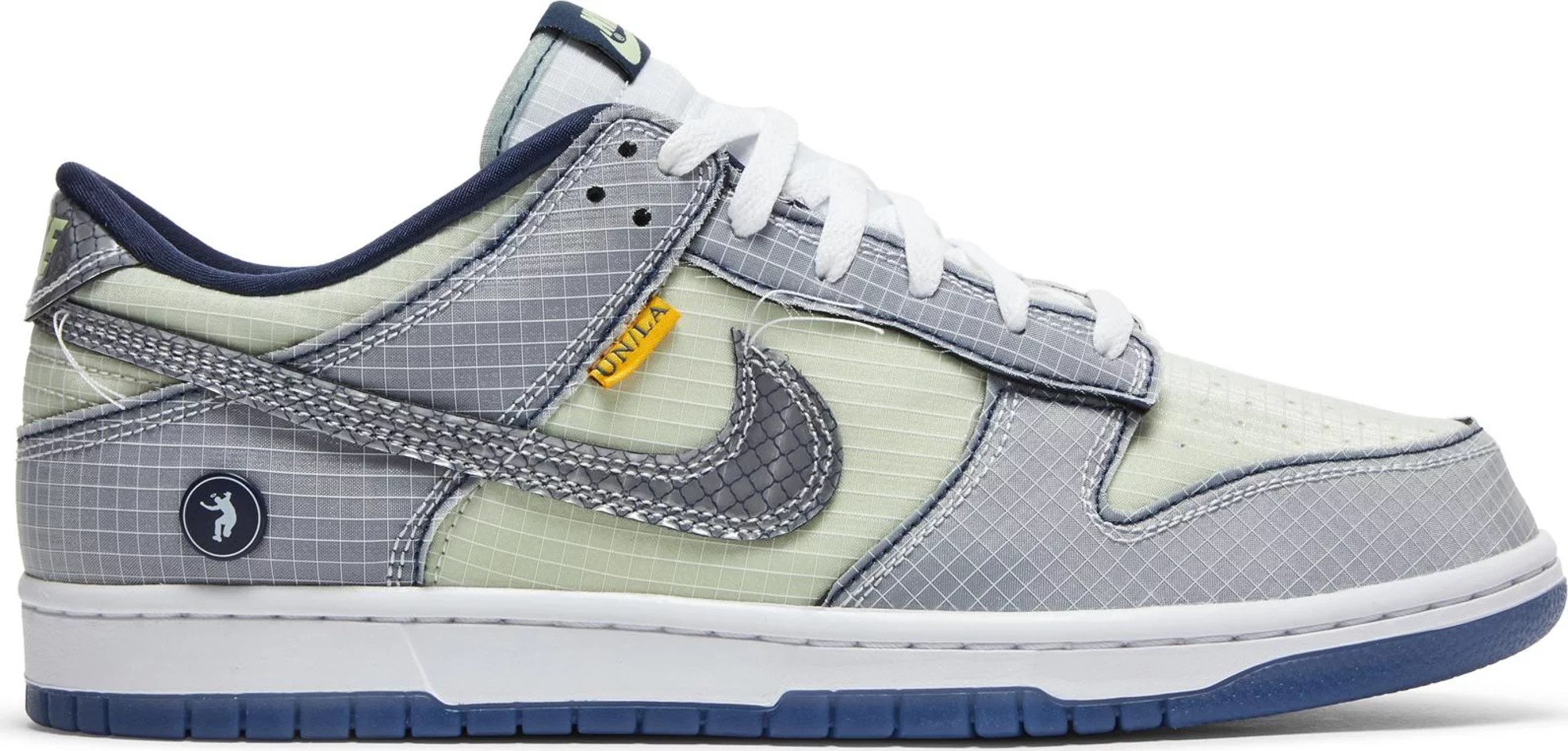 Union LA has long been one of the strongest Nike collaborators and 2022 only solidified that reputation. Released as one of the three colorways from Union's "Passport Pack" the Pistachio Dunk Low featured a semi-translucent tearaway upper in neutral grey tones with a pistachio-esque under glow that revealed a leather base dressed in navy and green hues once worn away.
The entire Passport pack was inspired by rare early 2000s-era sneakers from around the world and since 2022 was the year of Y2K-2, these throwback sneakers resonated so strongly with the modern sneaker culture. Even now, ten months later, they still look super dope.
Find the Union LA x Nike Dunk Low Pistachio at your favorite aftermarket site.
Joe Freshgoods x New Balance 9060 Penny Cookie Pink, March 2022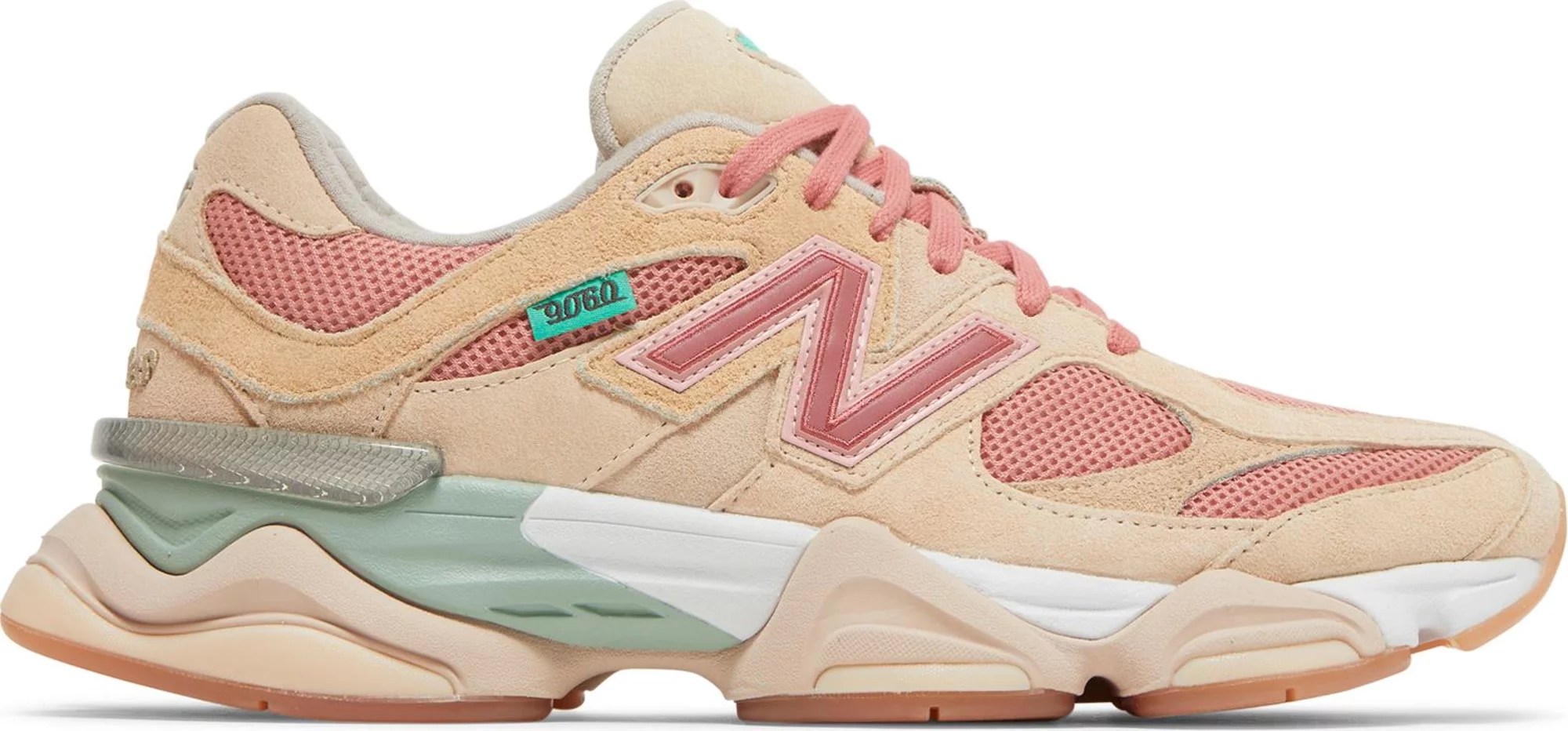 Chicago designer Joe Freshgoods is a name you're going to be seeing a lot in this article, and for good reason, he's one of the most vital designers in the game right now. Dropping mid-way through the year, his 9060 collaboration with New Balance brought a whole lot of vibrant color to a brand that is famous for being a bit drab and low-key.
The Penny Cookie Pink 9060 was released as part of Freshgoods' "Inside Voices" pack and sported a pink mesh upper with peach-colored suede overlays atop an ABZROB midsole. The 9060 itself was a hybrid silhouette that took elements of the 990 and infused it with features from New Balances 2000's era running shoes. The result is simply one of the best silhouettes to come out of New Balance ever.
Find The New Balance 9060 Penny Cookie Pink at your favorite aftermarket site.
Air Jordan 1 Retro High '85 Georgetown, April 2022
For this roundup of the greatest sneakers of 2022, I tried to stay away from simple colorway restocks in favor of brand-new designs but I couldn't put a cap on 2022 without shouting out one of the greatest retro releases of the year, the Jordan 1 High '85 Georgetown. Dressed in the navy and grey colors of the Georgetown Hoyas basketball team, this colorway was meant to reference the 40th anniversary of Jordan's winning shot against the Hoyas in 1982 when he was a way less famous college ball player.
There is something kind of cruel about commemorating that moment by donning the school colors of the team MJ defeated, but we doubt any Hoyas players would complain given MJ's legendary status and the dope way this colorway comes together on this classic design.
Find the Air Jordan 1 Georgetown Retro High '85 at your favorite aftermarket site.
Joe Freshgoods x New Balance 550 Conversations Amongst Us, April 2022
Two years ago Aimé Leon Dore's Teddy Santis resurrected the 550 silhouette from the New Balance archive and in 2022 Joe Freshgoods perfected the sneaker with this all-white pair from his 'Conversations Amongst Us' collection. Every piece from the 'Conversations' collection was made in collaboration with the Black Soles, an initiative started within New Balance that aims to amplify Black voices in the footwear industry.
The sneaker featured a cream-colored canvas upper with leather and suede accents and a dope spin on the 'N' logo branding that featured a contrasting black outline. This cream-colored beauty sat atop a slightly aged outsole giving it a slight vintage look. It remains the greatest colorway to ever grace the 550 silhouette. That's the power of Freshgoods!
Find the Joe Freshgoods x New Balance 550 Conversations Amongst Us at your favorite aftermarket site.
Union LA x Air Jordan 2 Grey Fog, April 2022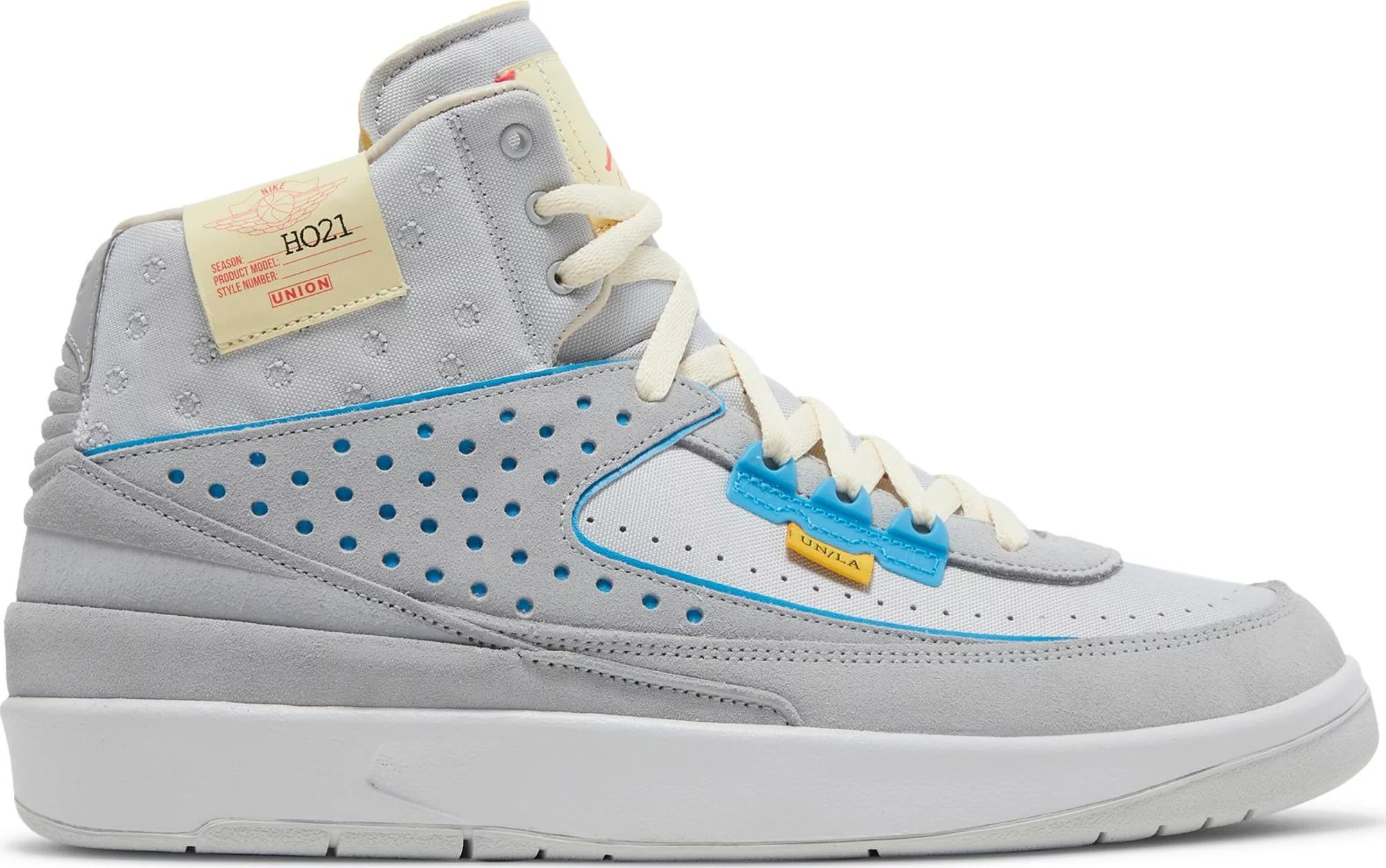 In truth, there were a lot of great Union Nike collaborations this year, but we had to whittle it down to the absolutely essential pairs, and this take on the Jordan 2 is one of them. The Jordan 2 has long been overlooked despite it being designed by Peter Moore and Bruce Kilgore, the fathers of some of Nike's greatest silhouettes, but this year, 36 years after its original release, it finally got the respect it deserved with a series of dope collaborations that reimagined this ahead of its time design.
Chris Gibbs and the Union crew swapped out the faux-lizard skin leather upper for a textile construction with suede overlays and perforated details. Featuring a combination of Grey Fog, Siren Red, and Light Smokey Grey, with bright blue accents, this take on the Jordan 2 took what was once a simple design and outfitted it with contrasting colors and premium details.
Find the Union LA x Air Jordan 2 Grey Fog at your favorite aftermarket site.
Supreme x Nike Shox Ride 2 Black, June 2022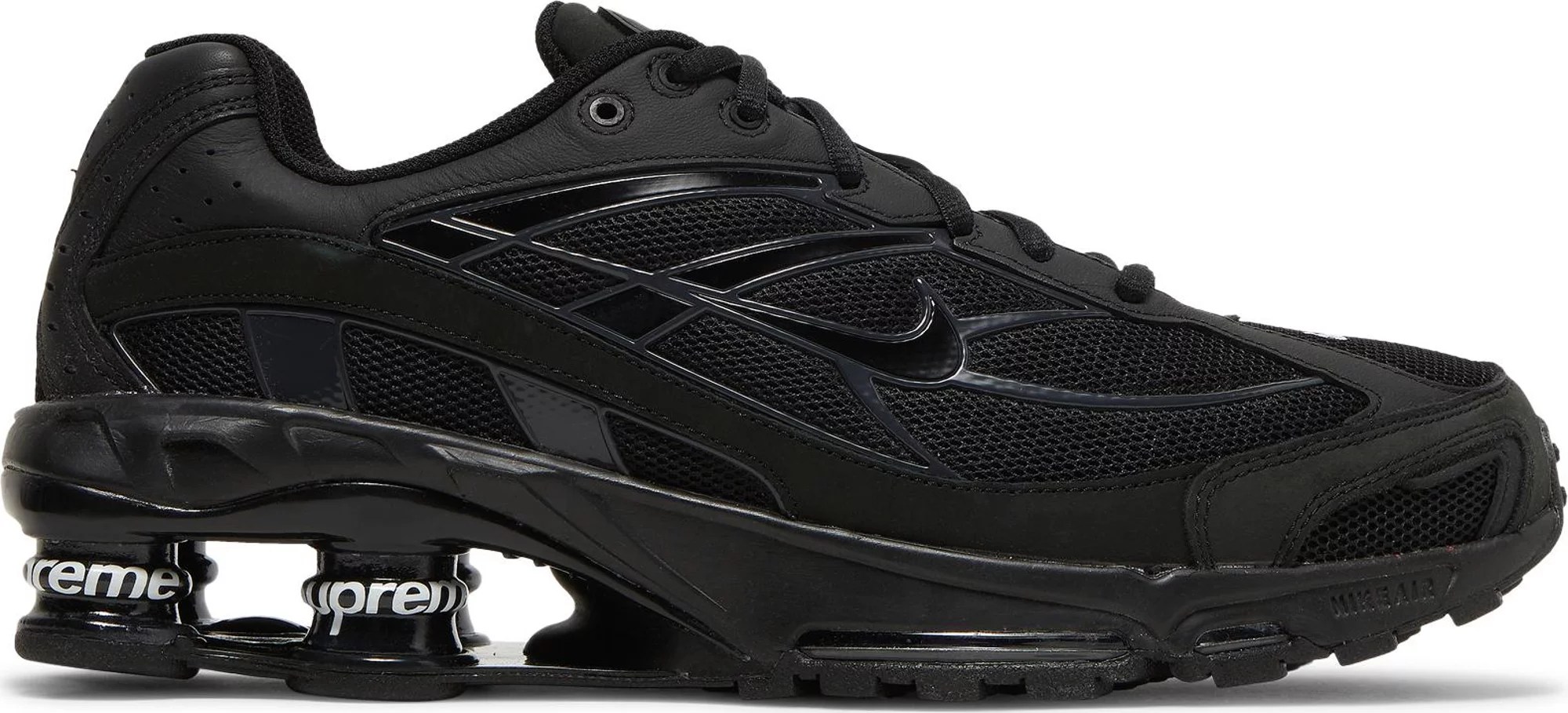 If you came of age in the '00s you might look at a brand new pair of Nike Shox with absolute horror, but if you're a fairly young sneakerhead just getting into the scene, you have no point of reference or reason to hate on this design. Despite being a design that is twenty years old, the Shox somehow manages to look futuristic.
The idea of Shox might be hard to swallow for you, which is why we're shouting out this pair made by the kings of streetwear, Supreme, who dropped a four-colorway set of the sneaker at the start of summer and this all-black pair was the best of the bunch. Featuring a mesh upper with leather overlays, the Shox Ride 2 sports Supreme branding and that iconic pillar-supported heel that makes the design so polarizing.
Find the Supreme x Nike Shox Ride 2 Black at your favorite aftermarket site.
Wales Bonner x Adidas Samba 'Cream White Bold Green', June 2022

Made in collaboration with British fashion designer Wales Bonner, this simple update of the Adidas Samba is the best the silhouette has looked in some time. The sneaker sports a cream nylon upper with hairy suede paneling, and faux-crocodile leather three-stripes. This low-profile sneaker rides on a semi-translucent gum outsole and sports speckled green and cream laces that help to wrap the design together.
The Samba is an all-time great silhouette but the design is a bit tired at this point, making its appearance in year-end lists a true rarity. Through her impeccable design sense, Wales Bonner made the decision to include this pair easy.
Find the Wales Bonner x Adidas Samba 'Cream White Bold Green at your favorite aftermarket site.
A Ma Maniére x Air Jordan 2 Airness, June 2022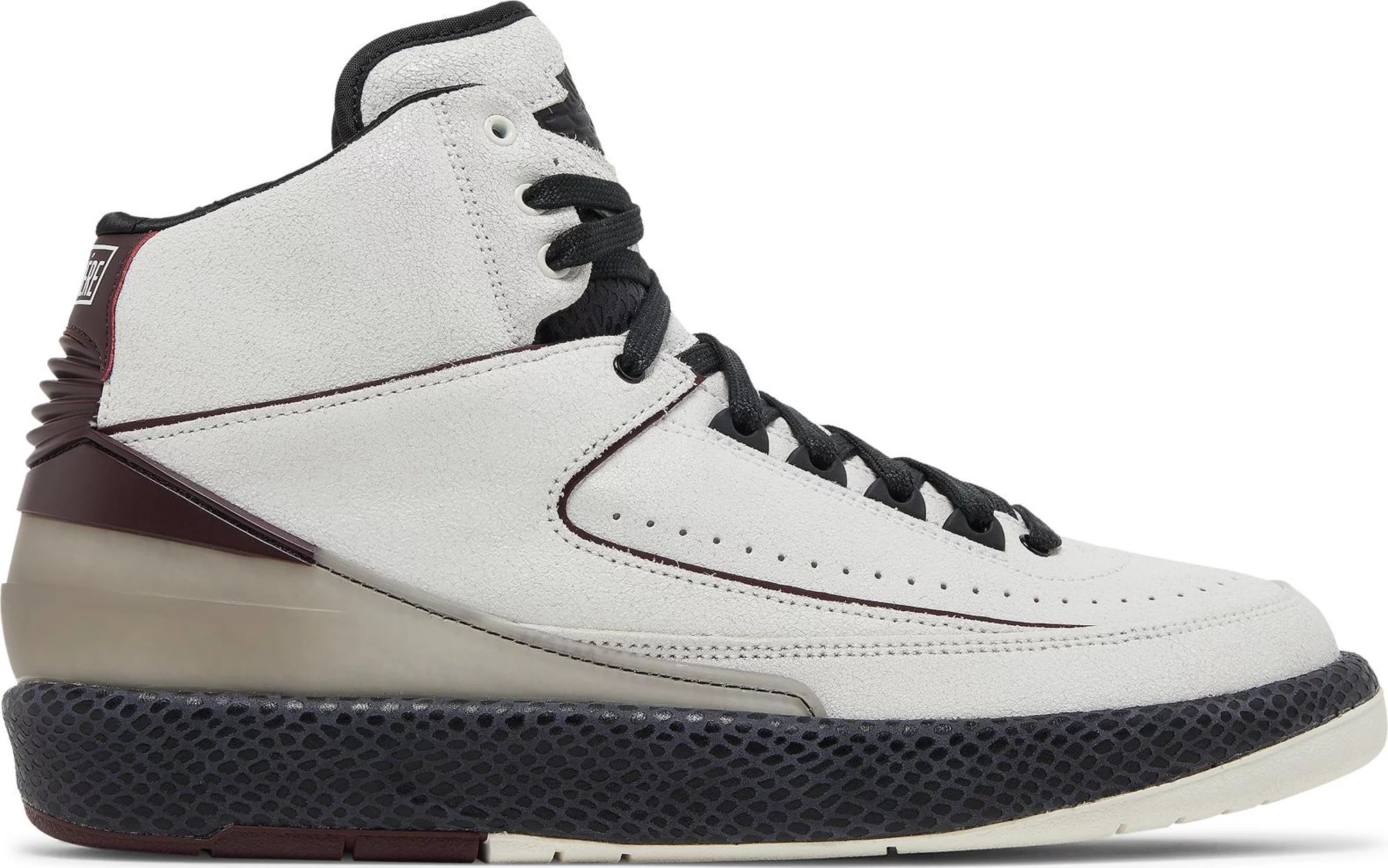 I wasn't joking when I said this was the Jordan 2s year, and if the number of drops wasn't indication enough, having A Ma Maniére take a stab at the silhouette should be proof enough. The Atlanta-based label is one of Jordan Brand's strongest collaborators and they put their elegant spin on the Jordan 2 for a sneaker that fully lives up to the original vision Moore and Jordan set out to achieve with this luxury piece of footwear.
Featuring a cracked leather upper with wine-red piping and snakeskin detailing, this take on the Airness exudes luxury in a way its designers could only dream of. It's great to see the vision finally achieved at a time when luxury streetwear isn't a pipe dream, but the norm.
Find the A Ma Maniére x Air Jordan 2 Airness at your favorite aftermarket site.
Travis Scott x Air Jordan 1 Reverse Mocha, July 2022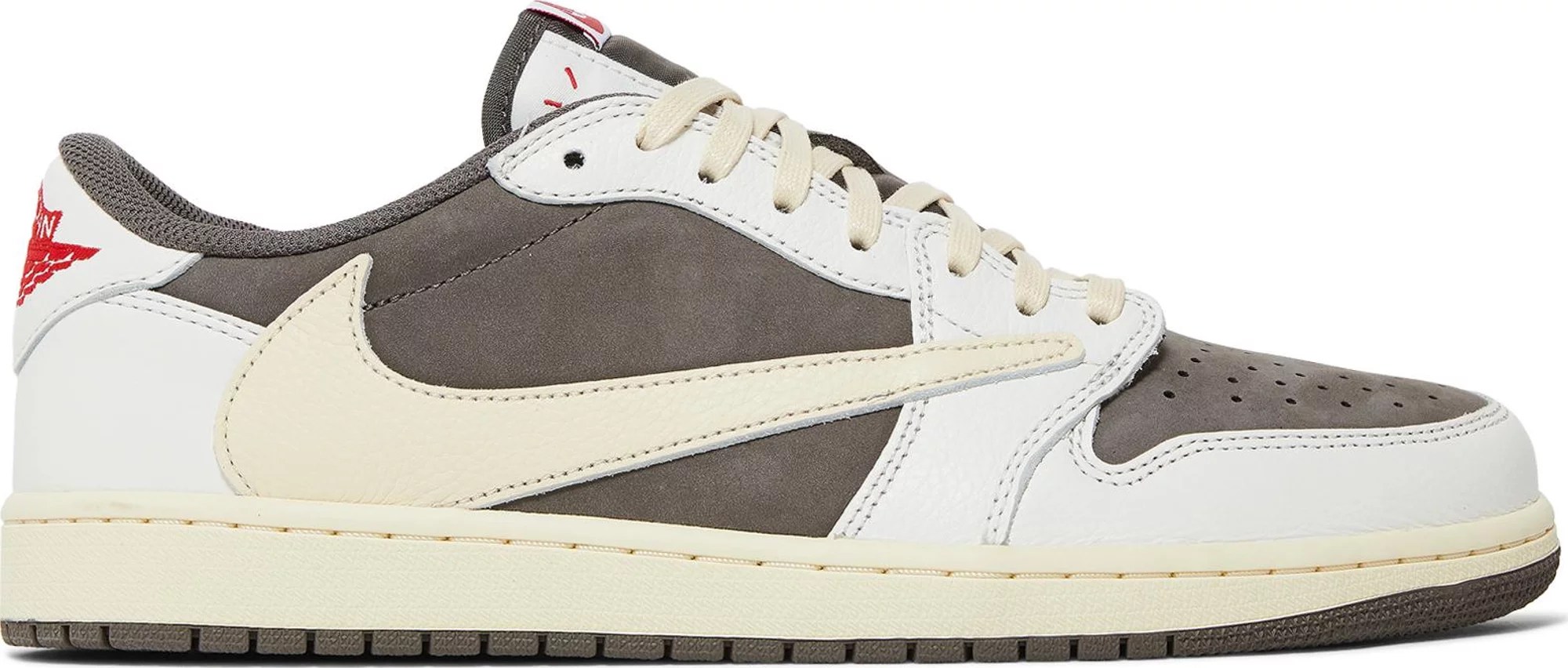 Travis Scott dropped a grip of sneaker collaborations with Nike this year but nothing was quite as hyped as the low-top Reverse Mocha Jordan 1. Featuring a suede upper dressed in brown with crisp white leather overlays, and that now-iconic signature reverse swoosh, the Reverse Mocha was, as its title suggests, a low-top version and twist on 2019's Jordan 1 Mocha.
2021 was a strong year for Travis Scott with a grip of drops that dominated year-end lists everywhere, 2022 was a bit different but the one big drop we got was easily one of La Flame's best ever. This is an all-time top Travis Scott Cactus Jack Nike collab and all future releases will be compared to this heat. Bring on 2023.
Find the Travis Scott x Air Jordan 1 Reverse Mocha at your favorite aftermarket site.
Teddy Santis x New Balance 990v3 Made in USA Raw Amethyst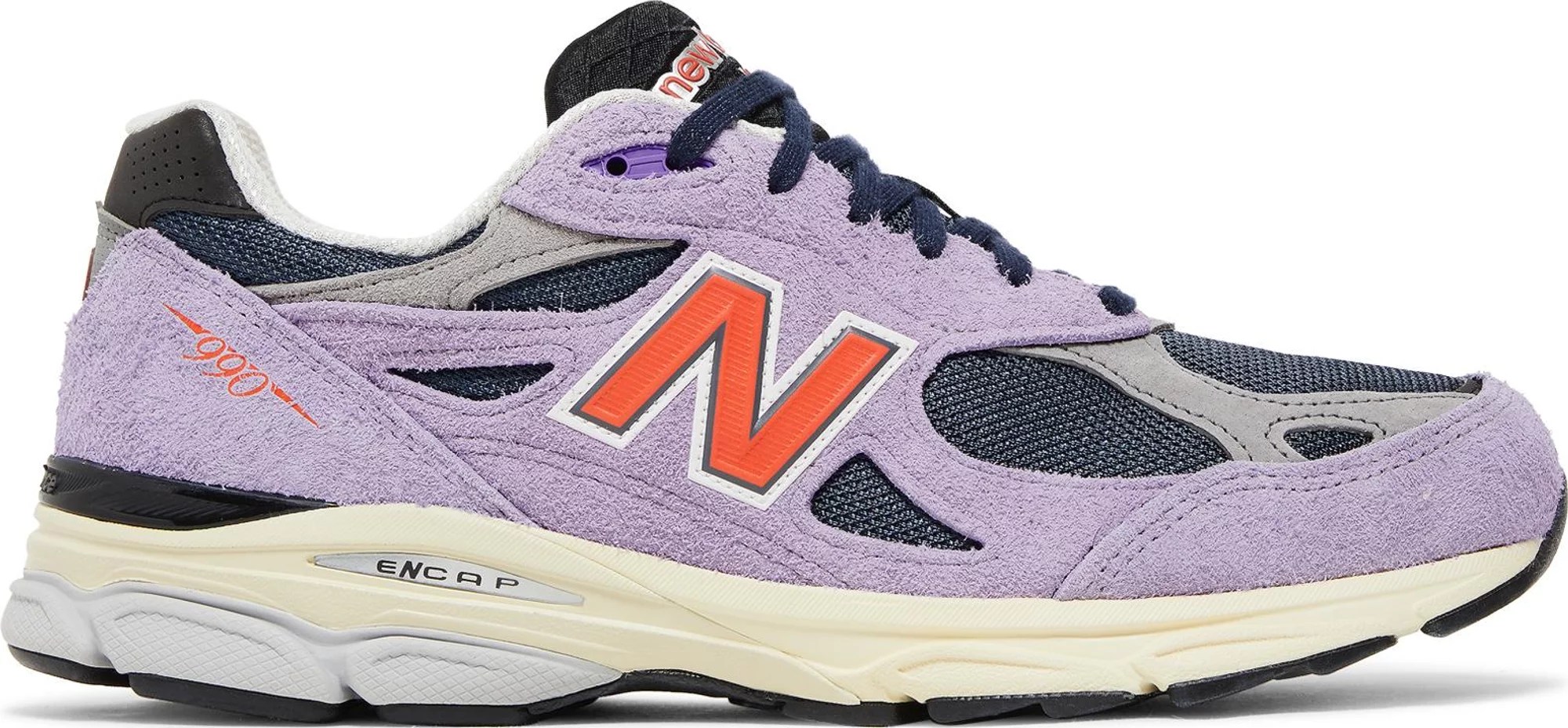 Teddy Santis is a major part of why New Balance has become one of the most beloved brands in sneakers, ranking even higher than the mighty swoosh in some streetwear circles. He is who we have to thank for resurrecting some of NB's strongest forgotten silhouettes and his influence is so strong that New Balance has named him the creative director of the prestigious Made in USA line. This year his best release was easily this Raw Amethyst version of the 990v3.
Coming out of New Balance's Made in USA line (obviously), this 990 features a mesh upper with soft lavender pigskin suede overlays with a red-orange N logo and navy blue laces. It looks like the sort of color combination Miami/New York brand Stray Rats would put together, with the sort of luxurious minimalism that Santis' Aime Leon Dore brand is known for.
Find the Teddy Santis x New Balance 990v2 Made in USA Raw Amethyst at your favorite aftermarket site.
Bad Bunny x Adidas Forum Blue Tint, August 2022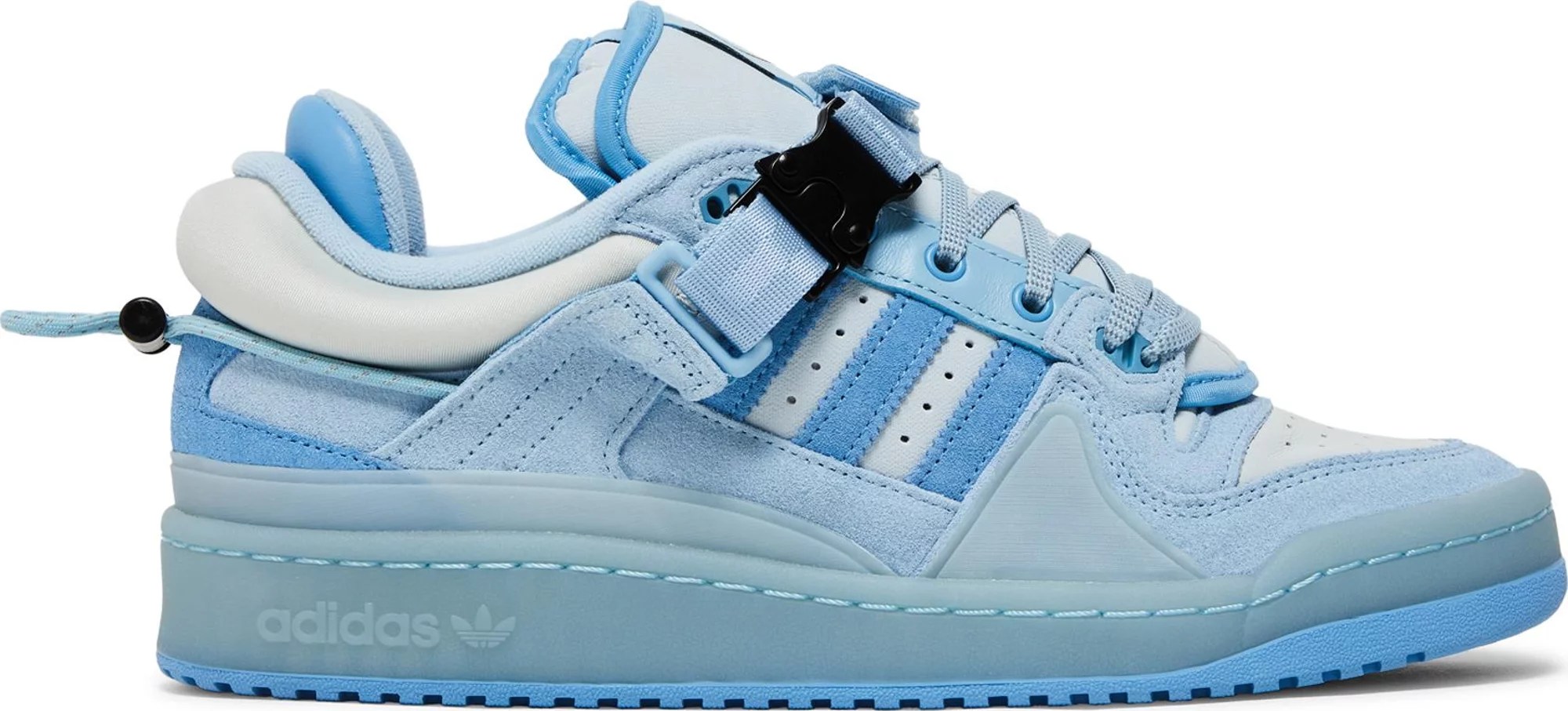 Now that Yeezys are a thing of the past, Bad Bunny has risen as Adidas' strongest collaborator, and even though Benito doesn't produce new designs a la 'Ye, he still has a pretty solid track record when it comes to his Adidas collabs. Not only is the Blue Tint forum Bad Bunny's best Adidas drop of the year, but it's also the best Bad Bunny-branded sneaker to date.
Featuring a monochromatic blue colorway influenced by the waters of Puerto Rico, this Blue Tint forum sports a leather and suede upper, a padded collar, and a semi-translucent midsole. There is something calming about this pair of sneakers, it's not loud or attention-grabbing, it reflects an artist comfortable in his element, which makes sense considering Benito's latest album, Un Verano Sin Ti, is one of the most streamed albums of the year. We're seeing an artist operating at the top of his game and it has us psyched to see what he has in store for next year.
Find the Bad Bunny x Adidas Forum Blue Tint at your favorite aftermarket site.
Nike Air Max Penny 1 Orlando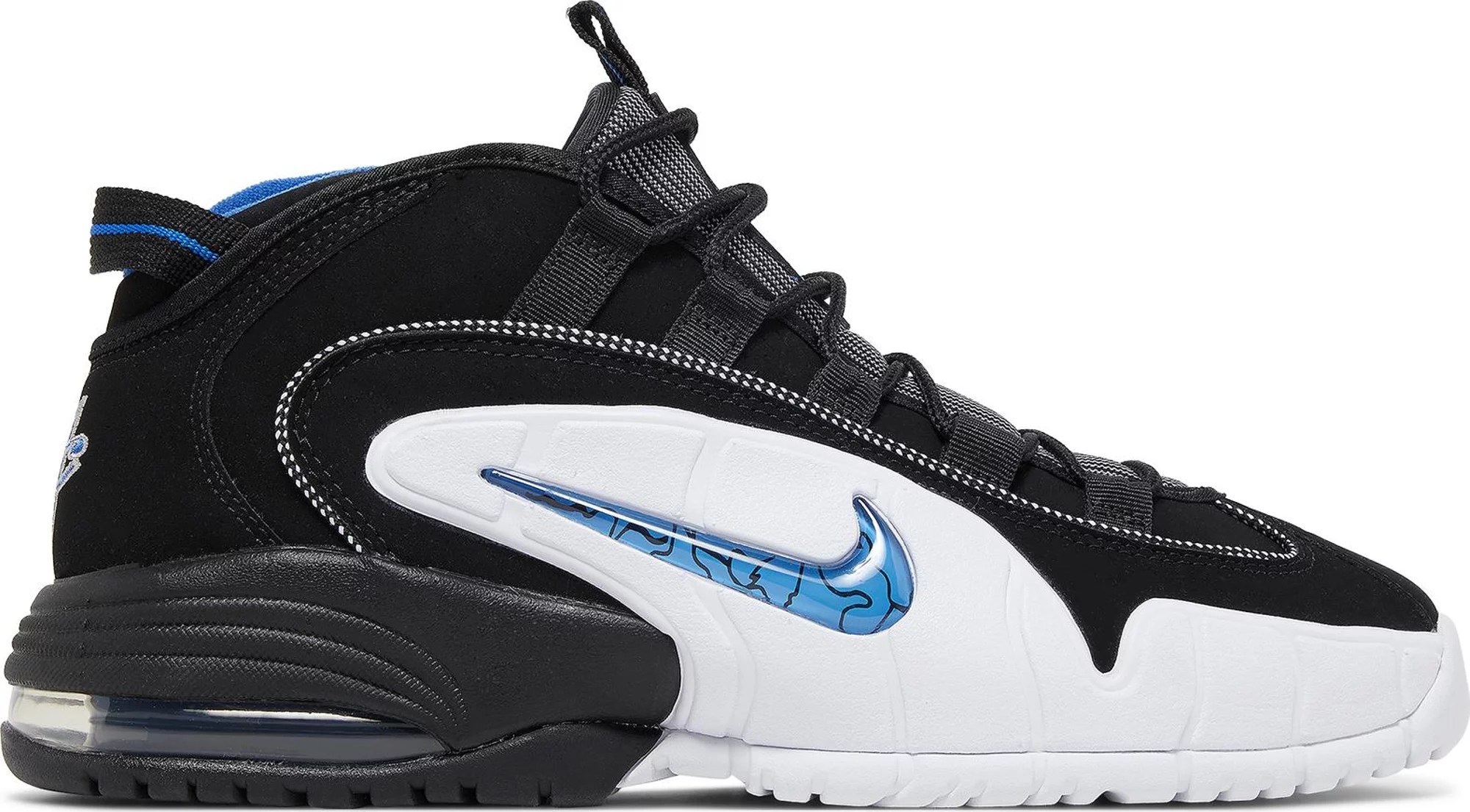 Penny Hardaway's signature sneaker, the Air Max Penny, is officially back. Both the Air Penny 1 and 2 have gotten all sorts of attention this year via high-profile collaborations with the likes of Social Status, but we have to tip our cap to this Orlando colorway which serves as a retro rerelease of the sneaker's original '95 debut colorway.
Featuring a nubuck upper in black with a chunky white midsole and true blue accents, the Penny 1 Orlando sports a massive swirling jeweled Swoosh and a Pylon midsole with an exposed Air unit and looks super fly.
Find the Nike Air Max Penny 1 Orlando at your favorite aftermarket site.
Social Status x Nike Dunk Mid Chocolate Milk, September 2022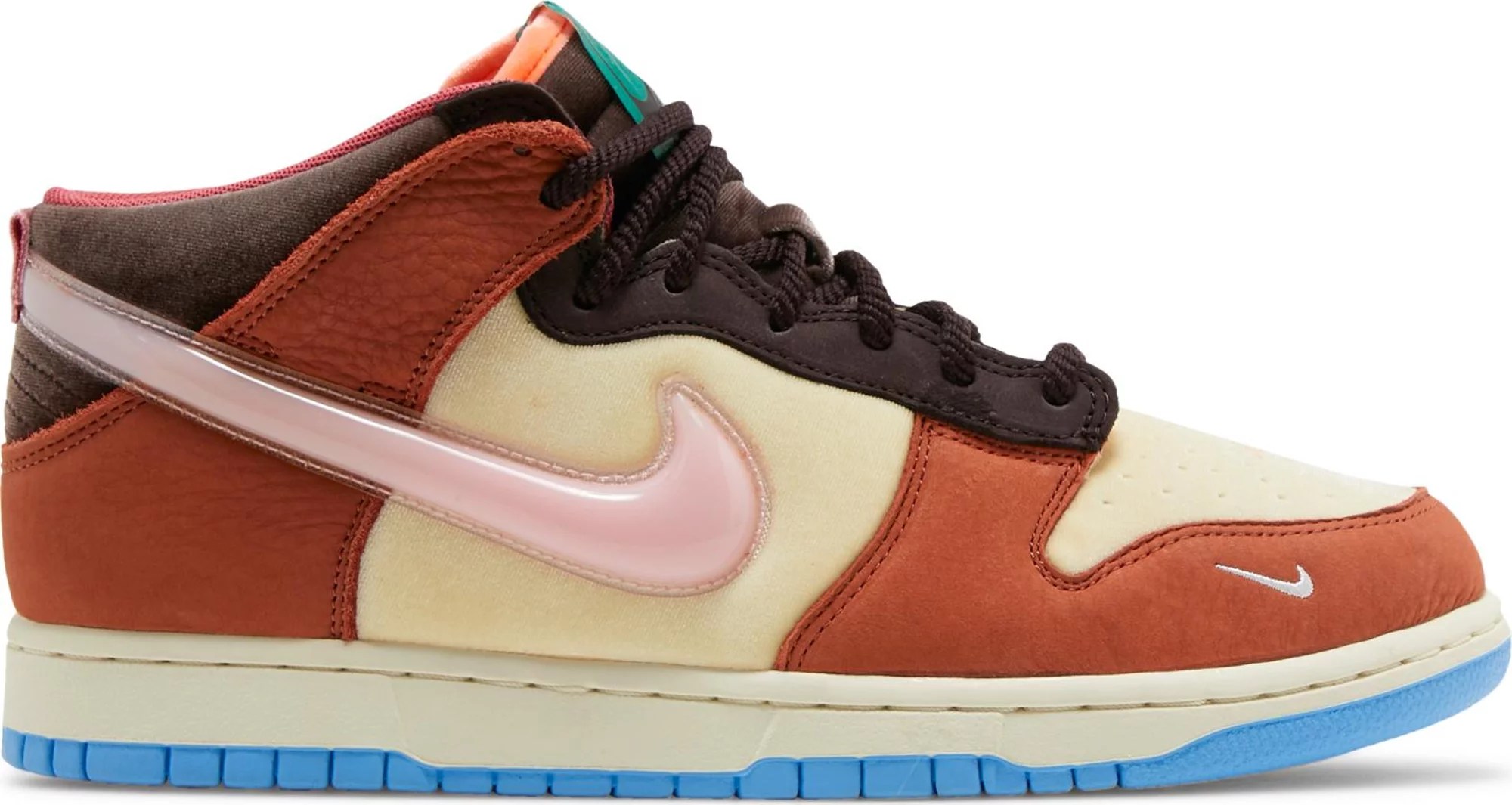 Social Status' Air Penny collaborations might not have made our best sneaker list, but this Chocolate Milk-inspired mid-top dunk from the brand's Free Lunch collection did. Featuring a leather upper in shades of brown, tan, and cream, this Dunk features a bright blue outsole with a giant TPU wraparound swoosh in milky pink, a reference to the other colorway out of the Free Lunch collection, Strawberry Milk.
It was a real toss-up between the Strawberry Milk and Chocolate Milk iterations of this shoe but we have to give it to the chocolate, this autumnal mix of colors with bright pastel accents offers a near-perfect mix of colors.
Find the Social Status x Nike Dunk Mid Chocolate Milk at your favorite aftermarket site.
J Balvin x Air Jordan 2, September 2022
Okay, yes, we've shouted out a lot of Jordan 2s this year but I mean just look at this pair! How could we not show it some love? This sneaker, made in collaboration with reggaeton star J Balvin, feels like a direct response to Bad Bunny's Blue Tint Forum, and considering the two artists have long been friends and collaborators, it's almost as if the designs are two sides of the same coin. That might be a blasphemous statement in a world where it often feels like you have to pledge your allegiance to the Swoosh or the Stripes, but if anyone could find harmony in the world of streetwear, It's J Balvin and Bad Bunny.
Featuring a ripstop upper in powder blue with cloudy blue overlays, a white midsole, and a translucent blue outsole, this sneaker looks to the blue sky above for inspiration. Whatever tranquil world Balvin and Benito are living in, we want in.
Find the J Balvin x Air Jordan 2 at your favorite aftermarket site.
Palace x New Balance 580 Gargoyle Lapis Blue, September 2022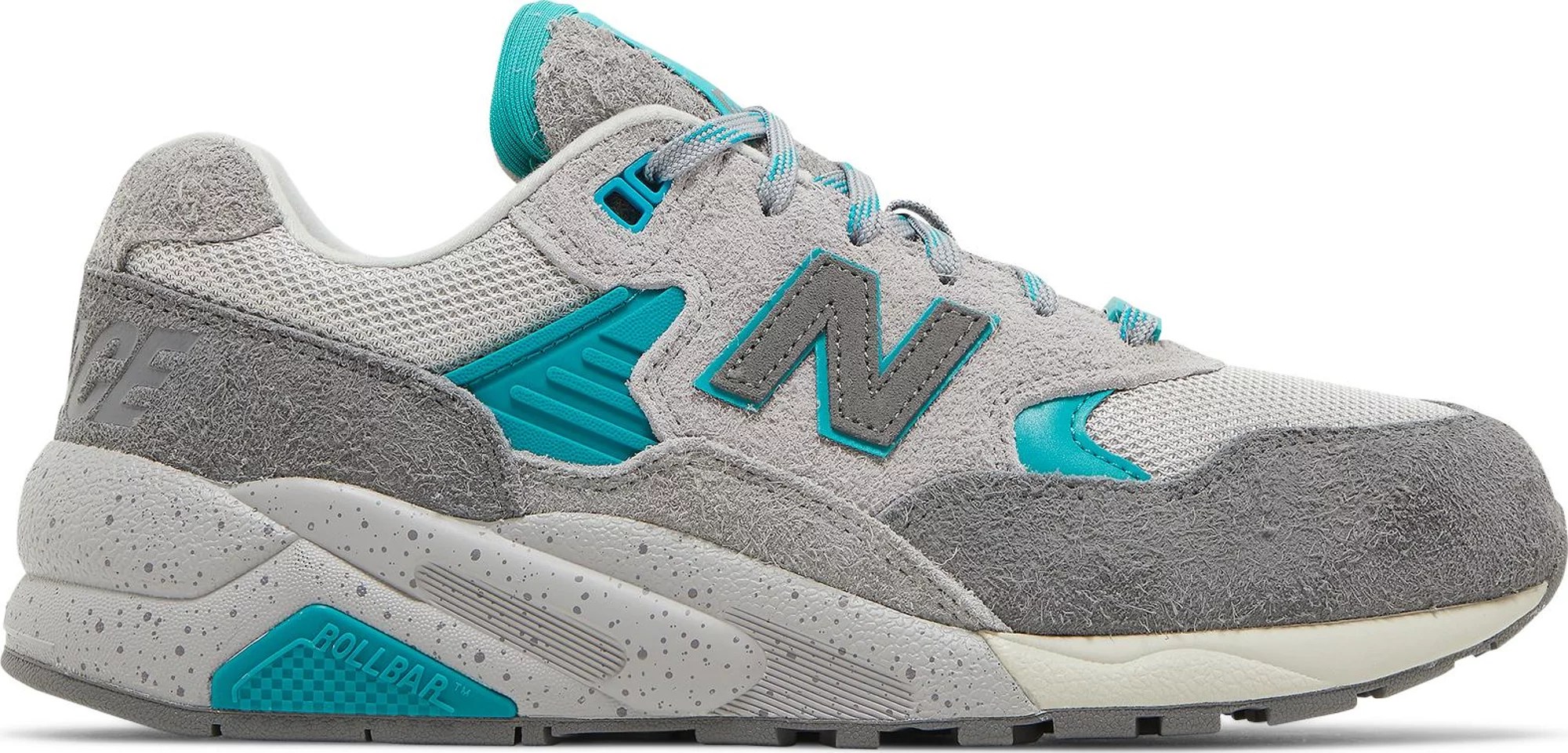 This year the London Based skatewear brand produced its first New Balance collaboration, the 580 Gargoyle Lapis Blue. Sporting hairy suede panels over a mesh upper and a speckled midsole, Palace's take on this forgotten '90s silhouette manages to equally represent the heritage of both New Balance and Palace while offering the streetwear community something fresh.
The 580 was a famed staple in the '90s Japanese streetwear scene and we have Palace to thank for helping bring the design back into the modern consciousness with the sort of embellishments that weren't popular in the era that this sneaker lived in.
Find the Palace x New Balance 580 Gargoyle Lapis Blue at your favorite aftermarket site.
Salehe Bembury x New Balance 990v2 Sand Be The Time, December 2022
Salehe Bembury spent a lot of time this year dropping new colorways of his Crocs collaboration, the Pollex Clog, and while we love that shoe, it was never going to make it in our top shoes of 2021. Not because we don't have any respect for Crocs, but because we already highlighted the shoe last year and 2021 still owns the best colorways of the silhouette.
Luckily for all of us, Bembury dipped back to collaborating with New Balance for a continuation of his 'Sand Be The Time' line. This sneaker takes the second iteration of the 990 silhouette and dresses it up in hairy pink suede over a salmon-colored midsole with forest green, purple, and cement accents and a purple chenille 'N' logo. That chenille logo is the icing on top of a truly sweet design.
Find the Salehe Bembury x New Balance 990v2 Sand Be The Time at your favorite aftermarket site.
Jacquemus x Nike Women's Air Humara LX Pink Flash, December 2022
The Paris-based band has created something truly unique with Nike in their ongoing Air Humara collaboration and while most people will reach for the white and brown colorway that dropped at the start of the year, we're giving the spot to this women's exclusive Pink Flash Air Humara LX.
Featuring an all-pink monochromatic upper, this hairy suede and mesh sneaker sports a mini-gold swoosh, stitched leather lace tips, and a textile-wrapped midsole over a dark brown gum sole with heavy tread. It doesn't have the minimal elegance of the older colorways, but it's impossible to ignore and sometimes that's what you need when you step into a room.
Find the Jacquemus x Nike Women's Air Humara LX Pink Flash at your favorite aftermarket site.
Cactus Plant Flea Market x Nike Dunk Tan Mossy Green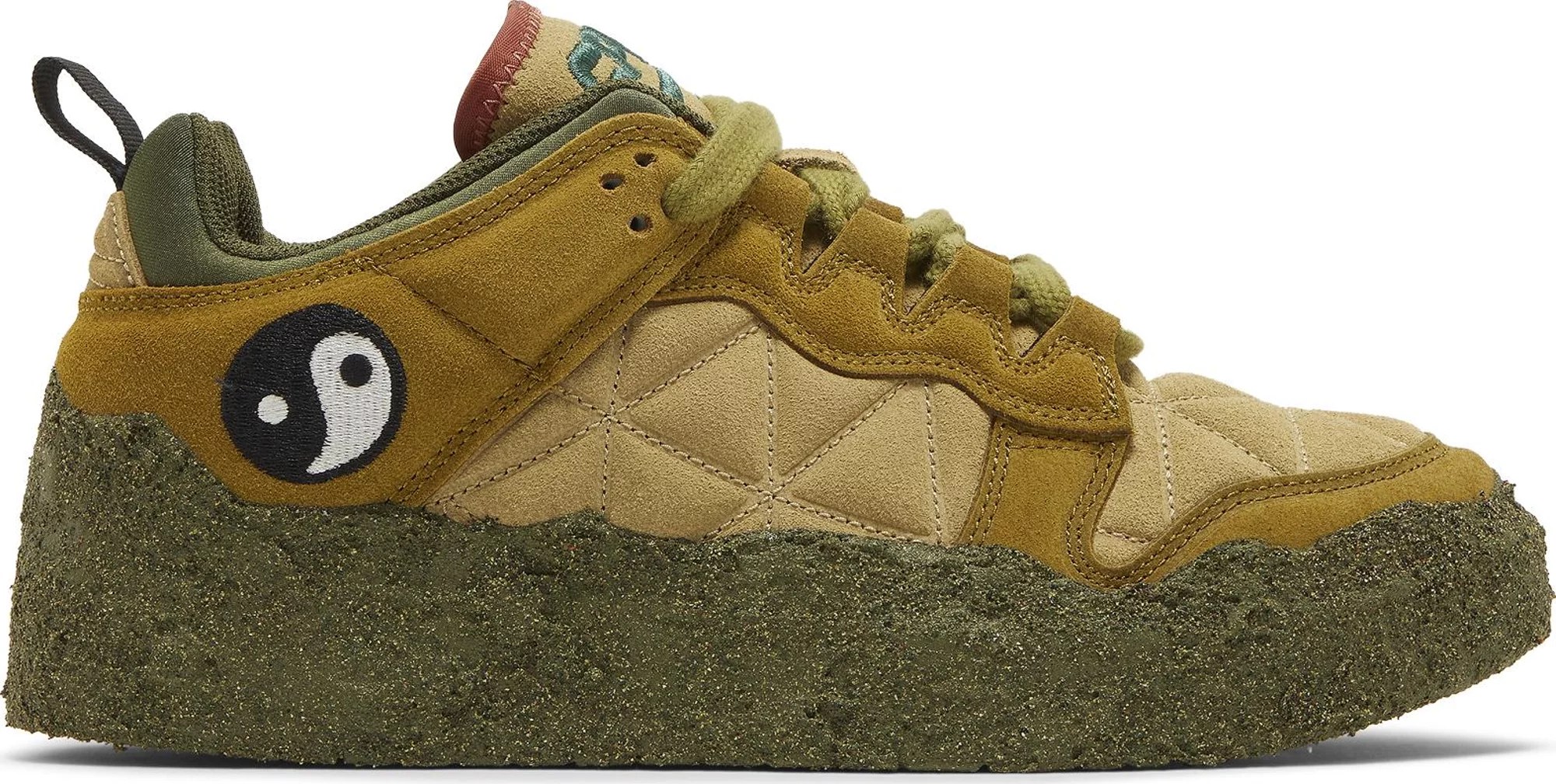 Every year in sneakers we need a bat-shit crazy design that challenges sneakerheads everywhere and splits us into two camps. Polarization in sneakers is always fun, and this year's most polarizing release was easily Cactus Plant Flea Market's recently released low-top Dunk. Featuring a thick quilted suede upper with an oversized wraparound white swoosh, and mismatched thick laces and sock liners, the rainbow outsoles, this take on the Dunk feels truly random.
The asymmetrical branding, the altered embroidered swoosh logo, the weird mossy muddy midsole, the random yin yang logo on the lateral heel, it's the sort of sneaker that makes you say "what the actual f*ck" out loud the first time you see them. But you know what? That's kind of fun. Leave it to Cynthia Lu's Cactus Plant Flea Market to keep us on our toes with this shoe that looks like it was minted on day 6 of a mid-90s music festival.
This is a brand that always surprises and for that we cherish them.
Find the Cactus Plant Flea Market x Nike Dun Tan Mossy Green at your favorite aftermarket site.
SNEAKER OF THE YEAR: A Ma Maniére x Jordan IV Violet Ore, November 2022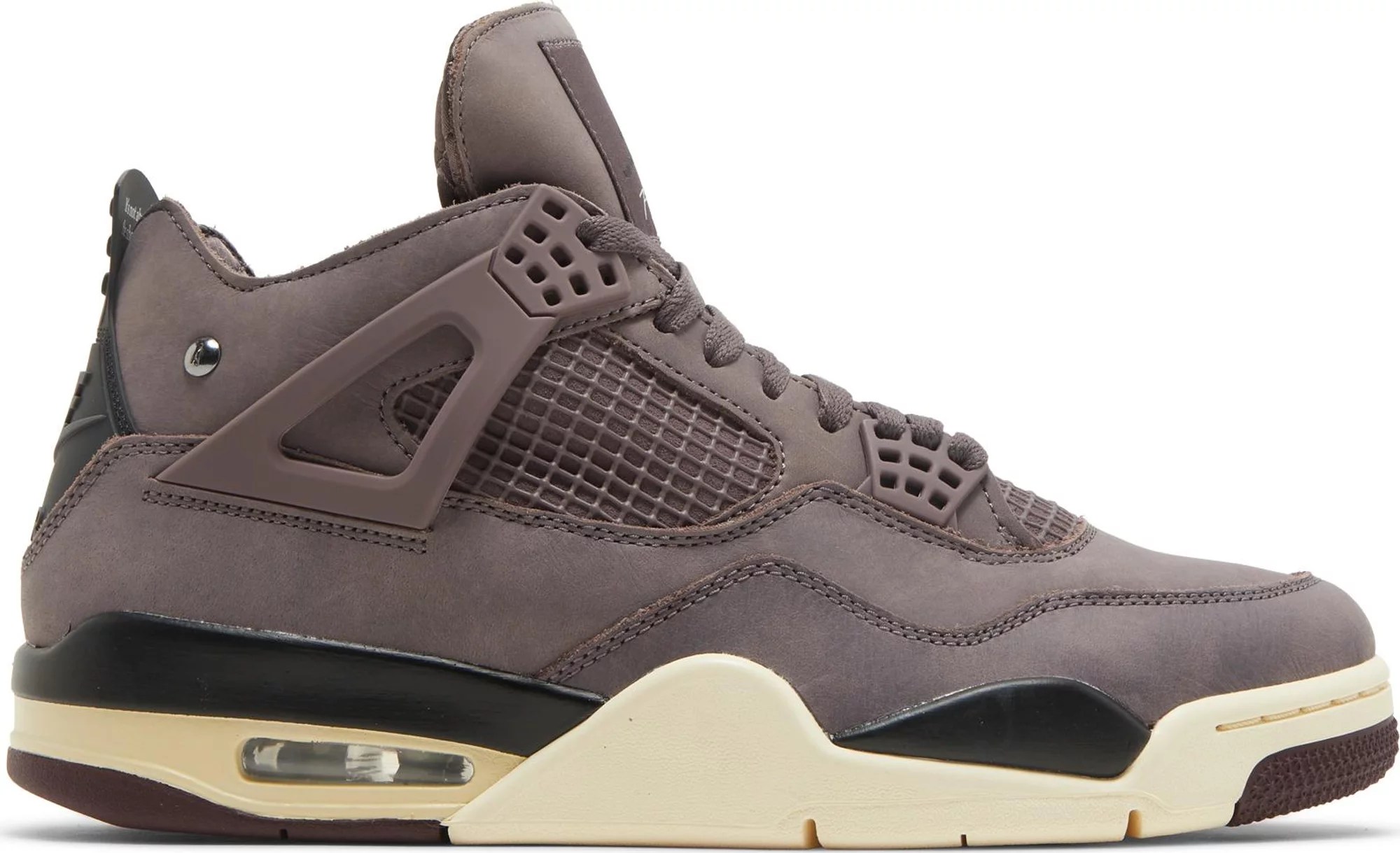 Just like last year, we chose not to rank this list but we didn't want to close out our roundup without shouting out what we consider the sneaker of the year. A Ma Maniére is hands down one of the best brands operating in streetwear right now, and this minimal and beautiful take on the Jordan 4, arguably the best Jordan of all time, is easily our favorite release of the year. Featuring an elegant muted violet nubuck upper with a woven tongue, a quilted collar, and a creamy off-white midsole, this sneaker is as perfect a colorway as any sneakerhead could hope for.
That's no easy feat on a silhouette like the Jordan 4, there are a whole grip of amazing renditions of this show, and yet this pair, released in 2022, 33 years after the original, ranks amongst the absolute best. It's a testament to A Ma Maniére's skill as a brand, and to the versatility of this design given to us by Tinker Hatfield. Printed on the interior of the heel tab on each pair are the words, "'It's not about the shoes … it's about where you're going," and we couldn't agree more with the sentiment. We love sneakers, but sneakerheads can sometimes get bogged down on the collectible aspect of their kicks. There is nothing wrong with collecting, but owning a pair of great sneakers is all about wearing them, and the inscription is the perfect reminder of that.
Find The A Ma Maniére x Jordan IV Violet Ore at your favorite aftermarket site.