Welcome to the Fresh Pair post-show huddle! Each week after the latest episode of Fresh Pair, we'll link up with Katty Customs to talk about the latest episode and dig deep behind the scenes to uncover hidden gems from the design process that didn't make the main show. For the debut drop, Katty and sneaker culture icon Just Blaze were joined by the Verzuz king, Jadakiss, presenting him with a custom Jordan I that blew his mind and managed to serve as a mirror for his career, from his humble street beginnings to his current status as a rap GOAT.
We talked to Katty Customs about the hardest aspects of the design process, how she and Just came up with their initial concept for the shoe, and hit Katty for what she thinks the appropriate price would be if you wanted to cop this pair from her studio. Read the full chat below but be sure to catch the full episode above.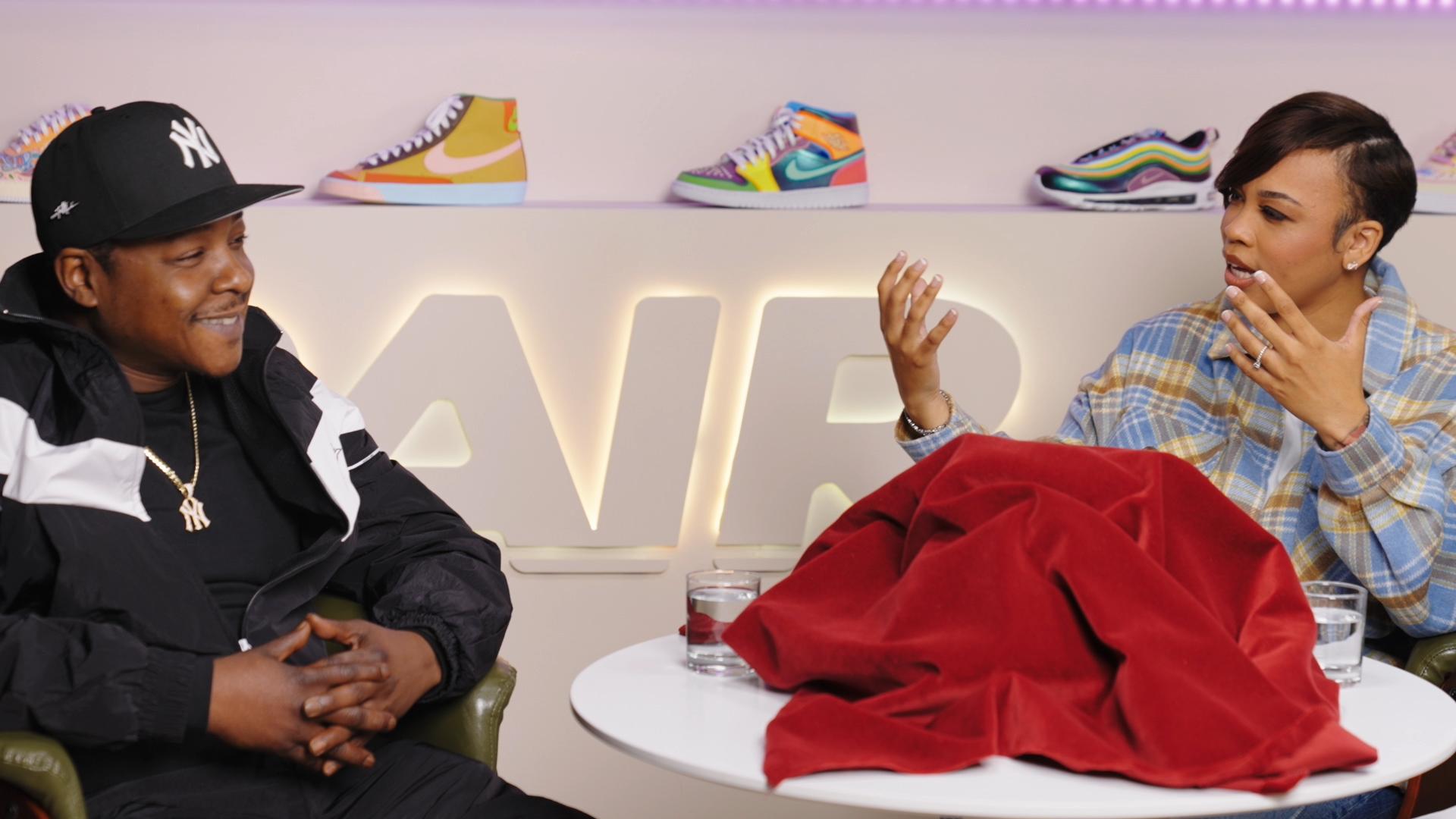 Can you take me behind the concept of the sneaker for Jadakiss, what were you thinking and what did Just bring to the table?
Basically, we wanted to do something different. We wanted to incorporate his albums from when he first started to where he is now. We wanted to incorporate things from when he was with The Lox as a group member — so we put our heads together to make something really cool. We put the concrete from We Are The Streets, next to the patent leather from the "Money, Power, Respect" era at Bad Boy. He has the raspy voice, so we made a raspy texture on the shoe and paid tribute to DMX and Biggie Smalls because Biggie Smalls is the one who brought him to Diddy with his first contract. And DMX is where… DMX had taken him in under Ruff Ryders and was basically… That was more so home for him. Yeah, so that's pretty dope.
Why did you and Just use an Air Jordan I? Did Jadakiss have a particular relationship to that shoe?
No, we just assigned that to him. I think that was one of the ones that he picked through in our pre-interview. I think his favorite sneaker is an Air Force 1 though.
How did you incorporate his albums into the shoe?
We basically took each part of the shoe and made a tribute to the album. So Just and I came, put our heads together and we came up with the concept that the toe of the shoe is going to represent his first album with Diddy. The side of the shoe is going to represent his raspy voice underneath the Nike swoosh. The back of the shoe was a sky-type of feel to it. It looks like the sky and that's representing Biggie Smalls and DMX because they both passed — with the winged logo. So they have their face and Jordan's winged logo on the side.
Were you a big Jadakiss fan going into the sneaker? Did that add a layer of intimidation to the whole thing?
Oh, absolutely. I've been a fan of him since I was a kid. But actually, getting to dive in more about his career by having to customize his shoes, I learned a lot more, things I didn't know. Because I was a kid when he came out.
How did you feel about his reaction?
His reaction was great. I was really hoping that he would love them, and he did. He gave us really good feedback. He felt like it was one of the best pairs he ever had. And with him being a sneakerhead, that's a huge co-sign. It made me feel good, for sure.
What was the biggest challenge of this particular design? What's the thing that kind of kept you up latest and was the hardest to execute?
Oh man. The hardest part with creating this shoe was doing the sole, and having to change that out. We changed the sole to add real money under it. You know how some Jordans, you could see a design underneath the sole? That was the tough part. I think I bought three different pairs of shoes just to get that design right.
I was really crying because we were running out of time, and I was like, "Oh my God. This is so frustrating." But it was so much fun at the same time.
Was this the very first shoe you designed for Fresh Pair?
Yeah. It was the first shoe and I think it was second to last to get done out of all of the shoes. It was crazy. His shoe was the most challenging for sure.
Having designed other sneakers since then, learning all the things that you've learned from the subsequent pairs you've made, would you approach this one differently?
I'd keep everything the same!
I know when you asked Jadakiss how he'd price this pair, he said it was going to take a lot of thought due to your labor of love and the legacy of his career. What price would you give them?
I would say at least $25,000. What I went through, Why shoot short, right? I'm going to go high. It's one of a kind.
Off the top of your head, if you had to design a Jadakiss II, what might you do?
If I had to design a Jadakiss II, hmm? I'll probably use the Air Force 1. I'll probably get a little bit more personal. I mean, the shoe that we did for him was personal, but I wanted to get into what's his favorite color, and different things that I didn't add on the first shoe I would want to do it on this shoe. You know what I'm saying?
So that way it could be another one of a kind for him and still speak to him, and it'd just be for him. He already said he's coming back for season two, so…
Now that people have seen episode one, I just want to get it straight from you. What can people expect as the season progresses?
People are going to see things that they've never seen me do before. They're going to see the sole swapping. They're going to see shoes that have lights on them. They're going to see a lot of things that I haven't posted on my page. They're going to see more of my personality. I feel like they're going to get to know me a little bit more by watching the show, seeing how goofy I am, and things like that. I think people who know and love Just Blaze will really like how we vibe and the energy we share — that's a highlight for me.