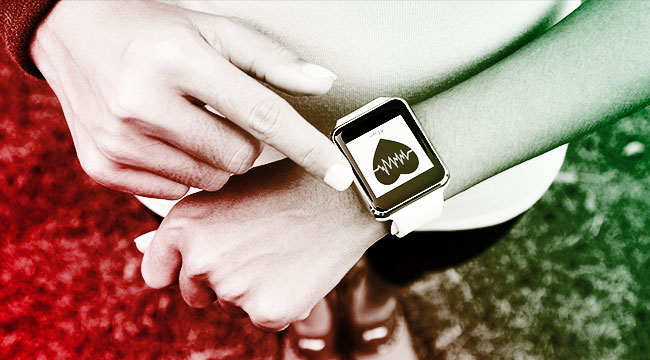 Right after he started at Butterfly iQ, the company's chief medical officer, John Martin, felt a thickness in his throat. Since Butterfly iQ makes pocket-sized ultrasound devices that connect to an iPhone, Martin idly connected one and ran the small wand over his throat. He noticed a dark lump that wasn't supposed to be there and headed for the hospital. It turns out that Martin had found an early stage cancer. If he'd ignored that thickness, or even just waited for his physical to bring it up, he might have been facing a much more dire diagnosis.
Martin is an early winner of a quiet revolution unfolding in medicine — one where instead of a check-up to track your health once every six months, devices in your pocket, on your wrist, and all around your house collect data about your health and track trends to alert you and your doctor to potential medical problems before they become serious. Your grandmother probably told you an ounce of prevention is worth a pound of cure, right? Well now technology is starting to offer more and more prevention.
The flaw in our current medical system is that it's a snapshot in time, but your health is an ever-sprawling roll of data. The food you eat, the steps you take, and the things you do all add up, over time, to a much more detailed picture of your overall wellness. That's especially important because as medicine progresses, it's become clear that every human being is unique. Medicine is, more and more, personalized, but to achieve that, doctors need the data to figure out who you are, medically. That's where technology comes in.
At its root, the tech-health revolution is all about small sensors worked into your everyday life. You may already be using some early examples of this. Your watch tracks your heart rate, your phone follows your steps, a smart scale keeps tabs on your weight, and apps help you stay on top of what you eat and its nutritional value. Sleep sensors are becoming more commonplace as people track their rest. Your gym may have tools to help you keep your exercise habits organized. And it's more powerful than you might think; fitness trackers can spot pregnancy before even the mother knows about it or offer insight into the state of your mental health. The Apple Watch is already such a wealth of data, that the brand is using it to launch an enormous heart study.


It's easy to forget that a smartphone is an enormously powerful and flexible computer that can be connected to just about anything. The Butterfly iQ is a case in point: At $2,000, this imaging device is designed to let doctors keep a quick, safe, simple diagnostic tool in their shirt pockets. Sure, this isn't for everyone, but for those who need it, self-diagnosis and tracking health is suddenly that much more accessible.
In the future, the average person won't need attachments. Machine learning and software can use your camera's sensors to help gauge your health. Smartphone cameras, for example, are incredibly useful not just for snapping photos of wonderful moments, but also to track your health. It's called the medical selfie, and doctors are using it and tools associated with it to diagnose everything from just what that rash is to whether or not you have cancer. Just this year, Stanford debuted an artificial intelligence that can spot skin cancer with the same confidence as a doctor, and researchers at the University of Washington created an app and a set of plastic glasses that diagnose pancreatic cancer just by snapping a selfie. These apps aren't yet available on your app store — doctors are being very careful about causing health scares — but the day where you download them as easily as you download a new emoji set isn't too far off.
The future of medical-tech diagnostics is even more fascinating than the present. Recently, the Tricorder XPrize wrapped up with two convincing winners. The goal was to create a suite of tools that allowed people to give themselves a complete home physical, from body chemistry tests to blood pressure tests. Just plug in your smartphone, engage in the tests, and go. Surprising players like Google are looking to take the needle out of blood tests, making them simple to administer at home. Tools that study your breath for hints of disease and measure your skin chemistry are in development. There's even an ongoing effort to get people the world over to accept the smart toilet.
Needless to say, there's a lot further this could go. A doctor that lives on your smartphone? Bandages that track your blood chemistry? Much of what seems like science fiction is all but here already. But make no mistake, while you'll still go to a doctor, a few years from now, they'll have far, far more to work with than just the chart from your last physical.