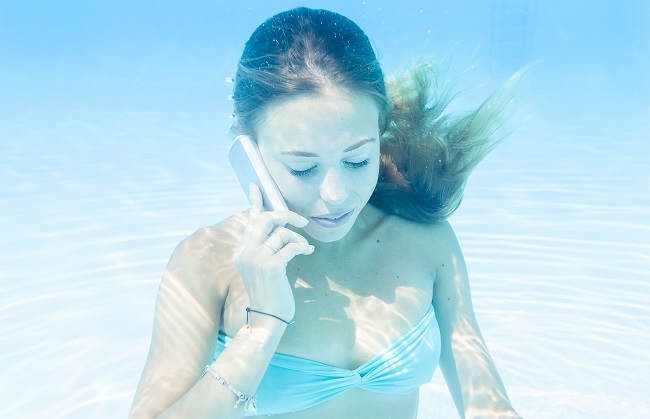 Not even a year after Sony had to pay PS3 owners up to $55 over a class action settlement, they've been hit with another lawsuit over the advertising campaign for their Xperia phones and tablets. Perhaps you've seen ads like this one where the devices were used underwater, showing off the phone's water resistance and encouraging photographers to be the next Norbert Wu. The problem being that many of these phones were only water resistant, not waterproof, which is something users found out the hard way when they tried to do something from the ads. ("Never copy something from an ad" is a good general rule for living.)
Instead of dragging out a long lawsuit, Sony is looking to make things right. They're offering refunds of up to half of the MSRP on any devices listed below. For the more expensive models, this is around $300 cash back.
And if for some reason you're an Uncle Pennybags who doesn't need cash back, you'll still get something cool. Sony is adding and extra 12 months to the warranties of any devices still covered by a warranty, and they're adding 6 months of coverage to devices with expired warranties.
Here are the 24 Sony devices for which you could get a refund for 50% of the MSRP (via Gizmodo).
Xperia M2 Aqua
Xperia M4 Aqua
Xperia ZR
Xperia Z Ultra
Xperia Z1
Xperia Z1 Compact
Xperia Z1s (T-Mobile)
Xperia Z2
Xperia Z3
Xperia Z3 Compact
Xperia Z3 (T-Mobile)
Xperia Z3v (Verizon)
Xperia Z3 Dual
Xperia Z3+ Dual
Xperia Z3+
Xperia Z5
Xperia Z5 Compact
Xperia Z2 Tablet (WiFi)
Xperia Z2 Tablet (LTE)
Xperia Z2 Tablet (Verizon LTE)
Xperia Z3 Tablet Compact (WiFi)
Xperia Z3 Tablet Compact (LTE)
Xperia Z4 Tablet (WiFi)
Xperia Z4 Tablet (LTE)
If you bought one of those, you can request a refund at this link.
(Via Gizmodo)