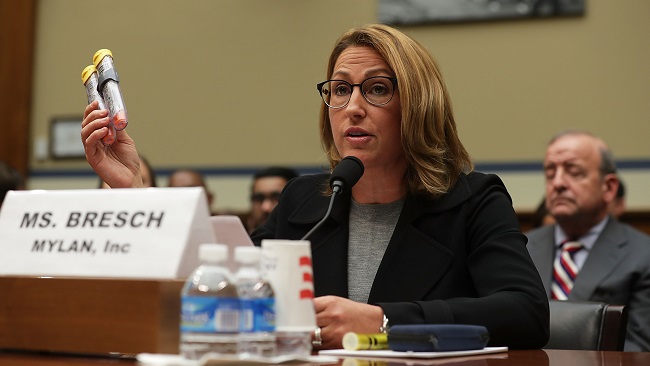 Following public criticism of its announced plans to dramatically increase the price of wholesale EpiPens from $56 dollars to $365, Mylan Pharmaceutical promised it would offer a more affordable, generic option. (Perhaps they really wanted to coax Sarah Jessica Parker back as their spokesperson.) Since the initial uproar died down after its viral fame in August, however, not much has been heard publicly from Mylar or its critics… until now. On Friday the company announced its promised discounted version of the life-saving allergy medication would be available as early as next week.
According to Reuters, the new affordable EpiPen allergy treatment will come in a $300 two-pack. Considering the individual non-generic EpiPen's new cost of $365, a regularly priced two-pack would cost customers just over $700 a pop — or over 100 percent more. The resulting 50 percent discount is seen by the pharmaceutical company as a rather generous offer, though it's timing couldn't be more appropriate given that Mylan is one of six generic drug makers accused of price fixing in a lawsuit filed by 20 U.S. states.
As the New York Times reported on Thursday, the lawsuit doesn't name Mylan's recent EpiPen controversy as a factor, but the good press will surely help the company's public image, no?
Either way, many of Mylan's harshest critics during the August fiasco weren't convinced by Friday's announcement and took to Twitter to say as much. Including former Democratic presidential candidate and Vermont Sen. Bernie Sanders, who wrote "EpiPens will still cost 3 times more than they did in 2007" and argued the new $300 price tag wasn't a discount but a PR move:
(Via Reuters and New York Times)