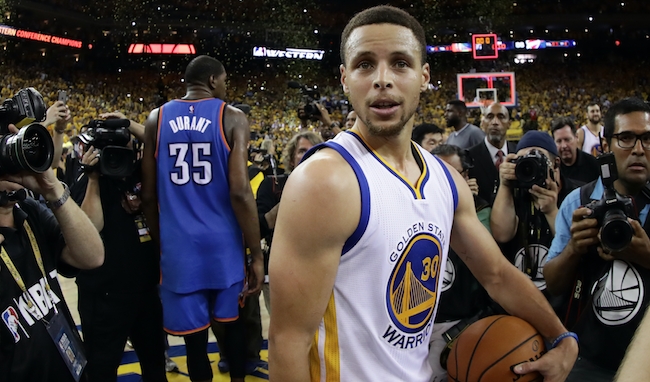 Getty Image
Kevin Durant joining up with Steph Curry and a Golden State Warriors team that went 73-9 last season has turned the NBA on its ear. They are the clear favorites to win the NBA title, and could set all sorts of offensive records based on all the firepower they have now. However, while Warriors fans are surely ecstatic about this, and some NBA fans are curious to see how it all plays out, they are also getting a lot of flak from some fans and NBA talking heads. You can't be a team with this much talent and avoid getting hated on. As far as Steph Curry is concerned, though, they are ready to handle it.
During a recent interview, Curry was asked if the Warriors will be able to handle the hate. Which, you know, obviously Curry was going to say they can, because it would be insane if he said "No." Specifically, he said:
"In most arenas, we had a strong contingent of Warriors fans. But as far as being hated, all the noise stays out of our locker room. We focus on what we have to do. We have experience dealing with it. We were the villains (in the Finals) so we will be more prepared. But all that matters is what goes on in our locker room."
While you can quibble with the notion that the Warriors were the villains in the NBA Finals last season, the rest of this is about what you expect. People will be rooting against the Warriors because they added one of the best players in the NBA and some people are made Durant decided to join up with Golden State to create a super team.
People rooted against the Miami Heat when LeBron James and Chris Bosh signed there, and they got even more hate than the Warriors have been getting. They went to four straight finals and won two. If the Warriors can do that with Durant, all the hate in the world isn't going to be able to get to them.
(Via Mercury-News)