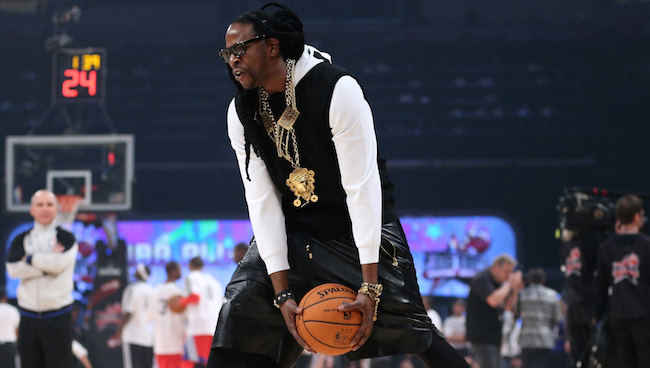 NBA All-Star Weekend always sees a major convergence of music and basketball as it has become almost a weeklong party leading up to the game itself. All-Star always sees a lot of celebrities pop in to take part in the festivities, but with the game being in Los Angeles this year, it will be an even more star-studded affair.
The official Celebrity Game this year features the usual list of participants, like Nick Cannon, Anthony Anderson, Common, Win Butler and others, but that might not even be the most highly anticipated celeb game of the weekend. At adidas' 747 Warehouse St. event on Friday, Feb. 16, 2 Chainz and Snoop Dogg will captain teams of rappers from the east and west coasts respectively in a celeb game of their own.
On Sunday, adidas released the full rosters for both teams and it's safe to say it will be quite the event. The headliners for Snoop's team, at least in terms of popularity, are Chris Brown and David Banner while 2 Chainz's squad features the likes of Quavo, Wale and French Montana.

SNOOP DOGG'S WEST COAST TEAM
David Banner
Chris Brown
K Camp
Daylyt
Lil Dicky
Snap Dogg
Mistah F.A.B.
O.T. Genasis
Hitman Holla
Kamaiyah
Tdot Illdude
Joe Moses
Problem
RJ
Rob $tone
Chevy Woods
2CHAINZ' EAST COAST TEAM
Lil Bibby
Playboi Carti
Short Dawg
Dave East
Fabolous
Waka Flocka Flame
Freddie Gibbs
Trinidad James
Young M.A
French Montana
Quavo
Wale
Knowing how well 2 Chainz and Quavo are at basketball, one has to think they have an edge in this game although I can't pretend to know exactly how good everyone on either team is as a hooper. If nothing else, Snoop's squad has more depth being 16 deep compared to just 12 players on 2 Chainz's roster.