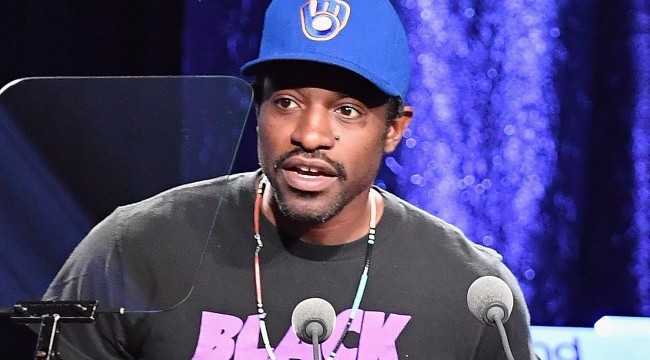 According to Variety, Andre Benjamin — aka. Andre 3000 of famed hip-hop duo Outkast — has been cast alongside Robert Pattinson in High Life a new science fiction film from Claire Denis, an acclaimed French director.
Andre, who was recently quoted as saying, he "hopes to God" he's not rapping ten years from now while shooting down long-standing rumors of a solo album or an Outkast reunion, will probably get his wish if this film takes off. Previously, he'd starred in Four Brothers and Jimi: All Is By My Side, a Jimi Hendrix biopic that flopped at the box office.
Andre's post Outkast-career hasn't been all bad, though; he remains one of the most beloved and sought-after guest rappers and his Cartoon Network animated series Class Of 3000 was a musical masterpiece. Although it doesn't seem likely that the internet will be getting that Run The Jewels/Outkast collaboration they've been clamoring for anytime soon, it looks like Andre 3000's star is still on the rise, even without rap as his main focus.
High Life will also feature Juliette Binoche, and Mia Goth, and centers around a group of convicts who join a dangerous mission to a black hole in exchange for reduced sentences. High Life is the English language debut from Denis, known for films such as 35 Shots Of Rum, White Material, and Bastards.