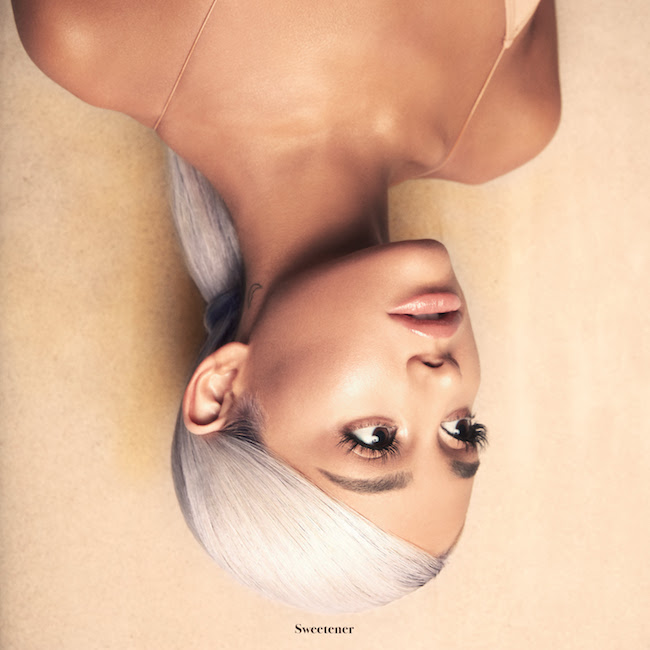 Ariana Grande has been teasing her new album for several weeks now, sharing the lead single "No More Tears Left To Cry" back in April, along with a video that indicated the upside down direction she might be going in for this release. As the recently-released cover art for the project, above, reveals, that motif may be repeating several times throughout Sweetener, the title of her fourth full-length project.
Last night she debuted another track from the album, a collaboration with Nicki Minaj called "The Light Is Coming" that features Grande trying on some rap flows of her own, and lyrics that once again alluding to the tragedy at her 2017 Manchester concert: "The light is coming to give back everything the darkness stole," she sings in staccato.
The song was produced by Pharrell and will be accompanied by a video coming out today via Reebok.com. Grande and the sneaker brand have struck up a partnership that makes the connection obvious instead of merely using product placement, although it seems more than likely that Ariana will be wearing the brand in the video. Along with the new single, Ariana also announced the official release date for Sweetener will be August 19 via Republic Records. Listen to the track for more and look out her new video tomorrow.
[protected-iframe id="97173fa8034582582cb3171df803be2b-60970621-76566046″ info="https://open.spotify.com/embed?uri=spotify:album:1DFixLWuPkv3KT3TnV35m3https://open.spotify.com/track/5iZ4hcpCgFVijq5OOjBTKZ?si=byqjjY_fS0CKxsrgRR2MzQ" width="650″ height="380″ frameborder="0″]