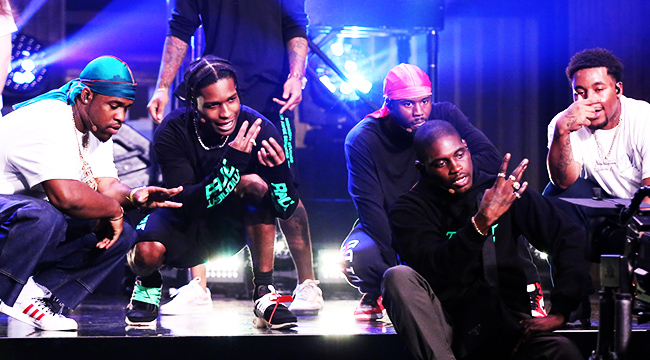 Today may be August 16, but we are also currently smack in the middle of the first ever Awgest, a month-long celebration of AWGE, an esoteric, multi-platform project from ASAP Rocky and his ASAP Mob crew. On its official website, the AWGE collective of artists specifically refuses to reveal the meaning behind the acronym (or if it is even indeed an acronym), and slings a multifaceted array of media and merch, including t-shirts and hats that the ASAP crew's ravenous fans have completely bought out just halfway through the Awgest festivities.
The Harlem, New York-based rap crew has completely locked down an entire month of the year with an onslaught of new music from each of its members, with a collaborative project, The Cozy Tapes, Vol. 2: Too Cozy on the way. Such a thorough and all-encompassing marketing effort is eerily similar to one that took place beginning nearly 25 years, and that's why I feel 100% comfortable in making the following comparison: ASAP Mob is the 2017 Wu-Tang Clan.
For historical reference: The Wu-Tang Clan is a hip-hop group from Staten Island, New York City, originally composed of East Coast rappers RZA, GZA, Ol' Dirty Bastard, Method Man, Raekwon, Ghostface Killah, Inspectah Deck, U-God, and Masta Killa. Cappadonna later became an official member of the group, with the release of their second LP, Victory, the culmination of the first five-year wave that included the solo debut of practically every original member that was started by Enter the Wu-Tang (36 Chambers) their first album as a group.
The Wu-Tang Clan was assembled in the early 1990s with RZA as the de facto leader and the group's producer, who assembled the uniquely creative unit of disparate, yet similarly idiosyncratic rap personalities. RZA famously negotiated the contract with Loud/RCA that allowed each member to record solo albums with other labels. They remain one of the most popular rap groups ever to this day.
The Wu-Tang Clan was originally tied together by a mutual interest in kung-fu movies and comic books, gritty, hard-hitting beats, witty-yet-abstruse lyrics (almost to the point of incoherence), and similarly grimy, ghetto-inspired aesthetics. They created a complicated, almost impenetrable mythology around themselves, including their own obscure slang and references, complete with multiple superhero-inspired aliases for each member. For example, Method Man was also Tical, but he was also Johnny Blaze, a reference to the Fantastic Four character known as The Human Torch.
However, despite the group's recondite presentation and convoluted rhymes, they resonated so much with rap fans that they had soon created a rap empire that included not just a clothing line, Wu Wear, but also their own video game, Wu-Tang: Shaolin Style, a book that decoded some of the more complex aspects of Wu-related ephemera, and a small universe of spin-off groups and affiliates such as Killah Beez, Deadly Venoms, and Killah Priest, among others.
Similarly, the ASAP Mob is a collective of rappers, record producers, music video directors and fashion designers, who share similar interests in music, fashion, style and art, mainly consisting of New York-based rappers, many of whom carry the "ASAP" moniker, such as ASAP Rocky, ASAP Ferg, ASAP Twelvyy, ASAP Nast and ASAP Ant. There is an in-house record producer, much like RZA for the Wu, in ASAP Ty Beats, who produced several songs for his ASAP Mob cohorts, most notably Rocky's solo debut single "Peso" — the song that first brought national attention to Rocky and the collective as a whole. Likewise, they were brought together by a single, distinctive visionary who became the glue that held them together, the late ASAP Yams, who doubled as the group's manager and "creative director" when he was alive.
In August 2012, the collective released their first full-length project together, a mixtape titled Lords Never Worry, and followed up four years later with the first volume of The Cozy Tapes, Friends. Rocky joined the group after its original resolution in 2006, but much like RZA for the Wu-Tang, became the focal point and unofficial center of the ASAP solar system when his mixtape, Live.Love.A$AP, skyrocketed him and the crew to fame. Just like RZA, he also used his newfound platform to elevate his cohorts when he signed a record deal with Sony Music Entertainment worth $3 million that allowed for $1.3 million to fund A$AP Worldwide, along with A&R and executive producer ASAP Yams. This time around, RCA had the foresight to keep the disparate parts of the collective home to reap the eventual profits of their solo successes.
Just like Wu-Tang Clan, the Mob has become as well-known for their endeavors outside of music as for their respective rap releases — the aforementioned AWGE website among them — ironically using the blueprint laid out for them by the Clan two decades previously. Also mimicking the Clan, whether intentionally or not, there is a unity with the ASAP Mob of aesthetic and philosophy, the names being the most obvious example. Where every Wu member got a comic character along with their own unique monikers, ASAP Mob flips it, creating a through-line with the "ASAP" prefix, but then there's ASAP Ferg going by "Hood Pope." They too, derive from the gritty streets of New York and value densely-packed, multi-syllabic rhyme schemes peppered with esoteric references and in-jokes — for instance, Rocky's insistence on referring to himself as "pretty Flacko."
They likewise are united by a common, influential figure in ASAP Yams, who has become a sort of guardian angel of the group, receiving executive production credits on each of their releases. The members are slowly but steadily rolling out solo projects that highlight their individuality, such as the recently released 12 by ASAP Twelvyy, while still maintaining the underpinnings that held together their group projects. They are also amassing their own constellation of like-minded creatives, such as Atlanta's Playboi Carti and members of the AWGE project, who include famed hip-hop jeweler Ben Baller.
There are differences between the crews, however, starting with the fact the ASAP Mob is splitting a much different hip-hop pie in a much-evolved hip-hop marketplace. The days of one or two groups holding near ubiquity are long-dead; while the Mob has some of the most staunch supporters in rap music today, they're just one collective among many, and so are resigned to serving a fervent but smaller fraction of the divided landscape rather than aiming for world takeover. Likewise, their affiliates have stronger personal brands than just "ASAP Mob spinoff," which makes them both less dependent on the parent group for success and more successful than, say, Killarmy or Ice Water, Inc.
Their predilection toward codeine-infused, Houston-aping, chopped-and-screwed beats over RZA's looped-up, dissonant soul samples rankles many in the "real hip-hop/bring New York back" establishment. And despite their popularity, they have yet to be featured in their own video game, or make individual appearances in other games such as Def Jam: Fight For NY, which made Raekwon, Ghostface, and Method Man playable characters (to be fair, Electronic Arts hasn't released an installment in their Def Jam fighting game series since 2007's Def Jam: Icon. The time is ripe for a roster update, right?).
Those caveats aside, it's genuinely dope to see how hip-hop (and pop culture at large, but this is a hip-hop site, dang it) goes in cycles. As much as some hate to admit that the culture is not just alive, well, healthy, and thriving, if they were to scratch the surface they would see just how similar 2017 really is to 1997. Everything old is new again, and everything new is just history repeating itself.
While my generation certainly had its share of knotty-head, gold-capped-toothed, charismatic underdogs from the street, a side-by-side comparison reveals that the tradition still stands strong. New York hip-hop, for all the consternation of a certain type of fan, is absolutely in good hands with the ASAP Mob crew, who continue to hold the torch for the grainy, do-it-yourself-and-keep-it-ghetto aesthetic popularized so long ago by nine guys who changed the name of their Staten Island home to "Shaolin."
Now all we need is an ASAP Mob fighting game. Seriously, someone make that happen.