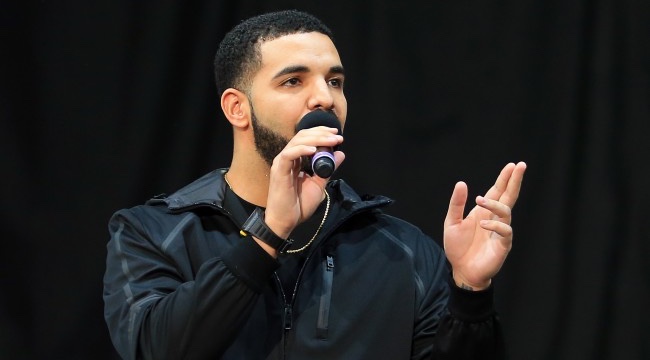 Yes, it's been confirmed: Drake has a kid. But that's not the only interesting revelation on his new record. An interpolation of another rapper has also raised a few eyebrows. Ever since the two young rappers broke into the game via Lil Wayne's Young Money imprint in the late 2000's, Drake and Nicki Minaj have been nearly inseparable, appearing all over each other's albums, videos, and in group singles, yet in recent years, their close working relationship was not at the forefront.
For obvious reasons, the pair weren't as close while Nicki was dating Meek Mill, who Drake had his last very public beef with, but after that relationship ended, and Nicki cleared the air about her relationships with both rappers, the two are back in the public eye. Drake recruited his longtime friend in a clever way on his newly released Scorpion via a sample of one of her more iconic live performances on the song "That's How You Feel."
Nicki's verses, taken from a live performance of her remix of PTAF's "Boss Ass Bitch" from Powerhouse 2014, reference her rules to being a boss, which include "never let a clown n–a try to play you," and if he does, to "f*ck his best friends and make them yes men." He interpolates these searing lines while mooning over yet another girl who is potentially playing him, using Nicki's behavior to create a stark contrast.
Although Nicki technically didn't feature on the song, she seems happy to have been included as a sample. She posted Drake's album cover to her Instagram and included a cheery caption that giving her approval: "Congratulations to my ♥️ @champagnepapi" she writes. "Happy to be a part of this record."
"That's How You Feel" comes from the B Side of the double album and is produced by Noel Cadastre, OVO Sound's engineer. It also includes an interpolation of another song featuring Nicki Minaj, DJ Khaled's "Take It To The Head," which also featured Lil Wayne, Rick Ross, and Chris Brown.
Scorpion is out now via OVO Sound and Young Money. Get it here.