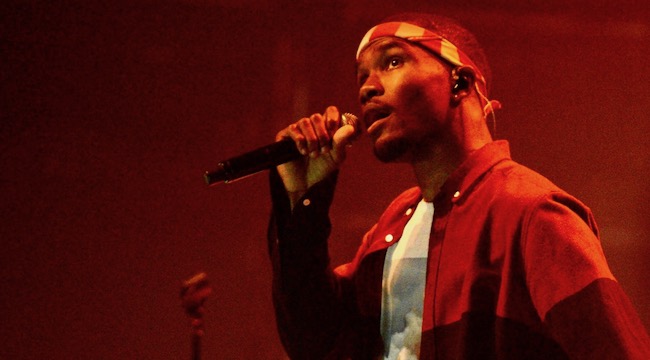 Frank Ocean is a guy who does things on his own schedule. He pops up whenever he feels like it and without much warning, if any at all, whether it's to interview Timothée Chalamet or curate a radio station for Grand Theft Auto V. Late at night on Valentine's Day, while the rest of us were spending our paycheck making somebody feel special or staying at home and reveling in our independence, Ocean decided to release some new music.
In a Tumblr post titled "in the late nite," Ocean shared a cover of "Moon River," which was written by Henry Mancini and first appeared in the 1961 movie Breakfast at Tiffany's. Ocean's version is pretty sparse, led by guitar, textural synth sounds, and layered vocals, some of which have been pitched up like in "Nikes." "Sparse" doesn't mean "small," though, because Ocean accomplishes a lot with a little here, turning in a performance that's simultaneously intimate and huge.

The recording got some love from his high-profile fans, as musicians like Brockhampton's Romil Hemnani, Lily Allen, Kacey Musgraves, and Hayley Williams took to Twitter to share how blown away they are by the track:
https://twitter.com/KaceyMusgraves/status/964108661701464064
Listen to Ocean's recording of "Moon River" above.