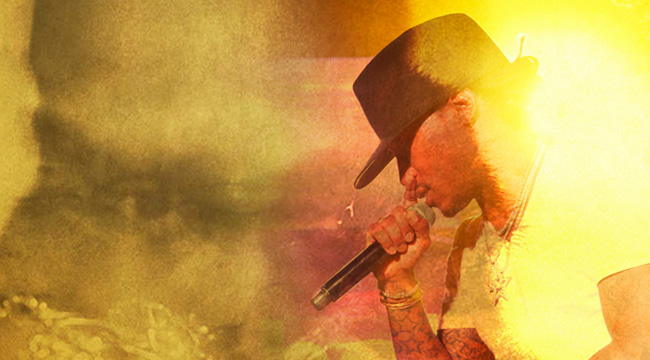 After a year-and-a-half spree of acclaimed releases — a thrill-soaked bombardment that's garnered several Billboard chart-toppers and a co-headline on the highest-grossing hip-hop tour to date — Nayvadius Wilburn fell silent. The play screamed counterintuitive to the streets and the heavens above, considering Future's astronomical rise after a lukewarm reception to his pop makeover on Honest; he resorted to giving us the monster we crave, perhaps in a dosage even he could no longer stomach in spite of such focus. The noise of his stardom, paired with the hype of his perils — divorce, rumors, losing friends we'll never meet — warranted a return to the shadows.
Future, the self-titled album he announced last week and dropped days later, is the product of that silence. It's an album that'll remind you more than surprise you, but gives you precisely what you desire: Glossy, full-throttle trap with a few ballads tucked in the folds. There's a skeleton of a narrative this time around: We have the Cap City skits that pop out occasionally, podcast spoofs in response to his contemporaries, noting Future's self-awareness in bearing witness to the derivatives of his stylistic innovations. On the contrary, we hear snippets of dialogue from the trap spot and the police kicking down the door and firing during a raid. The album's a testament to the real-time reflexiveness that's allowed Future to sustain long enough to grant himself several opportunities for reinvention.

The first seven songs are a hot streak in their own right, delivering a notably more focused Future that's hellbent on maintaining his spot and securing every bag in sight. Notably, there's not a single feature here — it's just Future. While Metro's presence is scaled back, the usual suspects of 808 Mafia work to curate a rejuvenated sound that's as drastic and relentless as the content sounds. The orchestral malice of "Rent Money" continues the legacy of monstrous intros, a testament to how Future continues to find a way to elevate his ratchetry just when you thought he ran out of ways to disrespect someone. "Draco" sounds like an early summer in Zone 6, Future lacing tales of a street life from long ago with the extravagance of his present; he even goes acapella at the end, a rare detail. "POA" moves at lightspeed with a sample that sounds streetrace-ready, but Future never dares to fall behind, maneuvering through another exercise in maximalist flexin'.
It doesn't take long to remind us who set the blueprint and remains ahead of the curve, but the nagging qualities of a Future full-length remain intact despite his return to form. Across 17 tracks, the breadth of the material is repetitive nonetheless; while the production's much more refreshing than recent efforts, it's difficult not to become weary when the cohesion works at a disadvantage.
Outside the triumphant argument for his near-constant celebration of success, plenty of songs come off as laundry lists of materialism and sexual dominance written ceaselessly in a template. "I'm So Groovy" speaks to the latter, its refrain of power speaking in ironic critique of itself. "Poppin' Tags" embodies the former; while it's the power-up needed on the back end, it's still another buy-it-all song that's likely to wear us down at track 13.
As Future spoke on utilizing this album as a moment to leave it all on record — noting his social media sabbatical as a helpful method to artistically redirect his emotions — there are several missed opportunities to do so. The aforementioned skits feel like skeletons of what Future truly could've been, considering the best projects happen when Future balances his street overdrive with the vulnerability to contextualize it all. He's at his best when he transports us to his struggles rather than reiterating that he did: "Scrape" places us right in the kitchen as he samples himself to the tune of scraping the pot, and "Might As Well" is one of the only mentions of the fallout of his divorce, asking us to consider his pain without lashing out as furiously as on previous efforts (see: "Throw Away," the pinnacle of his duality on the matter.)
"Feds Did A Sweep" is the crown jewel of this album, continuing another legacy of fantastic closers. To the tune of the trademarked Zaytoven flute, Future earnestly laments losing his friends to the dope game while they're still breathing, his final verse giving context to his life's work in dedication to those who never escaped the game or its consequences.
That final verse frames the Future that's returned to us: Dedicated to our desires while entrusted with the duty to remain authentic to himself. He knew his wave was crashing as the reviews became less receptive, but he knows that we want him to conjure whatever vile, despicable notions of our world that keep him comfortably in our rotations.
The painful duality sustaining his fame operates as the wedge between him and a thorough, honest critique of his impact. Future was a work of love, but does it reflect how we've trapped Future too deep into the act? Is it repetitive because it's what we've shown him we want, a formulated surplus of glee, patriarchal hyper-capitalist trappings and all? We're overdue to ask ourselves that question. If we're fed up with repetition and want him to expand upon his universe again, he'll listen. It's come time to acknowledge whether or not we want the monster to remain.
Future is out now. Stream it above and get it here.