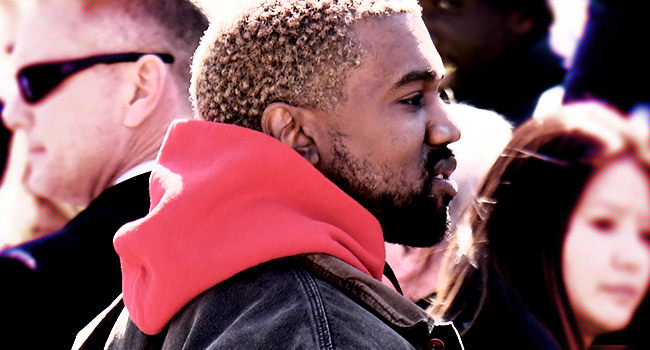 To echo a question posed by the esteemed music critic Greil Marcus many years ago; "What is this shit?" Greil wondered that in the opening of his review of his idol Bob Dylan's maligned 1970 album Self- Portrait. The same exact thought popped in my mind after listening to a pair of singles released recently by my own idol Kanye West over the weekend. The first was a flatulent troll job titled "Lift Yourself." The second, a groan-inducing duet with T.I. titled "Ye Vs. The People." To call either song simply "bad" would be a massive understatement. They represent the unmitigated creative low of an otherwise unparalleled artistic career.
Unless you've been living under a rock over the last week or so — and if you have been, I'm insanely jealous — you've probably been bombarded with images and tweets of Kanye donning his autographed "Make America Great Again" hat, sharing farcically empty platitudes about "love" and "free-thinking," along with overtures to his "brother," President Donald Trump and conservative commentators like Candace Owen. For those who have followed Kanye from The College Dropout days to the present — and that includes superstar friends like John Legend and Questlove — the embrace of the alt-right wasn't just inexplicable, it was heartbreaking. To watch the same guy who rapped out "Murder To Excellence" and said "George Bush doesn't care about black people" for millions to see, align himself a figure who's so eagerly embraced and defended the white nationalist movement in America is simply appalling.
For years, to be a Kanye fan meant to also be a Kanye apologist; excusing his inelegant behavior and douchebag proclivities as a necessary evil in exchange for his undeniable sonic brilliance. If an award show faux pas was the price we needed to pay in order to get a song like "Runaway," I, like many, was glad and willing to pay it. No amount of genius music can excuse his latest political alignments, however, not that he's coming anywhere close to matching that bar of inventiveness and inspiration anyway.
The first track Ye shared, "Lift Yourself," is a put-on. It's an unapologetic troll job against Hot 97 DJ, Ebro Darden who called Kanye out on-air for his Trump support. Over an admittedly fire beat, Kanye abstains from offering any of his promised bars, and instead says the word "poop," over and over again. And yet, it's a massive upgrade over his other most recent offering "Ye Vs. The People" which is downright cringe-worthy in almost every respect.
Kanye has described himself as a "proud non-reader of books," and it shows through the thoughts and ideas he stacks up against T.I. on "Ye Vs. The People." It's not just that Kanye doesn't seem to know what the f*ck he's talking about, he appears to relish in his own willful ignorance. Bad flow aside — seriously, it sounds like both T.I. and Kanye are reading off a notepad into a microphone for the very first time — at least Tip comes in with concrete and cogent ideas.
"F*ck who you choose as your political party / You representin' dudes just seem crude and cold-hearted / With blatant disregard for the people who put you in position / Don't you feel an obligation to them?" Of course, Kanye doesn't. The only obligation Ye has ever felt to anyone is to himself and the direct members of his family. His fans have always been an ancillary concern.
Confronted with T.I.'s assertions, however, he can only respond with a boast and an empty one at that. "I feel a obligation to show people new ideas / And if you wanna hear 'em, there go two right here / Make America Great Again had a negative perception / I took it, wore it, rocked it, gave it a new direction / Added empathy, care and love and affection / And ya'll simply questionin' my methods."
Make no mistake, "Make America Great Again" still carries a negative perception, and no amount of Kanye co-signage will ever change that fact. By rocking the hat and posing alongside the likes of Lyor Cohen flashing an "ok" sign, Kanye added none of the emotions he described. He didn't give it a new direction. He simply revealed himself to be at best an inelegant provocateur. At worst, an enabler for a toxic movement.
Near the end, T.I. wants to make Kanye very clear on the consequences of his actions: "Have you considered all the damage and the people you hurt? / You had a bad idea and you're makin' it worse / This shit's just as bad as Catholic preachers rapin' in church." I'd hesitate to go that far, but in response, Ye simply trots out one of the biggest deflection tactics utilized by Trump and his supporters; asinine whataboutism. "I know everybody emotional / Is it better if I rap about crack? Huh? 'Cause it's cultural?" Kanye asks. "Or how about I'ma shoot you? Or f*ck your bitch? Or how about all this Gucci, 'cause I'm fuckin' rich?"
That line of thinking was fine when Kanye wanted to rap about a force for good, like, say, religion, which he did to stunning effect on his breakthrough single "Jesus Walks" nearly a decade-and-a-half ago — "They say you can rap about anything except for Jesus / That means guns, sex, lies, videotape / But if I talk about God my record won't get played?" — but when he's out here advocating for a cause which has millions of people actively taking to the streets, then yes, another "Christian Dior Denim Flow," would indeed been preferable. Bring back the "Louis Vuitton Don," please.
If there exists a central unifying theory of Kanye West it can probably best be summed up by the man himself in his Yeezus song "I Am A God." No, it's not the title — much as he might wish — but the opening line in the first verse. "Soon as they like you make 'em unlike you." When gangsta rap dominated the charts, Kanye swung through in his "pink ass polo and a f*ckin' backpack." When many were decrying the use of autotune, he went directly to T-Pain. and then made the melodic 808s & Heartbreak. When luxury rap took hold around the 2010s, he went punk and produced Yeezus. Now, in 2018, with Trump in office, and an overwhelming majority of his fanbase up in arms, Kanye has decided to play the contrarian once again in the name of "free thought." Maybe there's another swerve coming that we haven't seen yet, but the damage caused by this move is incalculable and will take a lot of years and a major amount of effort to fully undo.
In "Ye Vs. The People," the biggest loser of all is Kanye West. He's revealed himself to be a willfully ignorant, self-serving narcissist, and many of those same fans who have helped him secure that exclusive Adidas deal, who've bought the shoes, the albums, the overpriced clothes and the concert tickets over the years, who've helped him get out his dreams, aren't going to stick around and take it much longer. For the longest time the music was worth the massive ego-trip and boneheaded public meltdowns. That time has come and gone.