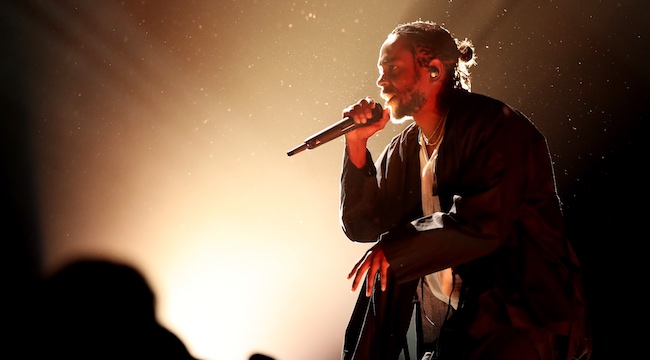 It goes without saying that Black Panther is a tremendous success on multiple fronts: It's breaking a bunch of records in theaters, and the movie's Kendrick Lamar-led soundtrack is making some serious noise on the charts as well. Black Panther and Lamar have been a perfect marriage, and now, Lamar wants to take the relationship to the next level.
In a recent interview with BBC Radio 1, Lamar expressed interest in working on more than the soundtrack for a potential sequel. As Okayplayer notes, host Clara Amfo asked Lamar about the possibility of landing a cameo role in the next Black Panther movie, to which he responded, "Come on, I got to now." He went on to say that he'd be down to play a Killmonger-like character that's a "villain, but loved and misunderstood."
Lamar doesn't have any movie or TV acting credits yet, but he's proven his affinity for filmmaking with the artistic music videos he's released over the years (even if one of them faces some copyright issues at the moment), so this certainly seems plausible. Lamar also spoke about working on the soundtrack, saying that the movie "stands within time":
"I think [the movie is] something that not only stands within this moment, but stands within time. These words, these ideas, these albums, they just come from a single thought. This thought can be made in my bedroom, on the toilet, anywhere I'm driving, and then next thing I know, six months later, they can be all around the world and people are sharing the same thought in that same moment. That's the greatest part."
Listen to the full interview here.